On Thursday, the Baton Rouge Advocate posted another of their hit pieces on Louisiana's new Attorney General, weighing in with gusto about Jeff Landry's review of the hiring practices in state government and pronouncing his reservations about the John Bel Edwards administration hiring a convicted felon who spent 41 months in federal prison for taking bribes as a state senator as the attorney for the suddenly-important Louisiana State Board of Licensing for Contractors.
That would be Larry Bankston, who replaced Murphy Foster as the attorney for that board – which will now be at the forefront of Louisiana's various regulatory bodies with over 100,000 homeowners struggling to not get screwed by contractors fixing their flooded houses – earlier this year. As a Democrat state senator in the 1990's, Bankston ran legislation benefiting the state's truck stop video poker casinos in return for one of them "renting" his condominium at Orange Beach for $1,500 per month for a couple of years without ever actually staying there. When the feds found out about that, it was the end of Bankston's career in elected office and for a time his freedom, but he managed to recover his law license and, among other things, was and is the attorney for another state board recently in the news – the Amite River Basin Commission, which has stood idly by as the Comite River Diversion Canal project which it was formed to shepherd into existence has gone nowhere. Bankston is also the attorney for the state board for auctioneers, which has also been the source of some friction of late.
Bankston's appointment to the contractors' licensing board was approved by Landry's office on a temporary basis at the beginning of the year, amid the rush of a new AG taking office along with a new gubernatorial administration. There wasn't much time to review such appointments then; there is now. And Landry, who as the state official charged with the supervision of contracts let by its various subsidiaries, is saying "no" to Bankston's further employment by the contractors' board. The hire, we're told, was at the suggestion of Edwards. Apparently the corrupt former state senator is an all-star among Democrat attorneys in Louisiana; either that or all the rest of the Democrat lawyers only know how to work slip-and-fall cases or legacy lawsuits against oil companies.
Given the Advocate's previous hissy-fit over Landry having hired Quendi Baloney, who 17 years ago pled guilty to credit card fraud, for a $53,000 a year community outreach position, one would expect that the paper would laud his serving as a watchdog against the corruption risk inherent in a convicted bribe-taker serving as the attorney for a key regulatory board.
Nope. Instead we're told that Landry's actions are come as a result of an "escalating feud" against Gov. John Bel Edwards, and the paper which publicly savaged the previously unknown Baloney is actually taking up for a corrupt former state senator…
Both also noted that Landry's office earlier this year approved contracts for Bankston to do work for two state boards, including the same licensing board for contractors in dispute Thursday.

"If they are having some concerns they must be a recent concern," Bankston said.

Matthew Block, executive counsel for Edwards, said Landry has only a ministerial role in attorneys hired by boards and commissions, including whether they have adequate experience.

Block said the attorney general's letter "makes us obviously concerned that the attorney general is trying to play politics" with the issue.

The state Supreme Court voted in 2004 to allow Bankston to practice law again.

The court disbarred him in 2002 but made it retroactive to 1997, when the justices had suspended him on an interim basis after his conviction in June 1997.

The board, which is named by the governor, is supposed to protect consumers from contractor fraud.
Here's a copy of the letter Landry sent to Michael McDuff, executive director of the contractors' licensing board…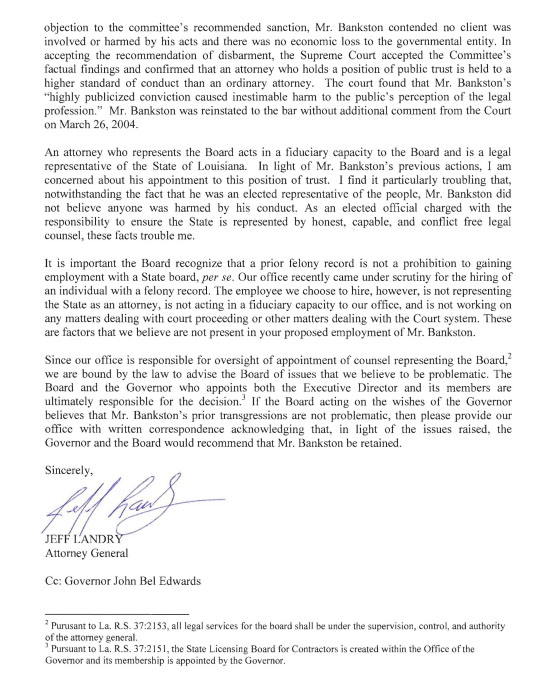 The Advocate story notes that Bankston was "unanimously" chosen as the contractors' board attorney and quotes McDuff in an e-mail saying "We are confident with the integrity and character of Larry Bankston."
One wonders why the Advocate story didn't have as its lede that tens of thousands of Louisianans will be counting on the state to help them vet contractors they've got to hire to make flood repairs to their houses and yet the state board charged with that vetting just hired a crooked politician and convicted felon as its attorney, and the head of the board says he's got integrity and character, and thank God the state's Attorney General is worried about this obviously dangerous situation. That would seem like a more marketable story than Landry is fighting with John Bel Edwards and making noise about a hire some board just made at Edwards' recommendation.
While Bankston gets to charge $175 an hour to you as a taxpayer, by the way.
It's pretty clear that the Advocate doesn't have a problem with corruption. It's just as clear the paper has a problem with Jeff Landry. The question one ought to ask is why Larry Bankston is acceptable to do high-end work contributing to the making of state policy where flood recovery is concerned and Quendi Baloney making a pedestrian salary traveling the state to speak to Hispanic Chambers of Commerce and nursing home residences, is not.