The skinny: it's John Kennedy with a double-digit lead over Foster Campbell, and that lead more than doubles when the two are matched in a runoff.
Top takeaway: ideological conservatives with a record and pedigree in national policy are wasting their time in this race – the voters don't care anymore.
We haven't been satisfied with the volume of available polling data on the Senate race, though everyone seems to be in agreement that John Kennedy is the current favorite. So we did something about it – we called up our buddy Ethan Zorfas, with whom we did the Hayride/Marbleport Polling surveys of the governor's race yesterday, and commissioned a poll on the Senate race as it enters the most public phase with the Labor Day weekend upon us.
Ethan is now with Remington Research Group, so this is their poll. Here's the poll memo…
Survey conducted August 29 through August 30, 2016. 1,017 likely voters participated in the survey. Survey weighted to match expected turnout demographics for the 2016 General Election. Margin of Error is +/-3.2%. Totals do not always equal 100% due to rounding. Survey conducted by Remington Research Group on behalf of The Hayride.
Q: The candidates in the election for United States Senate are a Republican John Kennedy, a Democrat Foster Campbell, a Republican John Fleming, a Republican Charles Boustany, a Republican Rob Maness, a Republican Abhay Patel, a Republican David Duke, an Independent Troy Hebert and a Democrat Caroline Fayard. If the election were held today for whom would you vote?

John Kennedy: 27%
Foster Campbell: 16%
Charles Boustany: 13%
Caroline Fayard: 12%
John Fleming: 6%
David Duke: 6%
Rob Maness: 4%
Abhay Patel: 0%
Troy Hebert: 0%
Undecided: 15%
Q: In Louisiana if a candidate does not receive 50% of the vote in the general election a runoff election will occur. If the candidates in the runoff election were the Republican John Kennedy and the Democrat Foster Campbell, for whom would you vote?
John Kennedy: 51%
Foster Campbell: 27%
Undecided: 22%
Q: Do you approve or disapprove of John Bel Edward's job performance as Governor of Louisiana?
Approve: 50%
Disapprove: 38%
Unsure: 12%
Q: Thinking about the recent flooding in Louisiana, which individual do you believe came across in the most favorable light?
Donald Trump: 51%
Barack Obama: 32%
Hillary Clinton: 7%
Unsure: 10%
Q: Again, thinking about the recent flooding in Louisiana, which individual do you believe came across in the most negative light?
Donald Trump: 32%
Barack Obama: 29%
Hillary Clinton: 29%
Unsure: 9%
And now, for some more interesting data in the poll…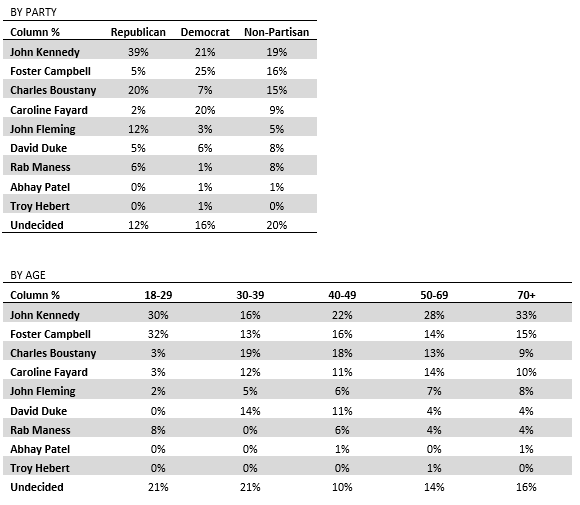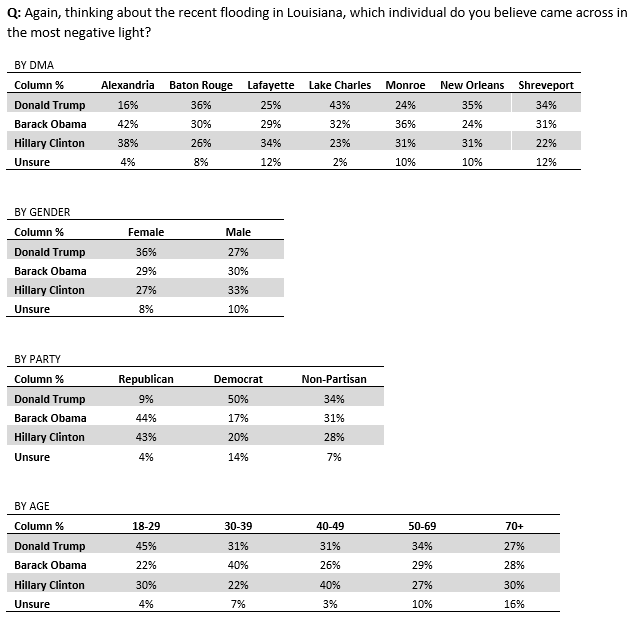 A few other takeaways:
There are some candidates in this race who might consider getting out. It's clear that either John Fleming or Rob Maness could maybe make a run at this, if in fact Kennedy were to somehow stumble down the stretch, but that can't happen with both of them in it. As it stands now, it's possible neither one might run ahead of David Duke. And if you can't beat David Duke, you're politically dead. Whether Fleming and Maness would draw straws or flip a coin or have a duel to decide who stays in, we don't know – but we're far enough into this race that it's obvious they're killing each other.
The regional numbers on the race are interesting. Caroline Fayard at only 11 percent in New Orleans is a surprise, as is Kennedy at only 11 percent in Lake Charles. Other numbers, like Fleming tying Campbell in Shreveport for the top spot, make more sense.
We also asked about John Bel Edwards' approval rating, and his enviable numbers are driven largely by sky-high results in Baton Rouge and New Orleans. The latter would make sense given the number of Democrats in the Big Easy, while Edwards would be expected to do well in Baton Rouge given that he spent the first half of the year demanding the legislature siphon money from taxpayers elsewhere to route through the state capitol and pay all the state employees living there, and then the second half of the year so far handling the Alton Sterling incident and then the floods without having any colossal blunders. Edwards also scored well in Lake Charles; we're not sure why. They don't like him much north of I-10, though.
On the other hand, when we asked about winners and losers among the three most prominent national figures – the president and the two major candidates for that office next year – it's pretty clear Donald Trump is the top dog. Trump's visit to Baton Rouge, which made him the first of the three to the scene, earned him a slight majority. That Trump was the most negatively seen of the three can be accounted for by the fact he's the only one with an "R" next to his name; 50 percent of the Democrats said he came out worst, while only a third of the independents said so.
Advertisement
Advertisement