A group of millenial whites, dressed like misfits, initiated organized chaos around the Jefferson Davis statue in Mid City on Monday night. NOPD had officers on site, but their presence was not known until late in the hostility.
I grew up knowing New Orleans people don't protest. It's not in our blood.
Mitch Landrieu's monument controversy has brought protests to town.  The pro monument supporters are mostly Southerners and folks from Louisiana, but outside of the Big Easy. They are peaceful, mainly sitting in lawn chairs and engaging in conversation. The Antifascist protesters instigate trouble. These anarchists are not from New Orleans either. They have maybe 1-3 years here, possibly at local colleges, from the ones I spoken with.
But that doesn't stop the Antifas from imposing moral superiority. They sing, "Get the f**k out of New Orleans" over and over. They chant, "Go home Nazi scum." It's a stomach-churning scene for true New Orleanians.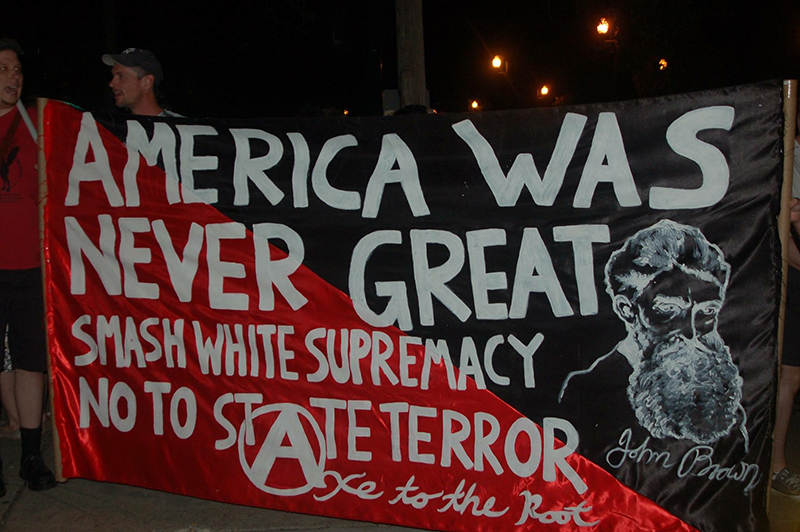 The NOPD chose not to engage in the protest that also occurred there on Saturday.  Several monument supporters attempted to file police reports when Antifas attacked from the darkness on Saturday. Police officers would not file reports.
The NOPD has largely ignored all acts of lawlessness at ground zero. A gun shot was fired Thursday night from the dark neutral ground of Jeff Davis Parkway towards the supporters. Antifas drinking at The Holy Ground bar told police it was one of the preservationists. "He has a gun!" Indeed, he did. Police checked, it was not fired, the handgun was on display on his leg, perfectly legal in the open carry state. Police would not file a report.
Since then, Jeff Davis has witnessed more attacks on monument supporters, more conversations with police, no reports.
"All we really want is for law enforcement to perform their duty and uphold the law," monument supporter George Peterson said. Peterson has been out at the Davis monument several times and reported that the ANTIFA protesters assaulted monument supporters including a 63 year old black woman who came from Oklahoma. On Saturday night, a preservationist asked an officer for help. He was told NOPD was ordered not to "interfere." The supporter took a picture of the officer asking with his vehicle number. New Orleans news outlets have yet to report on NOPD's stand-down.
The intimidation from the anarchists on Monday night at the Jeff Davis monument forced several gun-toting preservationists to leave.  The anarchists taunted the pro-monument people, stealing a flag and burning it.  The American flags that surrounded Davis were removed by the anarchists. Someone jumped on the monument base and threw aside candles and flowers that were set up as a memorial.  The anarchists cheered as the police provided protection to the monument supporters as they left, but the anarchists soon, predictably, turned on police.
NOPD made a few arrests, mainly the fascist anarchists, although one preservationist was taken. As the police walked a fascist woman to an NOPD vehicle, the hostile crowd chased police while chanting loudly, "Cops and Klan go hand in hand!" repeatedly. As they locked her up, the whining fascists yelled, "Let her go" to no avail. Then the order, "Block the street" was yelled as the criminal was being taken away.  The anarchists tried to stop police from leaving with their fellow fascist. It failed.
The police masterfully managed the crowd from that point on. In a few minutes, they had all anarchists across the neutral ground and on the lake side of Canal Boulevard from Davis. Concerns raised that this was a cover to slyly remove Davis, but the Confederate President still stands.
The anarchists made their way to the P.G.T. Beauregard monument during the night and threw red paint on it as well as placing signs. NOFD tried to clean off the monument.
The anarchists are here. They are starting protests and getting away with sneaky assaults.  NOPD is watching hostility escalate until it is on the verge of boiling over. The anarchists are on the same side as Mitch Landrieu. They claim to be "from New Orleans." While real New Orleanians sit at home and watch their city get destroyed by angry girls who aggressively get in people's faces and skinny-jean-wearing boys waving "Anti-Fascist" flags calling everyone who disagrees with them "Nazi scum."  This is intimidation and threats not reported by news outlets. This is Mitch's New Orleans – it's not yours.