Here's something you don't see enough of in Louisiana, and we feel refreshed. Jeff Wiley is the sheriff of Ascension Parish, and has been for quite some time – he was originally elected in 1996 and took office that year. His daughter, Erin Wiley Lanoux, is an attorney running for a parish court judgeship this fall, which is the kind of thing one sees often in Louisiana – and for better or worse, the kind of thing which gives lots of voters the heebie-jeebies as relates to nepotism and the formation of little public-sector dynasties in various locales.
Except Wiley is doing something a bit different than some…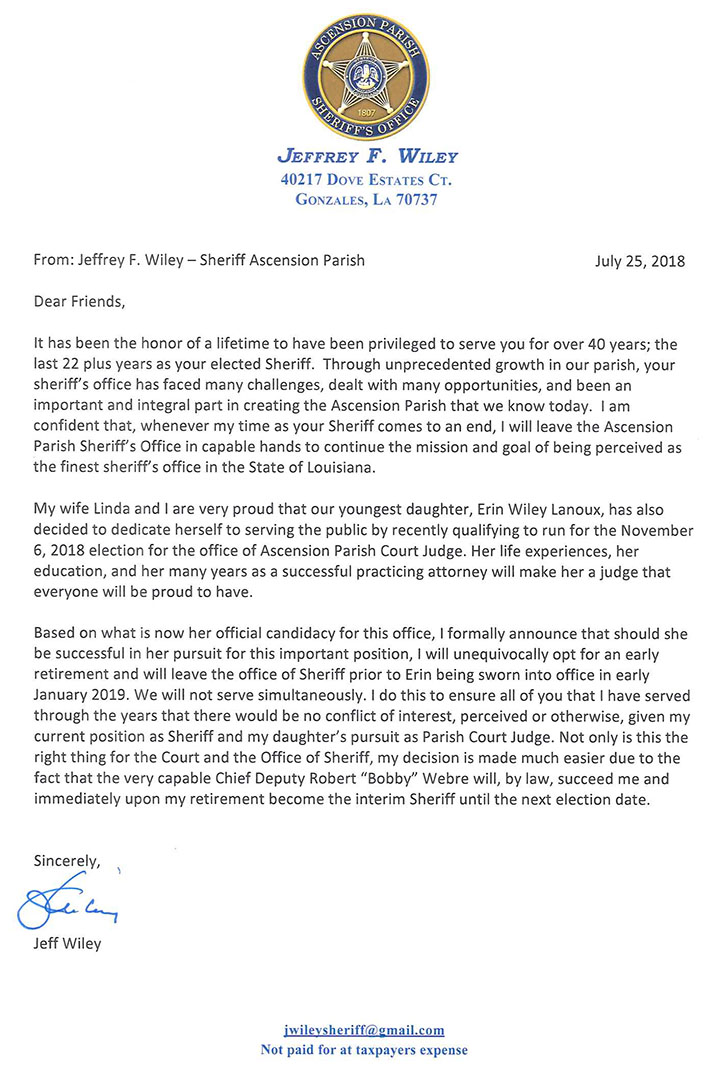 There is some context to this, which is that Erin Wiley Lanoux's opponent Kim Landry has made a stink over whether Erin could preside over cases arising from arrests the sheriff's department makes if her father is the sheriff. Those wouldn't be big cases, seeing as she's running for Parish Court rather than a District Court judgeship and as such they'd be misdemeanors rather than felonies, but it's still an issue Landry is raising. Wiley, by offering to resign, is getting in front of that issue and taking it off the table. Our sources also tell us it's highly unlikely he's going to pursue another political office.
Compare this with nearby Tangipahoa Parish, for example, where Daniel Edwards is the sheriff – and his wife Blair Downing Edwards is a juvenile court judge. Daniel Edwards' brother Frank is the chief of police in Independence, and his other brother John Bel is the governor of Louisiana, having previously represented much of the parish as its state representative.
And then there was the classic case, that of the Perez family in Plaquemines Parish – where Leander Perez pere and fils spent more than 60 years in control of law enforcement, politics and the judiciary there while serving either as judge or district attorney, while Chalin Perez, brother of Leander Perez, Jr., was president of the Parish Council. The Perez family's exploits received more notoriety than others throughout Louisiana's history because Plaquemines, a more or less "country" parish, is so close to New Orleans.
Ascension isn't what we would call a "country" parish, though not too long ago it would have been considered to be. In the state's less-populated parishes it's not uncommon for one family to populate multiple seats among the law enforcement, judicial and political offices; when that happens the opportunities for corruption are wide open.
That Wiley noted the possible perception his family might be developing into such a mini-dynasty and has signaled the willingness to step down to avoid it is to his credit. We need more of that kind of public integrity if Louisiana is to truly claim to have ethics in government.