Our readers are by now aware that there is a recall effort on in Baton Rouge in an attempt to remove Metro Councilwoman Tara Wicker, for the sin of making a majority on the Council last week to appoint Buddy Amoroso's widow Denise to his seat in the wake of his death. It has been the custom on the Metro Council to appoint the surviving spouse of a deceased member until an election can be held for a more permanent replacement, and seven of the 11 remaining members chose to follow that custom.
Wicker's membership in it has earned her a furious and vituperative reaction from a disturbingly large segment of the black community in Baton Rouge – and even more disturbingly, from her four fellow black Democrats on the Metro Council. Leading that charge appears to be Chauna Banks, who as we've noted has emerged as the clear winner in the competition for Worst Figure In Elected Baton Rouge Politics.
Banks has been quite active this week on Facebook openly trashing Wicker and taking shots at Denise Amoroso – the former, disgusting though it may be, has some perverse rationale to it, while the latter is hard to explain beyond sheer malevolence. There was this…
And then this…
And then a link to a screed at Gary Chambers' Rouge Collection site trashing Denise Amoroso for not getting involved in shouting matches with people who were attacking her at last Thursday's Metro Council meeting…
Banks was just getting started. In the last 24 hours it's really kicked into high gear…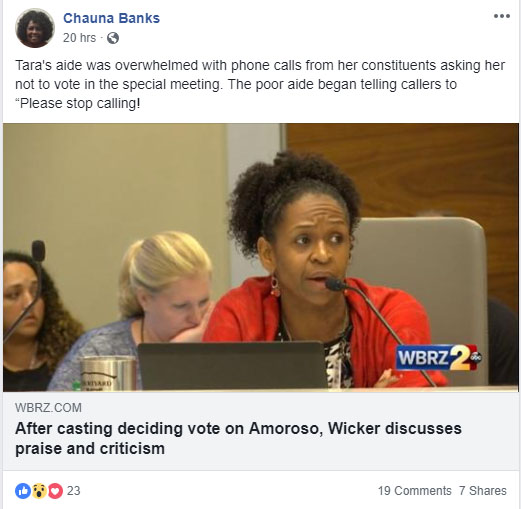 This one was amazing…
We're sure that will be a very effective and persuasive presentation.
And then this…
There is a good deal of talk surrounding the idea of Wicker running for mayor-president of Baton Rouge against incumbent Sharon Weston Broome, who people on both sides of the racial divide seem to be agreeing is something of a disaster. The recall effort against Wicker might be something of a barometer for how Wicker would fare – it would be highly surprising to see that recall come anywhere close to succeeding, but if it generated more than a few hundred signatures it might be an indication the black community in Baton Rouge is more in tune with Banks than one would hope.
We don't think that's how things really stand. We still believe the vast majority of Baton Rougeans, black and white, are appalled by the antics of Banks and her pals. But it's still hard not to be unnerved by the vociferous nature of her ramblings and the persistence silence of the more responsible members of the black community who ought to be reining her in.
As for Wicker, she's beginning to experience something we've seen before – namely, just how nasty the "in-crowd" can get when it sets upon a victim for whatever perceived slights said victim may have perpetrated. That was well exemplified by the ordeal of the Plummer family, who had the temerity to resist suffering some $120,000 in "executrix" fees stolen from them by Baton Rouge Council On Aging director Tasha Clark-Amar and subsequently saw a barrage of lawsuits come their way with the full support of the political class. Wicker is now the new victim.
This will either be shouted down or it will get worse. If it does, there will be very little to stop Baton Rouge from becoming the next Jackson, Mississippi, Baltimore or Detroit.
Advertisement
Advertisement