A recent announcement by several law enforcement agencies reveals that a multi-agency sting led to the arrest of 13 male sex offenders in the Houston area. Among them was a U.S. Army captain and an already registered sex offender.
The Houston Metro Internet Crimes Against Children Task Force (ICAC) led a three day initiative with the Harris County Precinct One Constable's Office and Houston Police Department, which led to the arrest of 13 individuals who attempted to meet with who they thought were underage juveniles.
The goal of the undercover operation was to identify and apprehend adults using the internet and social media to sexually exploit children by soliciting sex and/or sex related acts. The majority of the men believed they were chatting with 13 to 15 year old girls. One thought he was chatting with a 15 year old boy.
More than 50 law enforcement officers and support personnel were involved in the operation who helped apprehend and arrest the following men: Jesus Adrian Pinedo, 22, Dorian Yuphanky Iglesias Rodriguez, 26, Mokhtar Hassan Abdalla Lemay, 39, Jeffrey Scott Kaylor, 29, Tadeo Silva Robles, 39, Rene Morales, 39, Kurt Kapperman, 29, Victor Gutierrez, 38, MHD Mamoun Alsbiei, 24, Jose Marcos Tamez, 45, Charles Cody Waidelich, 29, Christopher Michael Delgado, 31, Jonathan Elliott, 36.
At the time of the arrest, Waidelich was a U.S. Army Captain and Kapperman was already a registered sex offender.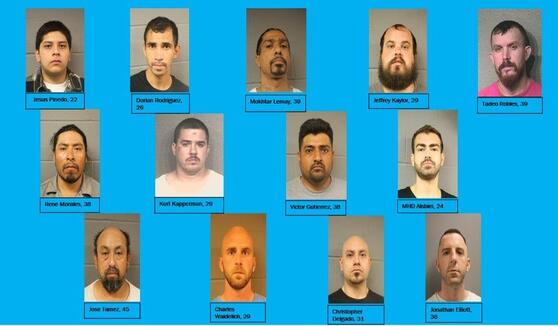 Unless otherwise noted the felony charge for each is online solicitation of a minor carrying a penalty ranging from probation to 2 to 20 years in prison, if convicted.
The Houston Metro Internet Crimes Against Children Task Force thanked its law enforcement partners involved in this operation: the Houston Police Department, Harris County Sheriff's Office, Harris County District Attorney's Office, Baytown Police, Katy ISD Police, Jones Creek Marshals Office, Harris County Constable Pct. Five, The U.S. Department of Homeland Security, Fort Bend County Sheriff's Office, Webster Police Department, Texas Department of Public Safety, U.S. Postal Inspection Service, and Cypress Creek Tactical EMS.