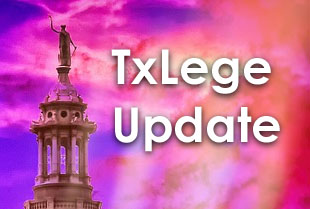 It finally happened.
Amid booming thunder, a torrential downpour rattling the Texas Capitol roof, and lighting flashes peering through the blinds of the historic House chamber, arch-conservative picador and overall freedom-fighter Rep. Jonathan Stickland, after three terms, has finally passed his first bill.
The subject: Banning automated red-light camera ticketing in Texas. It came with the requisite hazing, inside-jokes, pesky points of order, and collegial jibes that come along with a rep's very first bill — his first after about seven years as a state representative. But it also came with quite a shock to political observers:
A wide margin of victory. 108-35 votes, to be specific.
In a blog post by Austin American-Statesman political reporter Jonathan Tilove (entertainingly titled "It turns out that the Texas House hates red light cameras more than it hates Jonathan Stickland"), it was noted that Stickland is often content to stand alone on most issues and poke at the established powers. Just recently, he bolted from the conservative Texas Freedom Caucus, presumably because they conceded too much to the Speaker's legislative agenda for Stickland's tastes but officially so Stickland is free to represent his constituents more faithfully.
Now back to the bill: HB 1631 had some trouble getting through a House committee only weeks ago. Even with 100 sponsors from both parties, there were still concerns that the trauma fund the red light cameras feed into ($28.3 million every two years, to be exact) would result in "blood on my hands," according to the committee chairman. The bill left committee on April 17 by an affirmative 9-3 vote.
A similar Senate bill, SB 653 by Sen. Bob Hall, sailed through committee on April 24 and made it to the Senate floor intent calendar, but was pulled this morning.
According to our previous report on HB 1631, some studies have shown that overall accidents have increases at camera-enforced intersections — as high as an 83% jump.
The concept is supported by the Republican Party of Texas in its platform as well as having a signal of support from Gov. Greg Abbott.
A state Supreme Court case is expected to be decided this summer regarding the legality of the cameras which snap photos of driver's licenses plates at intersections.
From the hip: The bill has serious momentum and should have no problem clearing the Governor's desk. For it to have passed over the House committee chairman's objections shows that there was significant will to pass it. That Hall's bill appeared on the Senate intent calendar is hope for the concept in general. It may be the Senate pulled Hall's bill in order to give Stickland his first signed bill as a legislator.
Advertisement
Advertisement