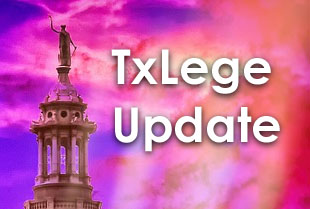 UPDATE: (9:58 p.m. 5/16) It appears much of the paper trail provision has been gutted from SB 9. We'll keep an eye on this as it develops.
Not only does a major elections reform bill before a House committee today propose a paper trail to voters who want to know if their vote was counted, but it also would establish a record for those who helped voters to cast that ballot.
That last part has liberals fuming, who are accusing the bill of having intentions of suppressing votes of elderly and disabled Texans, as well as making vague references to "racist voter purges."
SB 9 by Sen. Bryan Hughes, among many other elections reform provisions, sets up a process whereby those assisting disabled and elderly voters must file an affidavit with the county. The bill passed the Senate and now awaits House committee and floor action.
The House Elections committee is scheduled to hear the bill upon adjournment of the full Texas House today.
The rest of this article is this writer's usual from-the-hip analysis:
In true liberal fashion, opponents are calling this "voter intimidation" as well as a means by which to discourage the disabled from voting and expose voter data. There have also been cries that the bill "targets minorities" but we will not devote any space to that here.
The Houston Chronicle joined in this knee-clubbing in April with an editorial blasting the bill:
"Some folks in the Republican Party have given up. They are out of ideas, void of policy and lacking the enthusiasm needed to attract new voters. If demography is destiny, they seem to be content eking out marginal victories for a few more years by clinging to a dwindling base. How else do you explain their push to win elections through exclusion? Why else do they pin their hopes of power on disenfranchisement?"
This assumes the intent of the bill. Does it make things a little more difficult? Perhaps only marginally. According to the bill's author, it's a matter of tracking the political machinations that often come along with organized rides to the polls, not to mention allegations of coaching that often come along with helping the disabled and elderly to fill out an absentee ballot. In Texas, a voter who is older than 65, substantially ill, or unable to travel to a polling location may vote by mail. The little-known fact here is that close relatives can assist with the voting and non-relatives may do so if they agree to comply with state and county guidelines. SB 9, if passed, would give us a picture of who these non-relatives are and if there is a pattern or exploiting disabled and elderly voters for political purposes.
Worse: There are also allegations of what is called "vote harvesting" where paid canvassers intercept mail-in ballots and forge signatures. Requiring registration would help to better determine to what degree, if any, this is taking place — a practice widespread in South American dictatorships.
"This is not a partisan issue," Hughes told a paper in his district, the Longview News-Journal, as we reported previously. "… It says if you're going to bring someone to the polls and help them cast their ballot … then, yes. We want to know your names."
Also flagged by concern by the Chronicle editorial was the increase from misdemeanor to felony for certain election offenses. As liberal activists are fond of pointing out, the number of felony convictions on election fraud cases are quite low: though they have been increasing in recent years as the state has been given more ability to combat voter fraud. Giving some teeth to election fraud laws can only help in showing that, yes, voter fraud is a problem in Texas — and one that often never goes to trial due to the difficulty of enforcing existing law.
Although cleaning up voter rolls has proven to be a public relations problem and legal hurdle for Texas Republican leaders this session, we can expect fast passage of SB 9 assuming no major objections by House leadership or a sustained point of order. But we can also expect liberal activists to play with the same deck of cards in attempting to block it.