John Bel Edwards' approval rating is sitting at 47 percent for the 2nd quarter of 2019, according to the quarterly approval ratings survey by the polling firm Morning Consult.
At the end of the 1st quarter Edwards checked in at the same 47 percent approval rating. In fact, in three of the last four quarterly approval surveys of Edwards he's had a 47 percent approval.
There wasn't a whole lot interesting about Edwards' most recent performance in the Morning Consult survey, save for the composition of his approval numbers as informed by his decision during the spring's legislative session to sign the fetal heartbeat bill…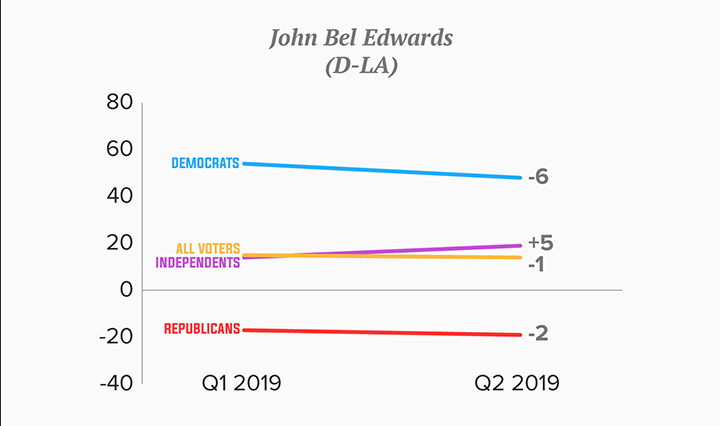 Based on those numbers, Edwards signing the bill was more or less a wash, as the support he lost from his Democrat base by taking a pro-life position on that not-so-controversial anti-abortion measure he replaced with independent voters. But Edwards didn't gain any Republican support by doing so, which isn't good news for him – Edwards needs to hang on to some of the GOP voters he stole from David Vitter in 2015 or he can't win re-election when the November runoff comes.
It's also bad news for Edwards that a legislative session mostly devoid of fighting with Republicans in the House didn't help Edwards. Fighting over taxes and the state's budget has been the primary source of his public-relations headwinds, but Edwards couldn't take advantage of a legislative session where that didn't happen.
The poll means opinion of the governor has largely settled in the minds of Louisiana's public. He doesn't inspire a great deal of passion among the state's voters one way or another – Republicans dislike him and won't vote for him but don't hate him as they would one of his party's presidential candidates, let's say, Democrats will vote for him but aren't super-passionate about him, and independents maybe have a net positive feeling about him but not enough for most of him to give him a thumbs-up, and will probably look for someone else to vote for this fall.
That's been generally the story of public opinion about John Bel Edwards for the last year, as voters in Louisiana aren't overly engaged in state politics – our theory being that many of them have simply given up on the idea that state government is capable of creating positive change.
The top 14 performers in the Morning Consult gubernatorial poll are all Republicans. Massachusetts' Charlie Baker (73 percent) and Maryland's Larry Hogan (70 percent) lead the way, while several Southern Republican governors – Asa Hutchinson (59 percent) of Arkansas, Greg Abbott (58 percent) of Texas, Ron DeSantis (57 percent) of Florida, Kay Ivey (57 percent) of Alabama, Bill Lee (57 percent) of Tennessee and Henry McMaster (55 percent) of South Carolina were among the 14. Also performing above Edwards among Republican southern governors are Phil Bryant (53 percent) of Mississippi and Brian Kemp (52 percent) of Georgia. North Carolina's Roy Cooper (49 percent), a Democrat, is slightly above Edwards, while Kentucky Republican Matt Bevin (32 percent), who like Edwards is up for re-election this fall, is the worst-performing of the southern governors. Virginia's comically inept Democrat Ralph Northam checks in at 42 percent, a higher number than expected after his blackface controversy.