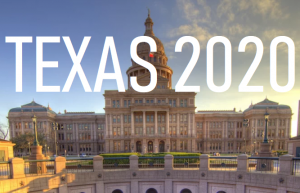 Add one more candidate to the Democratic primary in hopes of unseating U.S. Sen. John Cornyn in 2020.
According to the Houston Chronicle, Houston city council member Amanda Edwards announced Thursday she is running for U.S. Senate. Edwards now opposes recent congressional candidate M.J. Hegar and former Houston congressman and gubernatorial contender Chris Bell in the 2020 Democratic primary.
To a black church choir rendition of "This Little Light of Mine," in her launch video Edwards touched on several political themes, but said "this is not about politics, this is about people …" Charged political topics included "access to health care," post-Harvey recovery resources, "inclusivity," immigration amnesty, and increased education funding. Scenes of civil rights leaders were juxtaposed with Anita Hill and a Houston gay pride parade.
Edwards, popular with her geographically based Houston district, would have had a clear pathway to re-election for a second four-year term, according to analysis in Quorum Report. QR tells us Edwards raked in $200,000 in 24 hours after announcing.
From the hip: If the 20-plus-member Democratic presidential primary tells us anything, it's that a candidate will have to do what he or she can in order to stand out from the field just to stay relevant, especially in an expensive statewide race (Cornyn has about $6 million cash on hand and has raised nearly $20 million). In the case of this three-way primary race (so far, anyway — the election year is still young) we have Hegar, who is campaigning on her tough-girl fighter image as a former military chopper pilot, and Bell, a pragmatic lefty with plenty of experience and favor with the Democratic machinery. Edwards appears to already be implementing a hard-left strategy to appeal to primary voters, a move which may expose existing rifts among Texas Democrats.
Trivia: Though adopted as a Civil Rights Movement anthem in the 1950s and '60s, "This Little Light of Mine" has its roots as a Gospel song written in the 1920s by the author of the well-known hymn "Blessed Redeemer." It has been adapted for various uses over the decades, particularly in children's Christian education (where the line "Don't Let Satan blow it out" and other lyrics designed to encourage participation are often heard. Ray Charles and the Everly Brothers both borrowed from the song in secular recordings.