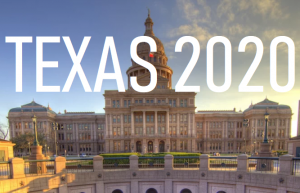 Former Congressman Pete Sessions has a score to settle.
The Dallas Congressman's 20-year career was cut short when the Democrats ran roughshod over many "urban-suburb" Republicans in 2018. And this despite the strong support of President Donald Trump and his campaign PAC.
Now the former juggernaut is vying to represent a Central Texas district nestled between Waco and Austin — Rep. Bill Flores's Congressional District 17.
"My goal is to work together to restore the Republican majority in the House and maintain our control of the Senate and White House," Sessions wrote in a press release last week, making rumors of his run official. "My support for President Trump is unwavering and I will dedicate my time in office to help enact his conservative agenda."
From the hip: This could get pricey.
Sessions will be hard to beat in the Primary in terms of resources and experience, while movement conservatives are balking at his decision.
Retiring incumbent Flores is not excited about it either, who told the Austin American-Statesman Session's announcement was a "terrible idea. Period" — preferring instead existing talent in the district.
Nor, we would expect, are fellow Republicans already in the running particularly thrilled. Candidates so far include Trent Sutton, a Marine vet, and Wes Lloyd, a Waco lawyer, who has not yet announced.
As the recent Chairman of the House rules committee and two decades on Capitol Hill, Sessions has a deep rolodex of friends and allies to call in for his campaign. He raised $3 million from in and out of his Dallas district in 2016 and benefited from a fundraiser headed by Donald Trump Jr.
Sessions has a solid Republican caucus vote history (97% based on the latest data we could find) but has been rated a hit-or-miss on conservative efforts to reduce the size and scope of government (a 50% rating per Conservative Review seems to be the low point).
But a costly race could drain resources necessary to keep the district red. Flores unseated longtime Central Texas Democratic Congressman Chet Edwards in 2010. It is not unrealistic to assume the Dems could re-take district with the correct candidate and campaign operation, but it will be an uphill battle for certain. A 2018 Democrat challenger, software engineer Rick Kennedy, has filed. Flores trounced Kennedy 57-41% the previous election year.
Conservative critics of Sessions's semi-carpetbagging (Sessions grew up in Waco) will have no choice but to engage in a highly issues-oriented campaign, and will dig deep into his history in office. Sessions has been a loyal support of the President's agenda and a proponent of the border wall, which could raise the stakes significantly if Trump gets involved. Those campaigns come at great cost for both campaigns and the party.
Advertisement
Advertisement