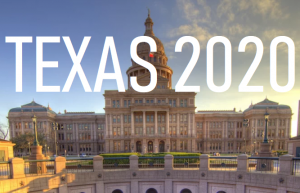 The filing period closed for the 2020 primary ballot in Texas on Monday night.
In left-leaning Travis County, Texas, Republicans have struggled to hold on to their enclaves of support, but are confident that an improved economy under President Donald Trump as well as a carefully orchestrated and well-funded ground game will improve the chances of local candidates. As such, they have recruited a larger slate than usual in hopes that a push back that begun in the north and northwest parts of the Austin area will translate to victories in November 2020.
Here are some takeaways at first glance:
Despite Democrats having a solid lock on the local judiciary, there is a Republican incumbent on the local slate: Geoffrey Puryear, who was appointed by Gov. Greg Abbott to sit on the bench of the newly created 460th District Court. Another well-known incumbent, Chief Justice Jeff Rose of the Third Court of Appeals, is seeking re-election for the appeals court which covers 24 Central Texas counties including the Austin area.
Becky Bray made headlines as a top fundraiser in the multi-way race for Austin City Council District 8 in 2014, and now has the blessing of outgoing Precinct 3 County Commissioner Gerald Daugherty as his successor. Daugherty, the longtime "godfather of the Travis County Republican Party," is hanging it up after 14 years as the sole Republican on the Commissioners Court.
Returning candidates include Martin Harry, who ran for Justice of the Peace in 2018, and Marilyn Jackson, who in 2010 ran for a Texas House seat. Harry is now in the running for District Attorney and Jackson for Tax Assessor-Collector.
Texas House District 47 will, as expected, be the prize fight as five very active and funded candidates are seeking to take back the seat former Rep. Paul Workman held for several years before being unseated by a Democrat. Each candidate has so far presented a united front, running on their own merits to unseat the freshman Democrat incumbent.
We'll have more to say on these candidates as primary season moves forward.
The primary will be held Tuesday, March 3, with early voting Feb. 18 through Feb. 28.
For the whole Austin slate, see the original article at The Travis Tracker.
Advertisement
Advertisement