Tomorrow marks the beginning of the annual drunken bacchanal which is Washington Mardi Gras, and so any official business which would otherwise be transacted at Louisiana's state capitol this week is being put off until next week. That might give a bit of an excuse to Louisiana's new Speaker of the House Clay Schexnayder, but it's nevertheless difficult to see his short time in his current position with a positive view.
The Louisiana Senate on Friday released its committee assignments, and as Jeff Sadow noted there is a Republican majority on each committee, though a few of them (not few enough, to our liking) are led by members of the shrinking Democrat minority. Cleo Fields heads the Senate Education Committee, for example, which seems almost like a sarcastic joke, but Fields has no ability to make policy from his chairmanship given that five of the seven members of the committee are Republicans. Likewise, Senate Labor might have a Democrat chairman in Troy Carter, but it's a 4-3 Republican majority there. Karen Carter Peterson as the chair of Local and Municipal Affairs and Gary Smith as the chairman of Judiciary B are similarly hamstrung.
It's possible, or even likely, that the House will look something like the Senate, in that committee chairmanships would be doled out to Democrats but the makeup of those committees would negate the political effect of those chairmanships.
But Schexnayder still hasn't announced any committee assignments more than a week following his having been elected Speaker, and now it looks like he won't be doing that until next week.
House leadership team Speaker @SchexnayderClay and Pro tem @TannerDMagee and others meeting at noon today to begin finalizing committee chair assignments, though unlikely to release complete assignments until after DC Mardi Gras #lalege #lagov

— Greg Hilburn (@GregHilburn1) January 21, 2020
What's expected, based on conversations we've had with a number of the Republicans who didn't support Schexnayder for Speaker (he was beaten 45-23 within the GOP delegation, and managed the majority for his Speakership through 35 Democrat votes delivered to him by Gov. John Bel Edwards), is that very few of them will be chairing committees and almost none of them have been reached out to by Schexnayder's inner circle.
That's a colossal mistake, if true. At some point Schexnayder is going to have his chain yanked by Edwards as the price for having delivered those 35 Democrats to him. Edwards is going to want something – better put, he'll want a lot. And Schexnayder is putting himself in an untenable position by not cultivating those 45 Republican House members and talking to them about positions within the leadership.
Because if those 45 people aren't brought on board his speakership, he could lose it at any point that Edwards decides to take it away. And Edwards will be in a position to demand Schexnayder's allegiance or less those 35 Democrats will vote for a motion to vacate the chair – meaning a coup d'etat which creates an election for a new speaker.
Virtually every one of Schexnayder's current inner circle is someone who has at least entertained the idea of becoming Speaker, and virtually every one would be willing to do a deal with Edwards to get those 35 votes. If Schexnayder doesn't reach out to the 45 Mack supporters and make it worth their while to support him rather than their own coup attempt, he won't last beyond Edwards' first betrayal.
Those 45 people couldn't possibly have been happy to see this when it began to circulate yesterday, by the way…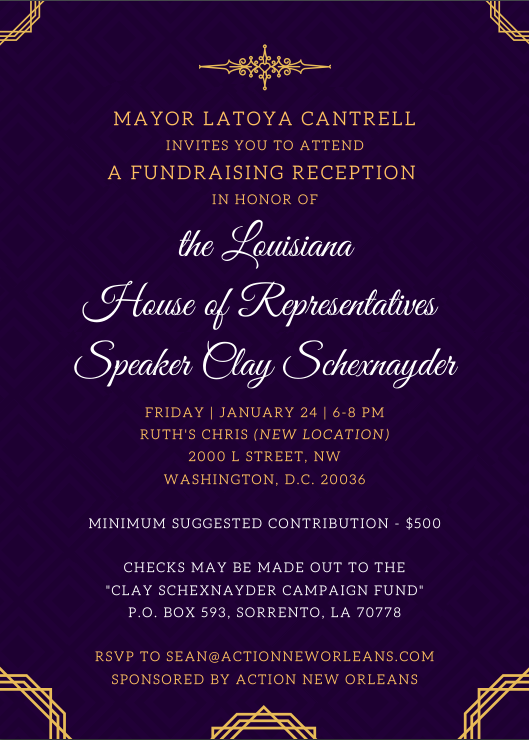 We asked around, and that certainly never happened when Taylor Barras was the Speaker. For LaToya Cantrell to be throwing $500-a-plate fundraisers for Clay Schexnayder means that she's expecting him to deliver on a legislative agenda the City of New Orleans would like to see passed.
Very few Republicans would likely support much if not most of that agenda. Should eight of the 23 who supported Schexnayder get disgusted, it will be conservatives making that motion to vacate the chair.
We thought back in December that it was impossible to run a Speakership built on Democrat votes in a House with 68 of 105 seats held by Republicans. This is why. And Schexnayder is doing very little to overcome that.
Advertisement
Advertisement