According to U.S. Census data, the majority of the fastest growing smaller-sized cities in the U.S. are in Texas: Pearland, Round Rock, League City, College Station, Richardson, Midland, and Allen.
Of the mid-sized cities, the fastest growing are Frisco and McKinney.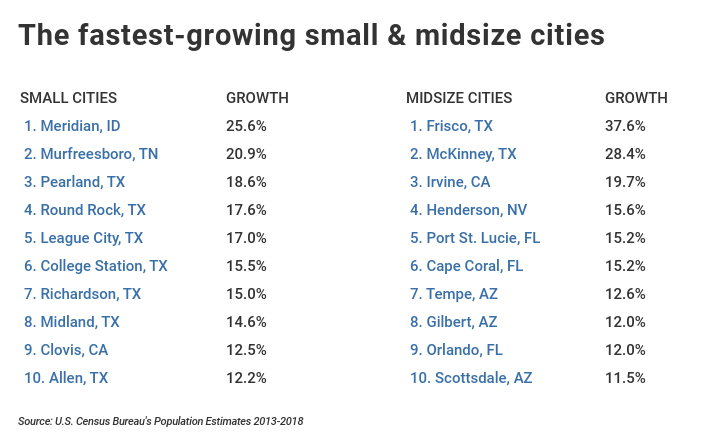 Of the larger cities, in the top ten of the fast growing cities are Fort Worth (second-fastest), and Austin (sixth-fastest).
Fort Worth saw a 12.4 percent change in population between 2013 and 2018, adding 98,833 people.
The percentage of college-educated people living in Fort Worth grew by 22.6 percent.
The fastest-growing age group was among residents between the ages of 60 and 64, and the fastest growing race/ethnicity is among non-hispanic Asians.
Austin's population has grown by 10 percent over the same time period, adding 88,791 new residents. Its growth in the college-educated population was 33.8 percent; it's fastest growing age group was among those between 65 and 74. Its fastest-growing race/ethnicity was among non-hispanic Asians.