More than 100 million food boxes have been distributed to support American farmers and families with food insecurity because of state coronavirus shutdown orders through the U.S. Department of Agriculture's (USDA) Farmers to Families Food Box Program.
The USDA's Agricultural Marketing Services has partnered with national, regional and local distributors "whose workforces have been significantly impacted by the closure of restaurants, hotels and other food service businesses," the USDA says, to purchase fresh produce, dairy and meat products from American producers to the tune of $4 billion of taxpayer money.
The program has supplied food boxes of fresh fruits and vegetables, dairy and meat products, and a combination box of fresh produce, dairy or meat products in partnership with state departments of agriculture nationwide. Distributors pack the products into family-sized boxes and transport them to food banks, community and faith-based organizations, and other non-profit organizations working directly with families in need.
From May 15 to June 30, the largest number of food boxes, 35.7 million, were invoiced to the USDA.
From July 1 to Aug. 31, 50 million food boxes were invoiced; from Sept. 1 to 18, 15 million food boxes were invoiced.
By Sept. 29, the number of food boxes that had been delivered nationwide surpassed 100 million.
The USDA expects another 2.1 million food boxes will be invoiced in additional contracts from Sept.r 22 through Oct. 31.
The program is touted as a way to deliver food to families and individuals whose jobs were lost due to their respective state's shutdowns, and as a way to not let food go to waste and help farmers and ranchers stay in business.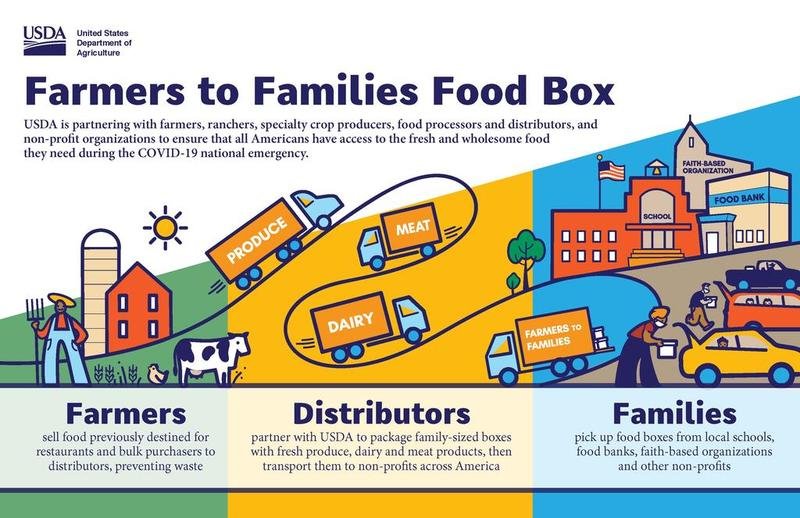 Roughly 17 million Americans face food insecurity as a direct result of state coronavirus-related shutdowns resulting in job losses and economic free-falls, according to Feeding America, a hunger-relief organization.
In California, one of the hardest hit states economically, with a record number of unemployed and small businesses and restaurants permanently closing, farmers and ranchers saw their markets drop by half within the first five months of the state's shutdown. Farmers were left with fields full of crops and no buyers.
At the same time, with millions of Californians out of work since March, the state's food banks were inundated with needy families and individuals who were barely making ends meet. The food banks found themselves in need of triple their regular food supply.
The Farm to Family program in California is administered by the California Association of Food Banks and supported by the state's Department of Food and Agriculture, which pays farmers to send surplus produce to food banks. California farmers donate their crops and are reimbursed by food banks for labor and packaging expenses.
Prior to the state shutting down in mid-March, roughly 12 million pounds of fresh produce was shipped through California's program every month to food banks. Within a few months, up to 18 million pounds was shipped. USDA crops were also shipped into California from out of state, "hurting California farmers by the reduced demand," according to a report by Pew Trusts.
"All the farmers in California that we work with, they rely on us like we rely on them," Steve Linkhart, who directs the California Farm to Family program, told Pew, which conducted an analysis of the USDA's overall program. "When some sources dry up, we're still there to take the products they have in excess. During this time, the farmers have really leaned on food banks to be an outlet for their product."
Several states have created or expanded online marketplaces for their farmers and ranchers as many transition to direct-to-customer sales, Pew found.
In Washington, lawmakers budgeted $100,000 to boost the state's Farm to Food Pantry Initiative, a partnership between the Washington State Department of Agriculture and Harvest Against Hunger, a Seattle-based nonprofit. Within a few short months, the program was able to significantly increase its food distribution by initially connecting 120 food banks with roughly 75 farmers.
In South Carolina, an online market for farmers was launched in order to help them sell their produce, similar to a classified ad page. Eva Moore, communications director for the South Carolina Department of Agriculture told Pew, "If there's one silver lining, it's that people are talking about local food, understanding where it comes from and in some cases laying eyes on the farmer who grows it in ways that they haven't before."
Advertisement
Advertisement