The outage maps we're going to show you are not impressive. We'll just say that up front so those of you who evacuated southeast Louisiana before Hurricane Ida blew through on Sunday don't get any false hope that the power is back on at your house – it probably isn't.
But where southeast Louisiana had been a completely red sea of electrical death with tiny dapples of green, there are now lots more green shoots on the outage maps as Entergy, CLECO, Demco and the other power companies, together with the 25,000 linemen they've brought in to restore the grid, try to work a miracle and put right the mess Ida made.
The best progress, and it makes sense that this would be true, is being made in Baton Rouge. People who know about these things will tell you they bring back the power on an "outside-in" basis, and while 130,000 of the 201,000 Entergy customers in East Baton Rouge Parish were knocked offline by the storm, that number is down to 78,000. Entergy is saying that by next Wednesday, September 8, they expect to have full power restored in Baton Rouge.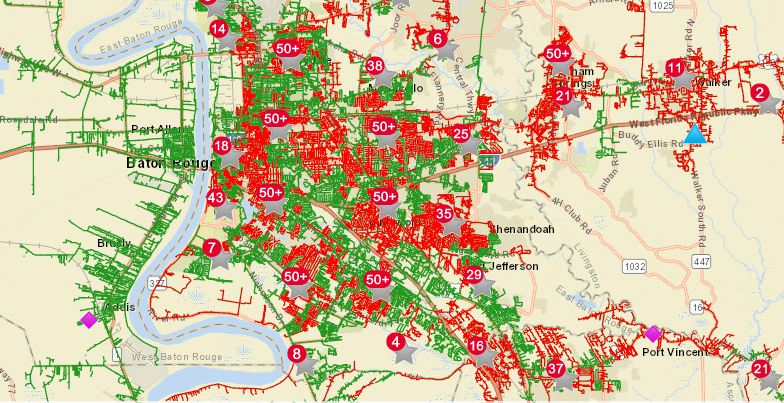 The fact that there's even a sliver of Livingston Parish between Denham Springs and Walker, around the Juban Road exit, where power is back on is a nice win – though Livingston got absolutely hammered by Ida. If you haven't seen this, get ready to be amazed that the storm could have done this much damage that far from the Gulf of Mexico…
Further to the east, it's a lot worse. There's hardly any power on in Hammond at all, as that area took the fullest hit.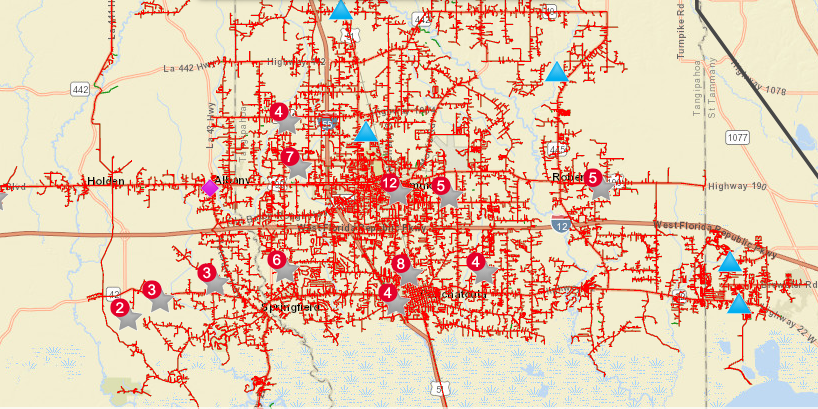 Springfield and Ponchatoula are especially a mess. When they talk about it being weeks to get the power back on, this is the kind of thing they mean – downed trees tangled up with power lines for miles and miles of country roads.
South of Baton Rouge, in Ascension Parish, signs of life are beginning to show in the outage map…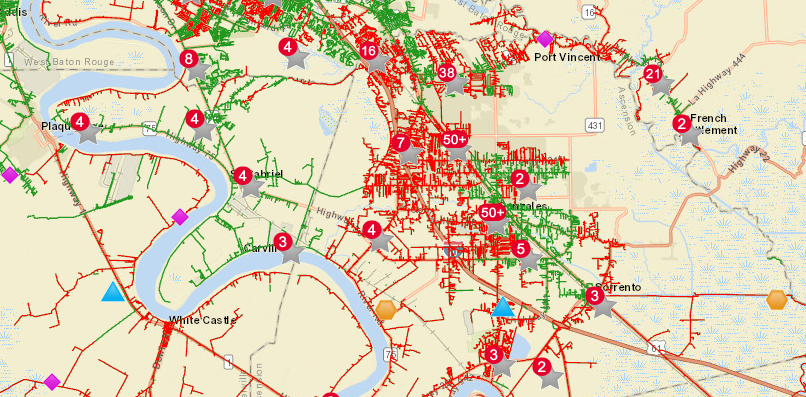 We would have expected the western side of I-1o to come back faster than the eastern part of Gonzales, but the opposite has happened. One imagines that's a nice surprise for a lot of those folks.
And of course there's the New Orleans area. Nobody ought to have much hope for progress there anytime soon, and yet there's just a little bit of progress as well. A lot of these little pockets of electricity are near hospitals and other critical infrastructure, but what they show is that the linemen and engineers are finding some ways to get juice into Orleans and Jefferson Parishes, which would indicate an ability to bring it back in stages perhaps a little faster than initial estimates might have held. Of course, when all eight major transmission lines bringing power into the city went down, you've got to manage your expectations a little.
A closer look at the green areas in the middle of town…
Again, these are not impressive maps. They're still terrible. But the storm hit on Sunday and it's now Thursday. There is definitely progress to be made. The initial estimate of Entergy's power outages was a million customers. Today it's 746,000.
The only way to gauge any of this is by progress day to day, a little at a time. It isn't going to be fixed overnight. But the power is starting to come back on, and once it's back we can then begin to recover.