It's unfortunate that our American media has no idea how to prioritize their coverage of political events.  If Christine O'Donnell said the world was round and Chris Coons killed a man in broad daylight, the media would cover the former.  Thats just how contemporary news values work.


So, lately, as Chris Coons has become embroiled in a third lawsuit issued by a former member of his staff, this investigation has been swept under the rug in favor of "more substantive" matters.  Like O'Donnell stating accurately that the constitution does not expressly establish the separation of church and state. Well, that's kind of like saying the world is round: not really groundbreaking information.  She is stating a a simple fact, albeit a politically incorrect one. 
Yet this information is more newsworthy than material indicating that Chris Coons fired members of his staff based on their political views.  Interesting.
Here is the Associated Press article on Coon's legal issue:
WILMINGTON, Del. (AP)- A third lawsuit alleges that New Castle County Executive Chris Coons retaliated against county employees because of their political views.

Dennis Parkstone filed the latest lawsuit last month. He claims he was fired after 35 years for a minor violation because he voiced support for Coon's rival in 2004, Sherry Freebery. However, county spokeswoman Christy Gleason says Parkstone was fired because he sent inappropriate and explicit e-mails on the county's e-mail servers.

A lawsuit filed by county police Corporal Trinidad Navarro is scheduled to go to trial next month. Navarro alleges he was passed over for a promotion because he supported a police chief appointed by the previous county executive.

And two years ago, Freebery's brother alleged in lawsuit that he was improperly fired because he supported his sister. He was the general manager of Special Services for the county.
There you have it.  Just in case you were wondering, this story is 141 words long.  How many words do you think our "objective" press contributed to coverage of O'Donnell's statements and personal issues? 
Chris Coons is an arrogant,elitist machine politician. Also, he's apparantly a cry baby when it comes to his employees holding differing points of view. 
It is really a shame that O'Donnell is getting the proverbial media lashing even when she doesn't deserve it.  Chris Coons deserves to get hammered by the media on this.  But this lawsuit is the third one. I'm not holding out much hope we'll get more than 141 words on it.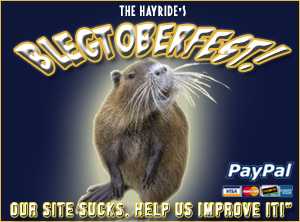 Advertisement
Advertisement