Lots of developments as Louisiana politicos choose sides among candidates in advance of the Nov. 2 elections…
First, Sen. David Vitter is now touting a raft of endorsements from Democrat politicians across the state. A campaign release today includes a statement from more than 30 Democrat officeholders in support of the Republican incumbent…

"As Louisiana Democrats, we strongly endorse David Vitter for reelection to the U.S. Senate for two reasons.  First, David represents our mainstream Louisiana views on such critical issues as jobs and the federal debt.  Second, David is a very effective partner working with us to meet key Louisiana needs including law enforcement, highways, and hurricane and flood protection.  Please join us in voting for David Vitter on November 2nd."
The officials who signed the statement:
Parish Presidents
Parish President Riley "Pee-Wee" Berthelot (D), Parish President of West Baton Rouge Parish
Parish President Gordon Burgess (D), Parish President of Tangipahoa Parish
Parish President Don Menard (D), Parish President of St. Landry Parish
Parish President Richard Thomas (D), Parish President of Washington Parish
Sheriffs
Sheriff Larry Cox (D), Sheriff of Madison Parish
Sheriff Willie Graves (D), Sheriff of Livingston Parish
Sheriff Steve May (D), Sheriff of Caldwell Parish
Sheriff Charles McDonald (D), Sheriff of Richland Parish
Sheriff Wayne Melancon (D), Sheriff of Acadia Parish
Sheriff Mike Tubbs (D), Sheriff of Morehouse Parish
Sheriff Jeffrey Wiley (D), Sheriff of Ascension Parish
State Senators
State Senator Elbert Guillory (D), State Senator for District 24
Mayors
Mayor Dale Barnett (D), Mayor of Plain Dealing
Mayor Stein Baughman (D), Mayor of Farmerville
Mayor Carroll Breaux (D), Mayor of Springhill
Mayor Danny Cupit (D), Mayor of Westlake
Mayor Terry Duhon (D), Mayor of Jennings
Mayor Dan Hollingsworth (D), Mayor of Ruston
Mayor Estes LeDoux (D), Mayor of Kinder
Mayor Thomas Nelson (D), Mayor of St. Martinsville
Mayor Jimbo Petitjean (D), Mayor of Acadia
Mayor Reggie Skains (D), Mayor of Downsville
Mayor Kenny Stinson (D), Mayor of Vinton
District Attorneys
District Attorney Leon Cannizarro, Jr. (D), District Attorney for Orleans Parish
District Attorney Paul Connick, Jr. (D), District Attorney for Jefferson Parish
Councilmen and Councilwomen, Police Jurors
Councilwoman Raylyn Beevers (D), Councilwoman for City of Gretna
Councilman Joey Cehan (D), Councilman for Terrebonne Parish
Councilman Larry Cochran (D), Councilman for St. Charles Parish
Councilwoman Marla Cooper (D), Councilwoman for Plaquemines Parish
Councilman Shelly Tastet (D), Councilman for St. Charles Parish
Councilman Trae Welch (D), Councilman for East Baton Rouge Parish
Not to be completely outdone, Vitter's opponent in the upcoming election Charlie Melancon, who it appears no longer has the funds to run TV ads, picked up an endorsement from a more prominent Democrat official – New Orleans mayor Mitch Landrieu. Landrieu's endorsement statement is somewhat peculiar…
"It's always about putting Louisiana first," Mayor Landrieu said. "It's not about political party. … The people of New Orleans will be better if we have Charlie Melancon as our second United States senator."
Perhaps Landrieu meant to say "better off," but the statement as quoted by the New Orleans Times-Picayune might be interpreted as a prediction about the manners and comportment of the Big Easy's denizens. His sister, Sen. Mary Landrieu, also endorsed Melancon in terms which make it sound like she's either a lot more partisan than Mitch is or makes endorsements out of personal pique…
"Sen. Vitter is the kind of senator who fights for headlines," Sen. Landrieu said. "I need a partner who fights for Louisiana every day."
The Lieutenant Governor's race also saw some endorsements of interest. Republican Jay Dardenne, the current Secretary of State, picked up endorsements from a pair of media entities – the Baton Rouge Business Report and the Monroe News-Star.
The Business Report's publisher Rolfe McCollister said in his statement endorsing Dardenne that Democrat Caroline Fayard is unconvincing when she says partisan politics aren't important to her candidacy.
In the event something should ever happen to the governor, the lieutenant governor must step in. And it is clear that Dardenne, a Republican, has the experience and conservative credentials that Louisiana needs. He will also do a good job in running the office of the lieutenant governor and promoting tourism.

Caroline Fayard has an impressive résumé and made a strong showing for someone in her first race by making the runoff. But while she seems to want to keep people from learning she's a Democrat and says "parties or labels" don't matter, her record of support for one party—Democratic—is also pretty impressive. Fayard worked for Hillary Clinton in President Bill Clinton's White House. Photos of Fayard with President Clinton and President Barack Obama are featured on her website. So, when I read on her website that she wants to "attack wasteful spending" and "will advocate for better government—not more government," I have to say it rings a bit hollow. Sounds like something a political consultant wrote to fool conservatives and Republicans. I have rarely met a Democrat who doesn't think more government or more spending will somehow solve our problems. And that is certainly true of Clinton and Obama. Seems like Fayard has a lot of respect for the kind of "career politicians" she criticizes.
The News-Star, meanwhile, touted Dardenne's record of competence in his current job and credited his vision for promoting the state's tourism industry.
Jay Dardenne,  currently the Louisiana secretary  of state, has served the state with integrity and a public spirit that  warrants his election as lieutenant governor.

Dardenne, a  Republican, bears sufficient character and stature to lead the state should  the governor not finish his term. He also has the savvy and marketing skills  to sell the state's myriad tourism features.

As secretary of state,  Dardenne has overseen the growth and development of numerous state museums  under his office's direction, including several in northeastern  Louisiana. He has  worked hard to foster expansion of facilities at the Chennault Aviation and  Military  Museum in  Monroe and the  State  Cotton  Museum in  Lake  Providence, and  worked hard to help effect creation of the Eddie  G.  Robinson  Museum in  Grambling. His initiatives with the Heroes and Heritage Trails have created  new excitement about the 16 museums under Dardenne's  direction.

His efforts concerning  the museums show Dardenne has the stuff to be the state's chief tourism  official. As lieutenant governor, Dardenne's primary duties would focus on  promoting culture, recreation and tourism in the state. Few public leaders  have schooled themselves as well as Dardenne about the state's cultural  treasures, a fascinating public speaker and effective salesman for what is  great about Louisiana — all of it, including the northeastern  corner.

Dardenne has earned  the chance to step up to new opportunities.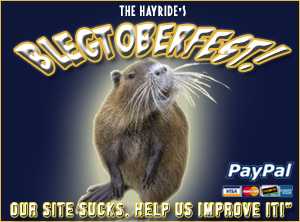 Advertisement
Advertisement