Louisiana's reticent governor notwithstanding, love is in the air in the Bayou State today. The state's major political candidates are picking up support from high-profile public officials and also-ran candidates alike, shaping the field for the Nov. 2 elections.
The big winner? Secretary of State Jay Dardenne, who will be in Lafayette today for a "special announcement" regarding his campaign. That announcement, it's said, will involve an endorsement of his campaign by country-singer and third-place finisher Sammy Kershaw, who garnered 19 percent of the vote in Saturday's primary.

The Kershaw endorsement isn't a bombshell; after all, Kershaw and Dardenne are both Republicans. But coupled with state GOP Chairman Roger Villere, who ran sixth with seven percent of the vote and released an e-mail to supporters on Sunday asking that they support a slate of Republican candidates which included Dardenne, Dardenne will have now added 26 percent of the vote in endorsements to the 28 percent he received in the runoff. And Kershaw's endorsement will give Dardenne a big shot in the arm in the state's smaller and more rural parishes; he won 31 of them, more than any other candidate, in the primary. Dardenne won 18 parishes, while Democrat Caroline Fayard, Dardenne's opponent in the runoff, won 11.
While Dardenne is basking in the glow of his new alliances, Sen. David Vitter also gained an endorsement well worth having. Plaquemines Parish President Billy Nungesser is a Republican, so his support of Vitter was fully expected. But since Nungesser is probably the best-known public official in Louisiana's 3rd Congressional District, currently represented by Vitter's opponent Charlie Melancon, his announcement yesterday he'll be supporting Vitter is newsworthy nonetheless. And Nungesser's blunt style in backing Vitter gives the endorsement punctuation to boot:
I'm Plaquemines Parish President Billy Nungesser, and I want you to know that what Charlie Melancon is saying about David Vitter and the oil disaster is a load of "you know what."

I'm endorsing David Vitter for U.S. Senate, and so are Democrats and Republicans all along the coast.

David Vitter worked around the clock to help provide leadership during the disaster.

David Vitter authored emergency legislation to hold BP fully accountable for all of the damages without limit. And he fought the Obama bureaucracy for more boom and to get our barrier island plan moving.

Please join me in voting for David Vitter for U.S. Senate on November 2.

Billy Nungesser

Plaquemines Parish President
Nungesser's communique comes after the Melancon campaign unfolded a colossally dishonest ad ripping Vitter for his actions during the Gulf oil spill this summer:
It's one of those ads which makes eyeballs bleed; Vitter's bill would have imposed a $20 billion cap on BP's liability based on its last four quarters of profits, not $150 million. He structured that proposal based on concerns that were a liability cap lifted outright, it would make it impossible for independent producers who do most of the drilling in Louisiana waters to get insurance – and a spill without a liability cap would break them. That's a smart way to structure liability so as to make it extremely onerous to have a spill but not to shut drilling down.
And Melancon's claim to have "passed a bill to lift the moratorium" is so disingenuous as to make the Hall of Shame. We've discussed on a couple of occasions the outright B.S. that is Melancon's efforts to lift the moratorium. That he would brag about those efforts – particularly when the bill he says he passed was actually an amendment to the CLEAR Act, which died in the Senate  and DID NOT PASS into law – shows what a house of cards his campaign really is. So while Nungesser's endorsement isn't particularly noteworthy, his rough treatment of the Congressman is – it points out these things in technicolor.
In the 3rd District congressional race, meanwhile, GOP nominee Jeff Landry is slated to pick up an endorsement from former Arkansas governor and 2008 presidential candidate Mike Huckabee, though there seems to be some question as to whether that endorsement will come with a check from Huckabee's political action committee. One wonders whether without some financial support it's worth Landry's while to get Huckabee's endorsement – seems like when Huckabee is hosting a $1,000-a-plate fundraiser at former Gov. Mike Foster's home in Franklin, which is in LA-3, he's soaking up GOP donor money that Landry could use locally, and the impression is being given that HuckPAC is supporting Landry with those dollars when in fact they've done nothing of the sort to date. It's a virtual certainty that almost every voter Huckabee could attract is already supporting Landry, so this looks more like Huckabee glomming onto a likely House winner than helping him. We're reminded of the famous scene from O Brother, Where Art Thou which perfectly illustrates this:
More on that story as it plays out.
But with all the love going around, Jindal isn't the only Louisiana political figure not in an endorsing mood. Landry's primary opponent Hunt Downer put out a message to his supporters thanking them, and it was decidedly squirrelly on the general election:
I was honored to be a part of this exciting time in our nation's political process and I intend to remain involved! For now, the "hunt" may be over, but our fight still continues. I challenge you to listen to the candidates, get to know them, and then to make a well-informed decision before casting your vote.
It seems it might require a supercomputer, a divining rod and a Ouija board to figure out what the heck that's supposed to mean. Downer says he's going to remain involved, but he doesn't say how. Then he challenges his voters to listen to the candidates and get to know them, without saying anything about the issues at all. That sounds like he's leaning toward Sangisetty, but he won't sack up and say it.
Downer's campaign was an unmitigated disaster, and the 65-35 clobbering he took at Landry's hands on Saturday was an indication he's not a major player in the LA-3 race going forward. So what good he can do Sangisetty is a question. But it would be nice for everybody involved if Downer would just make an endorsement now if he's going to make one in this race.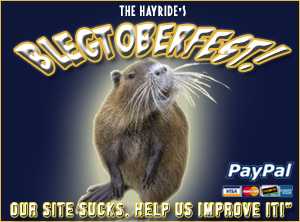 Advertisement
Advertisement