The news out of Joseph Cao's camp that he's "hurt" by President Obama's decision to cut a spot supporting Democrat challenger Cedric Richmond in the 2nd District congressional race has begun to generate a little bit of buzz on the national circuits.
Not exactly great buzz, mind you.

For example, Allahpundit at HotAir wasn't impressed with the statement, at least not on its face:
I hope this is idle campaign blather and not a sincere lament about betrayal. Surely even a freshman Republican can't be so naive as to expect a Democratic president to avoid backing a Democrat in a deep-blue district that's ripe to be flipped. Can he?
The piece goes on to note that Cao's seat is one of only four GOP-held seats the Democrats appear to have any chance of flipping this year amid what looks to be a net loss of anywhere between 35 and 100 in the House in this cycle, and by the way Cao's "yes" vote on Obamacare wasn't his final vote; that was actually a "no," so it's not like the President is all that bound to help him.
Michelle Malkin is even nastier:
Cao was the sole Republican vote for Obamacare. He backed the S-CHIP expansion, the $108 billion IMF bailout, and the omni-waste spending bill. And he voted to rebuke GOP Rep. Joe Wilson for calling out President Obama on his health care lies.

Cao also joined the Democrats in opposing repeal of the individual health insurance mandate. And he was one of two Republicans (Mike Castle was the other) who joined Democrats to vote for the $26 billion "Edujobs"/BigGovJobs bailout.

Evidently, Cao thinks this was enough appeasement to earn him the endorsement of Barack Obama.

Cue laugh track.

And now that Obama has endorsed his Democrat opponent, Cao believes that he can persuade the White House to rethink the endorsement by letting them know that the Democrat trying to unseat him is…corrupt.

Criiiiikey.
A little perspective here: no, Cao isn't that naive. He's a nice guy and all, but he's not an idiot. He's attempting to thread a needle in a tough district with some difficult circumstances.
As in, LA-2 is a majority-black district. Specifically, it's 64 percent black. And in 2008, it went for Obama by a 75-25 count. Now, the president's approval rating has probably dropped a bit in that district, but not a lot; two weeks ago Magellan Strategies polled that question in the district as part of its survey on the U.S. Senate race and Obama's approval number was 68-26 in favor. And now that Caroline Fayard has made the runoff in the Lieutenant Governor's race on the strength of having demonstrated the ability to turn out the black vote in New Orleans, Cao faces the prospect of having a turnout that looks like the voter registration of the district. Prior to Fayard's rise, the thinking was that the makeup of the actual vote in LA-2 would be 50-50, or 55-45 African-American. Now, there's a good chance it will be more like 60-40.
Richmond supposedly has internal polling which says he's ahead 45-35. That's a pretty weak number, and it means this isn't over. Richmond's support in the black community is a lot softer than you'd expect; there are rumblings about him on a number of fronts and the voters don't particularly trust him. The specter of Dollar Bill Jefferson and the multitude of rackets he ran while in that seat hangs over this race to an extent.
So Cao has a chance, still. But he's got to thread a needle to win.
Now that Obama and his 68 percent approval rating has come out on TV for Richmond, Cao has to burn Richmond down. But he has to do it in such a way that it doesn't attack Obama; Cao is going to get the 32 percent of the district who disapproves of the president, but he's got to find 18 percent more out of the folks who like him. So he says he's hurt that his friend Barry would do him like that after all the laughs they've had, and then he suggests that Obama probably doesn't know Richmond like the folks in New Orleans do.
And then he napalms Richmond. He does it so as to say, "Barry, baby, I love you. So do my constituents. We forgive you; you just didn't know Richmond was a dirtbag. Now you'll know, and we'll all understand it."
It's a nuanced approach, but when you're trying to split the president's supporters off from the guy he just publicly endorsed, nuance is the order of the day.
Now that he's set the stage and gotten himself a little publicity for it, he can release the hounds. And it's probably not going to be pretty. Because the dirt that's out there on Richmond is scary. We already know about the bar fight and the non-profit scams and the lying about residency to run for a city council spot, which got him temporarily disbarred. But apparently there is more:
…The group says it involved an incident when Richmond attended Morehouse College. And then this item shows up on nola.com:

He bought the diamond bezzle from Sutton's Jewelers in 2002 and signed his name to the non-profit's credit card. Let's also talk about his days in Morehouse College when its alleged he assaulted a woman in a hot tub and then let's look at the widely rumored and alleged rape of the woman from the non-profit. http://www.nola.com/politics/index.ssf/2010/09/president_barack_obama_endorse/5520/comments-3.html

What is this????

I'm told the Morehouse incident might be an indiscretion from college days, where a woman had him arrested but dropped the charges. The hot-tub incident though is related to an encounter gone bad at a Zulu event, where "no" apparently didn't mean anything to CR.

Who knows more about this? Well, WBOK might. When Cedric felt the morning announcer Girod Stevens wasn't being "supportive", did he lash out at the radio announcer himself? No. He went to Ruth's Chris and yelled at the man's significant other…in front of a witness. Said he would get her man fired because he was a Cao apologist. Then Cedric when to DC and told the Congressional Black Caucus to get the man and ruin his career.
I'm not familiar with the blog from which that material comes; obviously it's a hit on Richmond. But those allegations and some made in another post on that same site are pretty brutal stuff and seem to have a little bit of documentation to them. Richmond's primary opponent Juan LaFonta had been profuse in his statements that the dirt on him was staggering; LaFonta didn't have the resources to burn him down.
Cao does. If any of the new stuff out there, specifically that Richmond is a masher with violent tendencies, can be backed up it will definitely have an effect on the race. A well laid out exposition of what's currently floating around Richmond might even do it.
But if it comes off as  a typical hatchet job, it won't turn the Obama vote away from Richmond. So Cao plays the sympathy card first.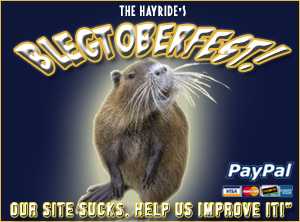 Advertisement
Advertisement