Two days ago I wrote a piece on the federal government's refusal to provide aid in 13 counties of North Texas impacted by Tropical Storm Hermine.  Those thousands of people left homeless in the aftermath of Hermine were told by FEMA they actually were not in a disaster. Well, I'm sure that's a big relief to those men, women, and children who have lost every asset that they once owned…. 
In any case, apparently there is a better way to spend our tax dollars.  As reported by CNS News, here is the most recent money pit the federal government has decided to explore:
 

The Environmental Protection Agency recently listed 76 community groups and government agencies that will share almost 2 million taxpayer dollars in the form of "environmental justice grants." 

The grants – around $25,000 each — will fund projects that help people living in poor, minority communities increase recycling, avoid heat stroke, improve indoor air quality, "reduce carbon emissions through weatherization," and participate in "green jobs" training programs. 
The federal government has decided to authorize the EPA to dump your money into the newest government garbage disposal: environmental justice grants. 
The name alone is comical.  Only, it's not really funny when it's your money funding it. To begin,  let me just resolve a few of these issues right off the bat: 
Question: Increase recycling? Answer: First of all who cares? I don't want my money spent on that. Second, throw recyclables away in green barrels……
Question: Avoid heat stroke? Answer: Drink water. Stay in the shade. Get a portable fan…..
Question: Improve indoor air quality? Answer: Don't smoke inside your house. (don't smoke at all) Get a fan.  Open a window….
Does that require 2 million dollars? No, it requires absolutely nothing.  Now, what about the last two goals of these grants? 
Reduce carbon emissions through weatherization
Participate in "green jobs" training programs
I have absolutely no clue what number 1 means.  So, if you want to pay for something you don't understand, I'd start by spending money on "reducing carbon emissions through weatherization."  Oh, wait, since we're already paying for Obamacare, I guess that would actually be the second action one would take….. 
Now, number 2.  This stipulation is the most obvious source of funding catered directly to poor, minority communities.  Pardon my political incorrectness here, but doesn't this country already have a welfare program?  And does that program not involve job training efforts?  The answer is yes, in case you didn't know.  So, really, this fund is just an unofficial welfare grant.  All of these programs are geared toward that aim. This stipulation is simply the most blatant statement of these underlying purposes.  This welfare-like orientation is especially apparent given the rationale behind Environmental Justice Grants: 
 The EPA defines "environmental justice" as the notion that minority, low income and indigenous communities deserve the same degree of protection from environmental and health hazards, equal access to the decision-making process and a healthy environment in which to live, learn, and work as wealthier communities do. 
Ok.  That definition speaks volumes about the intensity of far-left influence behind the establishment of these grants. This definition essential provides an open-door policy for the EPA to distribute funding in any way they see fit to "bring equality" to the poor.  This definition does not simply imply wasteful spending, it legalizes the redistribution of wealth.  Money travelling from vast majority of Americans to, not just poor communities, but poor minority communities.  Oh, and of course, we don't have a say in it whatsoever. 
Still need proof of the far, far left intentions of this mandate? There are 76 organizations receiving federal aid for "environmental justice."  Here are a few:   
The Connecticut Coalition for Environmental Justice will use some of the grant money to train eight housing authority residents, who will then teach 900 people living in multi-family housing in Hartford how to recycle.
The West Harlem Environmental Action group will use its environmental justice grant to "identify and address the problems posed by climate change in Northern Manhattan" and to "develop a community-based climate change readiness plan.
The Women's Health & Environmental Network in Philadelphia plans to educate senior citizens on climate change and how to lessen their carbon footprint. "Many seniors do not understand climate change and how they affect it or how to protect the environment," the project summary says.
A migrant farm workers' group in Lafayette County, Mo., will use its grant to "increase awareness about the dangers of sun and heat exposure" and to explain the "key words and symbols related to weather advisories broadcast via television, telephone, or in person." The money also will be used to explain "the dangers of lead poisoning and poisoning prevention strategies, including how to evaluate toys and find out about toy recalls."
As if we needed any more reason to question the motives behind this wasteful spending, right?  Unfortunately, this instance is not the first occurrence in Environmental Justice Grants.  Here is a brief history: 
Since 1994, the EPA's Environmental Justice Small Grants program has provided more than $21 million in funding to community-based nonprofit organizations and local governments in more than 1,200 communities. The $1.9 million in fiscal 2010 grant funding announced on Oct. 5 is the largest amount awarded for environmental justice grants in more than a decade. 
But that 1.9 million is not the only sum dedicated to the EPA for "environmental" spending.  Shortly after this 1.9 million dollars was set aside for Environmental Justice Grants, an extra 1.5 million was marked for the purposes of funding "environmental education efforts" for: 
14 organizations in 11 states and the District of Columbia to "inform the public of environmental issues and help them make educated choices on actions they can take to reduce negative environmental impacts." 
Oh, and some of the money went toward "helping tribal communities set up leadership programs."  Don't want to spending money on "tribal communities?" Too bad, says the federal government. 
The federal government is spending millions of dollars to help the poor, minority communities in the United States in a welfare-like fashion through the EPA.  At the same time, that same government refuses to dedicate funds to thousands of citizens in Texas whose lives have been uprooted by a natural disaster.  The government seems extremely committed to providing for the poor minorities in our country, which begs the question posed by a Hayride reader commenting on my article about the Texas disaster: 
What is the Preferred Species head count in that area? If it doesn't meet the required quota, there's NO WAY FEMA will do anything for them. 
It does seem as though FEMA, the EPA, and the federal government favor some groups of people over others. Therein, lies the great hypocrisy of this government.  In advocated equality, what this administration really does is redistribute the hard earned wealth of most Americans to fund minorities and the poor.  Obama claims to be the champion of the middle class???????  Please, stop it.  Just stop it.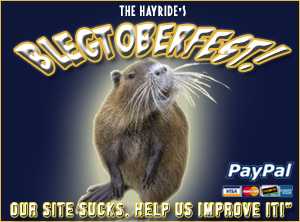 Advertisement
Advertisement