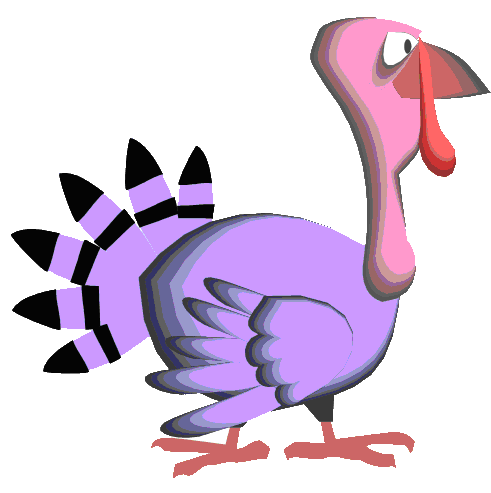 This year, we continue a cherished Thanksgiving tradition at Ringside Politics by bestowing our annual "Turkey of the Year" award to the most deserving politician or media personality.
This is always a very spirited competition because there are so many turkeys to consider. Previous winners have included former House Speaker Nancy "Botox Buffoon" Pelosi and former New Orleans politicians Mayor Ray "School Bus" Nagin and Congressman William "Dollar Bill" Jefferson.
To win this special award, the honoree has to best emulate our favorite Thanksgiving bird, the turkey. In other words, the winner must strut around acting as stupid as possible. A turkey's brain is smaller than a walnut, among the tiniest in the animal kingdom. The turkey, while delicious to eat, possesses fewer brain cells than a cockroach. It qualifies for true bird brain status, which is why this holiday treat reminds us of so many people in the news today.
In the world of media and politics today, there is an endless supply of foolish politicians who strut around spouting nonsense. At the top of the list is President Obama who can strut and spout nonsense with the best of them. Whether the topic is socialized medicine, the lack of "shovel ready" jobs in his stimulus bill, higher taxes, increased spending, adding trillions to the national debt or apologizing for America; he can certainly blather on endlessly, especially if he has his teleprompter. He does have credibility on some subjects, such as basketball and community organizing, but on most issues, he is clueless and woefully unprepared. In this year's competition, he was a strong candidate, finishing as our runner-up.
Sharing runner-up status with the President was the entire Occupy Wall Street movement, who continue to sound and smell like a bunch of turkeys. Many of these protesting fools are unaware of any goals for their movement; they just want free handouts and attention. They attracted the support of the typical idiotic Hollywood crowd like Susan Sarandon and Alec Baldwin. Actors are specialists at making foolish comments, especially when they offer inane encouragement to occupiers. If these actors really wanted to show support for the movement they would pitch a tent with the protesters and move into an occupied park. Don't hold your breath waiting for these limousine liberal stars to actually mean what they say.
While the Occupy Wall Street movement attracted a wide range of star turkeys, the designation of "Turkey of the Year" goes to the celebrity who most resembles the rotund bird of Thanksgiving, documentary filmmaker Michael Moore. This champion of corrupt Cuban health care and unions, who by the way used non-union labor in his last documentary, has demonstrated true turkey qualities in 2011.
Although the competition was tough this year, Moore was the clear winner and not just because he looks remarkably like a stuffed turkey.  For several months, Moore has been the poster child for the Occupy Wall Street movement. He has met with the protesters and encouraged them to expand their demonstrators across the country. He has provided the group key moral and financial support. In return, occupiers have been littering, committing crimes and defecating on police cars. What a great role model he has been for these protesters!
The occupiers claim that they represent the 99 percent of Americans who are getting screwed by the wealthiest 1 percent of the country who are not paying their fair share of taxes. Of course, among the top 1 percent of Americans is the bloated blowhard Michael Moore. In a recent interview with Piers Morgan on CNN, Moore denied the obvious and said he did not belong to the supposedly evil group. While Morgan asked Moore to "sit here and say, I'm in the 1 percent" the multi-millionaire refused and only admitted to being "blessed."
Moore makes his money on the backs of the blue collar people he supposedly represents and then lies to them about his own wealth. While decrying corporate greed, Moore lives in a 10,000 square foot mansion on Torch Lake in Traverse City, Michigan. He also owns a multi-million dollar apartment in New York City.  Overall, it's not a bad existence for an occupy leader with an axe to grind.
Ironically, Moore does not see the blatant hypocrisy of his partnership with the Occupy Wall Street crowd. He continually vilifies greed, yet his vast wealth symbolizes a distinct greed for money, fame and power. Moore is among the elite in this country and his followers would be wise to stop feeding his phenomenal ego.
To any objective observer, Moore should have zero credibility to blast capitalism, the very same system he used to accumulate his prodigious wealth.  Yet, our 2011 "Turkey of the Year" winner has no shame. According to Moore, "we're seeing…the end of capitalism as we know it and I say good riddance."
As usual, Moore's words ring hollow. Without capitalism, no one would know Michael Moore. Without capitalism, Moore would not be a millionaire with lavish homes. Without capitalism, there would be no Michael Moore documentaries. In fact, if there was no capitalism, there would be no Michael Moore, larger than life liberal personality.
So, the end of capitalism would have at least one benefit.
Jeff Crouere is a native of New Orleans, LA and he is the host of a Louisiana based program, "Ringside Politics," which airs at 7:30 p.m. Fri. and 10:00 p.m. Sun. on WLAE-TV 32, a PBS station, and 7 till 11 a.m. weekdays on WGSO 990 AM in New Orleans and the Northshore. For more information, visit his web site at www.ringsidepolitics.com. E-mail him at [email protected].