It turns out that peeling crawfish is one of those jobs that regular Americans just won't do and that's causing a problem for producers, thanks to new rules handed down from the United States Department of Labor.
New regulations for employers using migrant workers are forcing crawfish plants to pay an average of 32 percent higher hourly wages to workers in the H-2B Guest Visa Worker program.
Agriculture Commissioner Mike Strain is afraid that having to shell out more bucks for people to shell crawfish might just suck the life out of an industry that started in Louisiana.
"Louisiana created the crawfish tail meat industry. Now it's practically extinct. It has put United States businesses that rely on H-2B labor at a severe disadvantage," Strain said in a press release.
More than just crawfish meat processors use seasonal H-2B workers.
There are just a handful of companies in the state that still ship crawfish meat to other places, however, and they have to compete with foreign processors that pay workers a lot less.
Overall, business in Louisiana using foreign seasonal employees are expected to see labor costs rise  from $13 million to $19.5 million in one year. The estimated reduction in economic activity resulting from the proposed wage increase is $40 to $60 million per year, as measured by the LSU AgCenter.
Strain has a plan to lower cost for companies using workers in the H-2B program by streamlining it, so that law-abiding migrants can be returned to employers through five years processing cycles. Currently, workers must be processed through the federal system annually, which can get expensive  for employers
Brian Breaux of the Louisiana Farm Bureau told me that paperwork associated with H-2B workers costs employers anywhere from $500 to $200 per-worker every year.
"It's not a cheap process, but if you have a job position to fill you are getting extremely good workers—these are people who have come here to work," Breaux said.
Strain is working with members of the Louisiana Congressional Delegation to change the law. I was told that Sen. Mary Landrieu is behind the effort 100 percent, while Sen. David Vitter would like to see it as part of a larger, cohesive immigration bill.
"He believes that doing it by trying to break it us would create a political problem in which there would be trouble finding the votes to get it fixed," said Breaux.
Talking with people from the state today about this got me thinking. Seems to me, I end up paying a lot of money for me to peel crawfish about this time every year. I guess it's like Mark Twain said in Tom Sawyer, "Work consists of whatever a body is obliged to do. Play consists of whatever a body is not obliged to do."
There other reasons that companies packaging crawfish meat might not be able to use Louisiana workers other than that they just can't find them. There might not be much left to package if they used local workers: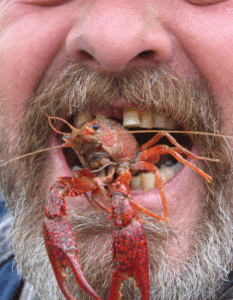 Advertisement
Advertisement