Let's get this goin' with a little theme music, huh?
So there's this Manti Te'o kid – I wrote him up this mornin' – who wants us all to believe he's the victim of a hoax wherein he fell in love with some fake Hawaiian chick over the internet, and she got fake leukemia and fake died, all while he had no clue what was goin' on. And the reason this is a thing is because the reporters in the national sports media picked up on Manti Te'o's dead girlfriend and made his wantin' to play for her the Feel Good Story Of The 2012 Football Season.
They ate it up. And Notre Dame, where Te'o plays, happily played it up as well while they were pushin' Te'o as a Heisman candidate. He finished second.
But it turns out that the fake girlfriend jig is up, because Deadspin.com broke the story about how this was all a hoax. And that means we can all have a big belly-laugh at Teo's expense (and Notre Dame's).
Like this, for example.
That's the Alabama people's take on this, which they're entitled to considering what A.J. McCarron's red-hot squeeze had to put up with after ol' man Musberger noticed that, yeah, Miss Alabama is a swell looker.
And a little more Alabama stuff…
But then there's this…
That's a Breakfast Club reference. If you don't get that one, you're one o' them cultural illiterates.
Then there's this…
And this…
And this…
This is kinda mean…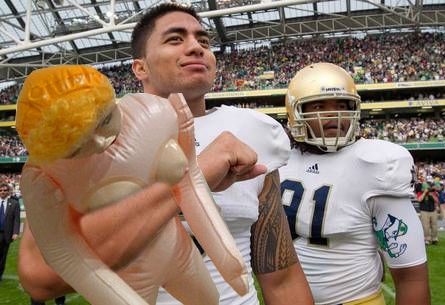 This one's real mean…
And a South Park reference…
Now a crack at Mormons and online dating…
And a movie reference that might be over a few folks' heads…
Another take on the same deal…
Back to the mean ones…
You wanna see a reference to The Usual Suspects on this? I call it genius…
Or how about Beetlejuice?
We also have a Napoleon Dynamite deal, too…
And this…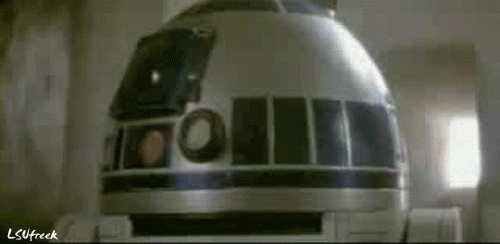 This one might be my favorite…
Then there was the one we had on the site earlier. Cuz there's a guy who got away with the fugazi girlfriend thing and knows how to make it work. Apparently the trick is to say she's a composite girlfriend – do that and you're in the clear…
You always gotta have one with a dog in it…
And now they have a Twitter hashtag…#teoing. You can pretty much guess what this one is…
The girlfriend modeling at the beach…
…and in the shower…
It's kinda cool how all the typical meme pics can apply to virtually all of these things, right?
Parting question – y'all think the whole dead-girlfriend thing was a cover for Te'o bein' a lil' light in the loafers?
I mean, if you need a beard, then just get one o' these. You'll get laughed at less (if only slightly)…
 UPDATE: And y'know there's gonna be one with that George Tsoulakis cat…
Advertisement
Advertisement