Word is LSU's gonna take an off-the-hook recruiting class.
Which isn't a real big surprise, mind you. LSU always takes an off-the-hook recruiting class. It's just that this one's supposed to be a little more off-the-hook than normal.
If they don't get anybody else other than the dudes they already got, it's an off-the-hook class. But there are some rumors – there are always rumors, but apparently these have a lil' more oomph to 'em than normal – that LSU has 2-3 extra dudes who aren't commitments as of tonight who could come in tomorrow. And they're, like, bad-ass dudes.
One of those dudes is a kid named Robert Nkemdiche, who's a 6-5, 280 pound defensive end out of someplace in Georgia. They say he's the top high school player in the country. And he was in Baton Rouge last weekend for a visit. They took him to that Brazilian place in Perkins Rowe and fed him like a champ, plus he got to meet Shaq.
Then they showed him this…
The rumor is that Nkemdiche told the LSU coaching staff he was coming. As in, he committed. And his dad was with him, so if that rumor is true it might actually mean Nkemdiche signs with LSU first thing in the morning tomorrow. Which is gonna be on ESPN, or ESPNU. But I ain't gonna get up at the crack of dawn to watch some high school kid sign with a college, even if it's LSU. I'll find out on the internet like most of y'all will.
And besides, the conventional wisdom says the Nkemdiche kid's gonna sign with Ole Miss, because that's where his brother plays. And Ole Miss is supposedly doin' one of the those Auburn "All In" things this year, where they're throwin' money around and sendin' girls to sex up recruits when they get 'em on campus and what-not. I dunno if that's true; whatever they're doin' is workin', because Ole Miss has never had a recruiting class like this one – or at least not since back in the day when they tolt all the black kids they had to sign with schools Up North or else go to Grambling because SEC teams didn't want kids with speed on their teams.
Or somethin'.
Anyway, even if Nkemdiche doesn't flip to LSU tomorrow, they might get a kid out of Phoenix named Priest Willis. He's a 6-2, 200 pound kid who plays cornerback and safety, and he's as good a defensive back as there is in the country. LSU put the full-court press on him, but he committed to UCLA because it was closer to home a couple weeks ago. But now he's re-thinkin' that and the word is he's not gonna sign tomorrow – and all the recruiting guru-type people are now sayin' LSU has flipped the script on the Bruins. Their coach is Kid Mora, who's prolly sittin' in his office sayin' "Willis? WILLIS? Don't talk about…Willis."
What else is pretty entertaining was that Frank Herron, who's a defensive end out of Memphis who's just as big as Nkemdiche is and is also rated as a five-star recruit like Nkemdiche is but has been an LSU commitment since way back in the spring of last year, skeered some folks by takin' a recruiting trip to Texas last weekend. This skeered some folks because last year there was another defensive end, Torshiro Davis out of Shreveport, who was an LSU commitment since way back in the beginning but flipped over to Texas on Signing Day. Lotsa people had the red-ass about that – and apparently Davis might be one of 'em, because the word is he hates it there. And that stinks for him, because seein' as though LSU's gonna take four or five defensive ends in this class they prolly wouldn't have a spot for Davis if he calls and begs contrition on 'em.
Anyway, so Herron takes that trip and freaks everybody out. Except he comes back home to Memphis afterwards and gives Texas a big ol' "Meh." Then he says he ain't changin' his commitment and puts this on his Twitters…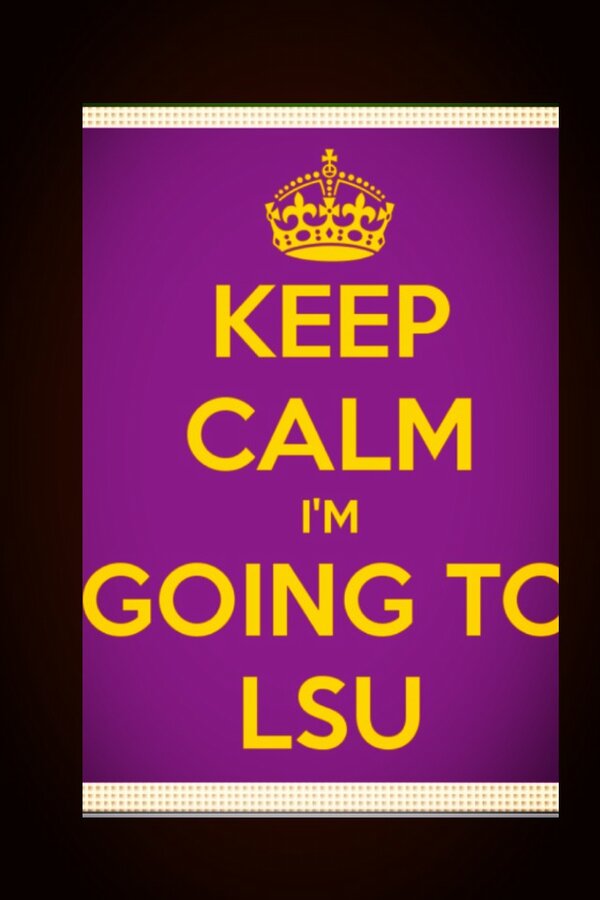 So that solves that. And now LSU's fans are startin' to think that while they're gonna lose Sam Montgomery and Barkevious Mingo to the first round of the draft and thus get cleaned out at defensive end, it's not the end of the world if you replace 'em with two five-star recruits in Nkemdiche and Herron. Can't really do better than that, though Nkemdiche isn't any kinda done deal. Even with Herron and the three other dudes they've already got – Kendall Beckwith, who's freakin' awesome, Michael Patterson and Lewis Neal – they got some serious talent there.
There are a couple other dudes out there that LSU might be pullin' a fast one on at the last minute. But they only really have a couple scholarships to give. Not to mention that there's that cat Courtney Gardner out there, who's a JUCO wide receiver we thought was so good we had to do a post on him when he said he was committed to LSU back in November. Gardner's kinda a basket case where academics are concerned and it ain't a sure thing they can get him in school, but he's so NFL Gregg Williams already has a bounty on him – and Williams don't even have a team to do it with.
MacAoidh says that if Gardner makes it to campus you might as well give LSU the national championship right then and there, because with all the talent they're gonna have even with all those kids going pro the only thing they've been missin' since Rueben Randle left was an NFL-quality go-to wide receiver and Gardner'd be the best guy like that to come along since Dwayne Bowe. He might be all wet thinkin' that, but on the other hand the last two times LSU had a senior quarterback were 2007 and 2011, and they won the SEC and played in the national championship game both times.
Somethin' else worth thinkin' about is this – the last two times LSU was breakin' in a new offensive coordinator were 2007 and 2011 as well. Gary Crowton's first year was 2007, and in 2011 the new guy was supposed to be Steve Kragthorpe but he got that Parkinson's and had to drop down to just coachin' quarterbacks and Greg Studrawa ended up as the new offensive coordinator.
The word is that Miles is gonna hire his ol' buddy Cam Cameron, who was the Ravens' offensive coordinator from 2008 until 13 games into this past season, when Harbaugh #1 let him go in order to shake some stuff up. Cameron's been a head coach for the Dolphins and also at Indiana, and he dint do great either place. But he was also the offensive coordinator for the Chargers in 2006, which was Philip Rivers' rookie year, and the offense that team put up that year was unreal.
In other words, when this guy has a lil' bit to work with he's pretty good. And his offense is usually pretty balanced with a good runnin' game and a lot of play-action and then throwin' a bomb down the field, which is more or less what Miles likes.
Meaning that Miles might have a good enough relationship with this guy and enough philosophical harmony with him that he can turn the reins over to him and let go like everybody says they want him to do.
And besides, LSU oughta be a smash-mouth team. The line is enormous, the runnin' backs are all big monster guys who run over people and let's face it, Alabama has been provin' every year that smash-mouth wins you championships while all that flashy spread offense business gets you the Cotton Bowl.
So Cameron might end up bein' as big a recruit as any of the dudes they sign tomorrow. I dunno if Miles would sign him by showin' him that video, but hell – it couldn't hurt.
UPDATE: So they didn't get that Nkemdiche kid after all. Which is just as well, because I can't type the dude's name worth spit.
It certainly looks like the video helped with the high school kids. Hell, watch the thing again and tell me you wouldn't wanna commit to LSU.
UPDATE #2: We didn't even talk about this cat…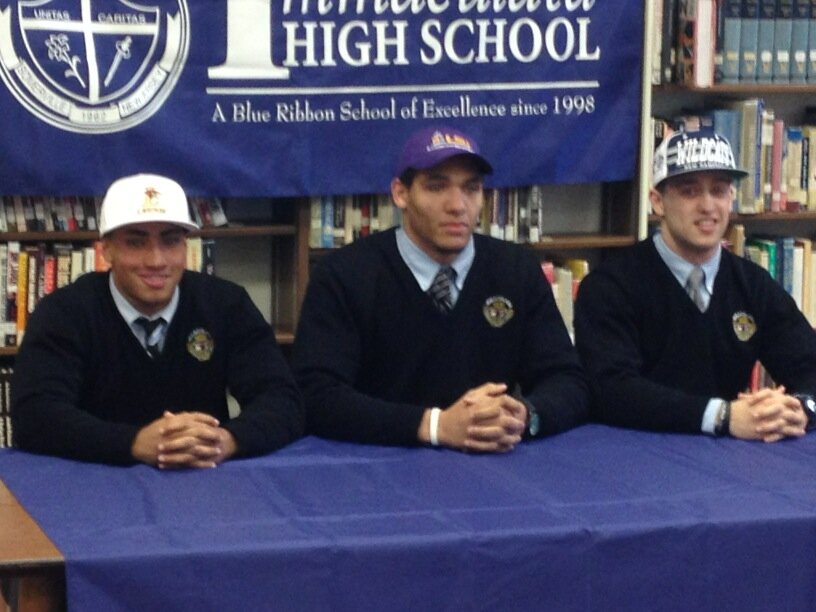 Who dat in the middle?
Dis.
His name's Tashawn Bower, and he plays defensive end like Nkemdiche does. And when Nkemdiche didn't pick LSU this morning, surprise! Bower did.
6-5 and 241 pounds. Rated as a four-star dude.
He didn't exactly come out of nowhere. He'd committed to Auburn, but opened his deal back up when they fired that goofball coach they had. A couple weeks ago he visited LSU and was real close to the vest about whether he liked it or not. Most people took that as meaning he wasn't gonna come to LSU.
Besides, he's from New Jersey. To go from New Jersey to LSU you gotta be Anthony Ranaudo, right? Can't think of a New Jersey guy who's ever come to LSU.
Well, unless this guy's foolin' people today he's a pioneer or somethin'.
Advertisement
Advertisement