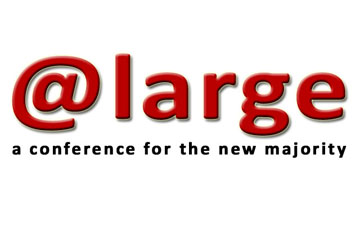 We've been working on this project for some time, but now it's ready for public consumption.
Our regular readers will know one theme running through our offerings since the election last November has been that conservatism has to penetrate the black community and break up the oppressive Democrat monopoly which lies therein.
Blacks made up 15 percent of the electorate in November 2012. Barack Obama got 14 of that 15 percent.
That's an atrocious figure. It's frankly an un-American figure. It suggests coercion, or tribalism.
Most of all, it suggests failure. When black unemployment sits at alarming levels, when black neighborhoods are still rife with murder, drugs, teen pregnancy and all the other social pathologies too often commonplace among our poor, it is failure for the party in charge of those neighborhoods to so dominate the electorate there.
The Republican Party, which has had at its core the principle that a man's liberty and opportunity should not be governed according to the color of his skin, has failed to compete for votes in a community which badly needs an option other than the Democrat plantation.
Deroy Murdock, writing yesterday at National Review, summed up the necessity for engagement – and the benefit for both sides. After pointing out that even an incremental improvement in GOP performance in the black community would have made Mitt Romney president, he wrote this…
Black voters deserve to hear the Republican vision of growth, opportunity, prosperity, and personal responsibility rather than the Democrat formula of profligacy, indebtedness, and redistribution (unforgivably, also advanced by GOP socialist G. W. Bush).

A muscular, year-round appeal to black voters would benefit the GOP and black Americans alike.
It's time to stop conceding 15 percent of the electorate to the Democrats, when Republicans getting a quarter to a third of the black vote would ruin the Democrat Party as a national electoral entity.
And that quarter to a third of the black vote is not unattainable.
Blacks are at ground zero where the effects of social leftism are concerned and they're more socially conservative than the nation as a whole – and yet they're trapped in a party rushing headlong into taxpayer-funded abortion on demand and gay marriage.
Blacks are at ground zero where the effects of rampant infringement on the 2nd Amendment right to bear arms are manifest – and yet they're trapped in a party which can't impose unworkable and disastrous gun control policy fast enough.
Blacks are at ground zero where the disastrous effects of job-killing economic and environmental policies are concerned, with unemployment rates that would assure societal breakdown if they were visited on white America – and yet they're trapped in a party which continues imposing debilitating socialistic stupidity everywhere it can.
Blacks are at ground zero where the debilitating effect of a self-dealing and failed government school model is unmistakable, with dropout and illiteracy rates reaching depths unimaginable given the billions in taxpayer dollars poured into the maw – and yet they're trapped in a party so beholden to the teachers' unions that for them, fighting school choice is reflexive and visceral.
Blacks are at ground zero where the damage done by a wide-open border policy which destroys the job opportunities providing the bottom rung on the economic ladder are concerned, leading to black youth unemployment approaching 50 percent and the inevitable consequence being crime and the dead-end underground economy for too many Americans – and yet they're trapped in a party which is so committed to trapping the Hispanic vote that their concerns about immigration are forcefully ignored.
And the Democrats are not held to account for this performance?
That is the fault of the Republican Party. The time has come for a change.
The GOP says it will practice "outreach" into the black community, and has announced it will spend $10 million to make such an outreach possible. That's great. But what we've seen so far is that "outreach" consists of sending blow-dried white guys from the suburbs into the black community to make a single speech during a campaign. This after the Democrats maintain a 24-7-365 campaign of demonizing Republicans as racists to Black America.
Blow-dried white guys from the suburbs won't work. They're dead in the water even before they make the attempt at "outreach."
To reach a black community with a message that both indicts the current Democrat lords of the manor for their failures and offers inspiration and another way, you have to present that community with messengers it will accept. Blow-dried white guys can come later.
For now, what's necessary is that black conservatives lead the fight.
As such, on May 30-31 we're putting on the @large conference at the Crowne Plaza Hotel in Baton Rouge. It's a two-day event complete with inspirational speakers, a showing of C.L. Bryant's Runaway Slave, workshops and networking.
@large will focus on inspiring, motivating and resourcing black conservatives who wish to participate in the political process, and in particular black conservatives who want to run for office.
C.L. Bryant will serve as the keynote speaker and Master of Ceremonies for the event, with lots of other terrific black conservative personalities making an appearance. Among them will be K. Carl Smith, who will help to re-introduce Frederick Douglass as a model for the new class of patriots the event seeks to develop.
A tentative agenda follows…
Thursday May 30, 2013
12:00 pm – 4:00 pm – Registration
4:30 pm – 5:30 pm – Welcome Reception
5:30 pm – 6:30 pm – Introductory Session with Keynote Speaker
6:30 pm – 9:30 pm – "Dinner and a Movie;" showing of Runaway Slave followed by panel discussion
Friday, May 31, 2013
8:00 am – 9:30 am – Prayer breakfast & Opening Session
9:30 am – 10:50 am – Workshop 1: Campaign fundraising
11:00 am – 12:20 pm – Workshop 2: Messaging I
12:30 pm – 1:30 pm – Lunch speaker; Frederick Douglass award presentation
1:40 pm – 3:00 pm – Workshop 3: Campaign organization & outreach
3:10 pm – 4:30 pm – Workshop 4: Messaging II
4:30 pm – 5:30 pm – Free Time
5:30 pm – 6:15 pm – Closing Session
6:15 pm – 7:15 pm – Closing Reception with entertainment
7:30 pm – VIP Dinner for sponsors, speakers & special invitees; offsite
We will show those conservatives that the days of their irrelevance, friendlessness and branding as social outcasts are over. We will show them that there is a wealth of talented, vibrant and inspirational peers out there. We will show them that there is a way to act as agents of social and political change, making a difference in raising their community and challenging the status quo. And we will show them that there are people who will help generously if they're willing to take the plunge and carry a conservative message into the black community within the context not just of an election cycle but on a daily basis.
And we will show the Republican establishment which has looked at the black community as a hopeless cause for too long that not only is that community not hopeless but that change has many faces. We will show that supporting black conservative messengers is a moral activity, that it will move the needle, that it will force the Democrats to be honest about what they're doing to Black America and that even if black conservatives running races in the black community doesn't produce electoral victory it will change this country.
You don't have to get a single black conservative candidate elected in the black community to make that change. If black conservatives never get more than 35 percent of the vote but convert that vote to a dissident constituency which can be mobilized to the polls on Election Day, the Democrat Party is finished in national politics.
Murdock explained well how just a small moving of the needle could shake the ground…
What if Romney had fought for black votes? He barely lost several swing states. With mildly stronger black support and a modestly tighter embrace among decreasingly "nervous" whites and energized GOP-base voters, Romney could have delivered an Electoral College squeaker.

Based on ballot results and exit polls, here's how Romney could have added  at least 64 electoral votes to his actual 206 and advanced to the Oval Office.

Obama won Florida's 29 electoral votes by 74,309 votes. To win the Sunshine State, Romney needed to swing just over half of that total, or 37,155 votes. Boosting Romney's black support from 4 percent to 5 percent would have won him 11,106 votes. Lifting his white support from 61 percent to 61.5 percent would have won Romney 28,308 votes. These additional votes would have totaled 39,404 — enough to win Florida.

Obama won Virginia's 13 electoral votes by 149,298 votes. To take the Old Dominion, Romney needed to shift just over half of that amount, or 74,650 votes. Raising Romney's black support from 6 percent to 9 percent would have yielded him 23,124 votes. Hiking his white support from 61 percent to 63 percent would have given Romney 53,962 votes. These additional votes would have totaled 77,086 — enough to win Virginia.

Obama won Ohio's 18 electoral votes by 166,277 votes. To grab the Buckeye State, Romney needed to switch just over half of that margin, or 83,139 votes. Boosting Romney's black support from 3 percent to 5 percent would have added 16,742 votes. Expanding his white showing from 57 percent to 58.6 percent would have given Romney 70,540 votes. These new votes would have totaled 87,282 — enough to win Ohio.

Obama won Colorado's nine electoral votes by 137,858 votes. To score the Centennial State, Romney needed to convert just over half of that sum, or 68,930 votes. Increasing Romney's black support from 6 percent to 9 percent would have delivered 2,313 votes. Augmenting his white showing from 54 percent to 57.5 percent would have won Romney 70,147 votes. These added votes would have totaled 72,460 — enough to win Colorado.

These 69 additional electoral votes would have totaled 275 and spelled President Romney.
And yet in the past, black conservatives running for office in black districts have struggled mightily to raise money – because typical Republican donors have regarded them as a bad investment.
At @large, we will endeavor to put those candidates in a room with those donors with an eye toward reversing that process. Our thrust will be to create partnerships not just to hopefully make new city councilmen in Biloxi or state representatives in Maryland, but to create a cadre of well-supported missionaries who can work every day to indict the Democrats for the horrid performance outlined above and inspire a populace which agrees with many planks in the conservative platform but can't bring itself to consider a departure from the establishment.
It's necessary work, and we're committed to enabling those who can do it.
We'd like you to join us.
At this link, you'll find a page where you can donate to the conference.
Feel free to send us what you can, but there are donation levels which produce benefits. At $100, you'll get a copy of Runaway Slave delivered to your door. At $250, you'll get two tickets to the Thursday showing of Runaway Slave. And at $500, you're invited to our VIP dinner, at which you'll network with conference attendees and the speakers and workshop presenters.
We need your help to put this event on. Please feel free to find us at Facebook and Twitter, and share us on social media to everyone you know.
We'll keep you updated with details about the conference – as speakers are added, as registration opens, as the event web site is finished, sponsors are added and so on. And when the conference occurs you can be sure that the proceedings will go on YouTube for all to see and hopefully be motivated by.
As you can see, we've been busy. We'll be busier. This effort is too important not to be.