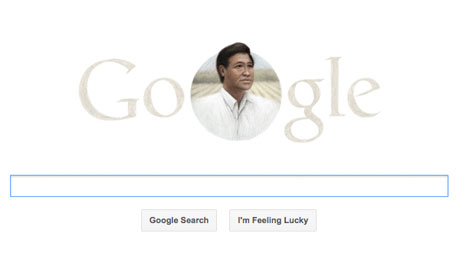 What do you get someone for their 86th birthday?
Well if that someone is the late farm workers union leader Cesar Chavez and you're an executive at the search engine Google, you give him the honor of being featured as one of their trademark "doodles."
That Chavez's birthday just so happens to fall on the same day as the most important annual celebration in Christianity is a coincidence, though it probably wouldn't have matter had Easter fallen on a different day.
There's always someone else to pay homage to. Anybody else (more on this later).
The image of Chavez, draped in messianic white, posted on Google's home page on Easter might have even offended him. since Chavez was known to take his Roman Catholic faith seriously.
It's a slap in the face to Christians by the Mountain Valley, CA internet giant, though not the first, just the latest.
Google takes great pride in their "doodles", archiving them in an on-line museum of their graphic headlines.
Even when they do post a "doodle" related to Christmas, it features secular aspects of the holiday (winter scenes and toys) with no reference to the Nativity and the "birthday boy" that made it all possible.
In fact, Google doesn't even call their December 25th "doodle" Christmas, labeling them the "holiday series". Glad they cleared that up.
So aside from Chavez, who else does Google deem fit to celebrate?
The birthdays of Michael Jackson, Ray Charles, Leonardo Da Vinci, Louis Braille, Albert Einstein, Charles Darwin, Alfred Hitchcock, Pablo Picasso, Andy Warhol, Freddie Mercury, Sir Arthur Conan Doyle, L.L. Zamenhoff (the father of Esperanto) and Frank Zamboni.
That's quite a line for the Savior to stand behind. I mean, the "inventor" of a language that nobody uses.
I'm sure the only people due for a "doodle" before Jesus are Ron Popeil, the founder of Ronco (Google it, or rather Bing it) and Murray Langston (AKA The Unknown Comic). Standing behind Jesus is Christopher Columbus.
Martin Luther King, Jr. is a favorite, as Google has commemorated his holiday with a "doodle" on nine occasions, including the past consecutive eight years, yet the faith that Dr. King studied, preached and guided his crusade for equal rights doesn't even get an honorable mention from his techy fans in the Bay Area.
Yet Earth Day (go figure), International Women's Day, Halloween, St. Patrick's Day (no reference to the actual Saint Patrick naturally) and Guy Fawkes get mentioned by name.
Google does this not to avoid offending but to offend. Why? Because they can.
Simply put, Google is too big to care even though over 240,000,000 Americans claim to profess an adherence to some form of Christianity.
Granted a good number of those could be "Jimmy Buffet (born on December 25)/Eiffel Tower opening (March 31, 1889)" Christians.
Being the planet's dominant internet search engine, enjoying a stock price of about $794 per share and having a company market value in excess of a quarter of a trillion (that's with a "t" not a small cross), means never having to say you're sorry.
That's not to say Google won't be responding to the news stories about their Easter egging; they just won't be apologizing.
On Monday, Google's professional media talkers will be ticking off Wikipedia factoids to reporters about Cesar Chavez's contributions that led to a better society while feigning great offense that conservatives would so negatively react to their attempt to put a spotlight on the life of a prominent Latino-American.
That they could have done so on his 85th birthday last year but did not is a trickbag even their best compensated spin doctors cannot explain. Apparently Google doesn't go by the "5s and 10s" system that high school reunions and wedding anniversary parties generally follow.
Christians should feel slighted by Google's blatant working policy of not recognizing our holidays by name and elevating obscure birthdays and anniversaries over Christmas and Easter.
Between litigious atheists engaging in courtroom theatre before favorably predisposed judges, the so-called political correcting (more like bowdlerizing) of Christian imagery and references (Seasons Greetings- whatever the hell that means) and the popular culture erosion of Christian values, America continues to drift in the Western Europe cultural gulfstream.
There is a culture war being waged against Christianity in America and the smug tech-hipsters at Google just served up the latest reminder of it.
Stay classy Mountain View.