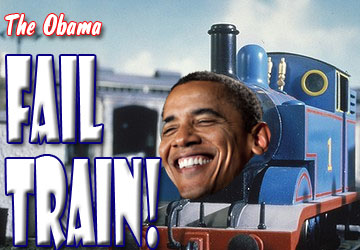 Hope you're not in a hurry, because it's going to take forever to get this one through that crossing.
Right behind the engine, today we have Susan Rice failing up…
President Barack Obama's top national security adviser Tom Donilon is resigning and will be replaced by U.S. ambassador to the United Nations Susan Rice, marking a significant shakeup to the White House foreign policy team.

A White House official confirmed the personnel changes Wednesday morning ahead of a planned announcement by the president later in the day.

Donilon has been a key foreign policy adviser to Obama since he first took office. But the 58-year-old had been expected to depart sometime this year, with Rice seen as the likely candidate to replace him.

Rice, a close Obama confidante, came under withering criticism from Republicans as part of the investigations into the deadly attack on a U.S. compound in Benghazi, Libya. Rice, relying on talking points from the intelligence community, said in television interviews that the attacks were likely spontaneous, which was later proven incorrect.

Obama considered nominating Rice as his second-term secretary of state, but she withdrew amid the GOP criticism, saying she didn't want her confirmation fight to be a distraction for the White House.
It's interesting that nobody in the White House seems to have much of a passion for actually being seen doing a good job. If you care about the perception that you're running a good administration, making the person who was most out front with the absolutely demonstrably wrong interpretation of what happened in Benghazi the national security advisor to the president is really not the choice which jumps out at you.
That Rice no longer has any credibility whatsoever on foreign policy or national security makes no difference to these people. Rewarding loyal stooges is what makes a difference. And treating Republicans as the enemy rather than a partner the Constitution and our political system requires Obama to work with is what makes a difference.
The word is that Rice is big on intervening in Syria. Think about the dynamics of how that's going to work when Obama takes her advice and starts trying to send troops or jets or guns (above the table; we've already been sending them covertly) to help Al Qaeda beat Assad – knowing that he's following the advice of somebody who went on five Sunday shows to blame an Al Qaeda attack on a stupid YouTube video.
Any way that turns out well?
Speaking of stupid, false narratives which explode in Obama's face, how about the "workplace violence" down in Fort Hood?
An Army psychiatrist charged with gunning down Fort Hood soldiers waiting to deploy to Afghanistan said Tuesday his defense would show that he was compelled to do so because the troops posed an imminent danger to Taliban fighters.

The military judge asked Maj. Nidal Hasan if he has evidence to support his "defense of others" strategy, hinting that it could be thrown out.

The "defense of others" defense requires him to prove the killings were necessary to protect others from immediate danger or death.

The court-martial had been scheduled to start with jury selection Wednesday, two days after Hasan was granted his request to represent himself. Hasan, an American-born Muslim, then requested a three-month delay to give him more time to prepare his defense.

The military judge, Col. Tara Osborn, was to rule Wednesday on Hasan's trial delay request. Osborn said jury selection would now start no earlier than Monday.
Oh, so in other words Nidal Hasan WAS a jihadist who killed 13 soldiers at Ft. Hood, and that would make Ft. Hood a successful terrorist attack on U.S. soil?
Are they going to keep calling it "workplace violence" now and continue to deny the victims Purple Hearts? Can we now drop the idea that Al Qaeda is dead and gone?
Facts are stubborn things.
But there's more. Remember how Obama and his friends broke out in conniptions when Sarah Palin decried the "death panels" in Obamacare? Yeah, because that would never happen within the friendly confines of the Obama administration.
The plight of a dying 10-year-old girl in urgent need of a lung transplant has been taken up by some GOP lawmakers, and it's shining a light on what critics say is a questionable policy that puts children further down the waiting list.

The family of the Pennsylvania girl, Sarah Murnaghan, has garnered the media spotlight, on cable news and in other outlets. And some GOP congressmen have joined the fray, quite literally "begging" HHS Secretary Kathleen Sebelius to intervene and save the girl's life. Both Pennsylvania senators — a Democrat and a Republican — have also written on the child's behalf.

"I'm begging you," Rep. Lou Barletta (R-Pa.) told Sebelius at a House hearing Tuesday morning, asking her to suspend the transplant rules until they can be revisited. "Sarah has three to five weeks to live. Time is running out." The child has cystic fibrosis.

At the hearing, Sebelius called the situation "agonizing" and said she had talked to the girl's mother. She has ordered a review of the policy, which she acknowledged would take too long to have any impact on this girl's situation, but said it wasn't her place to pick and choose transplant recipients.

"I can't imagine anything worse than one individual getting to pick who lives and who dies," she said. Sebelius said putting Sarah next in line would disadvantage other young people who have also been waiting for transplants — including three in the same area. Helping one child could possibly hurt another.
How about the optics of Obama's chief health-care bureaucrat being begged by a Congressman to allow health care to be provided to a dying 10-year old girl? How's that?
Hope and change.
Sebelius, of course, is in the news for another reason…
Kathleen Sebelius, the secretary of health and human services, disclosed on Tuesday that she had made telephone calls to three companies regulated by her department and urged them to help a nonprofit group promote President Obama's health care law.

She identified the companies as Johnson & Johnson, the drug maker; Ascension Health, a large Roman Catholic health care system; and Kaiser Permanente, the health insurance plan.

At a hearing of the House Committee on Education and the Workforce, Ms. Sebelius said she did not explicitly ask the companies for money, but urged them to support the work of the nonprofit group, Enroll America.

The group, led by former Obama administration officials, is working with the White House to publicize the 2010 health care law and help uninsured people sign up for coverage.

Republicans in Congress have raised questions about the legality and propriety of Ms. Sebelius's fund-raising efforts, saying she was trying to circumvent limits on spending set by Congress.
Because there's certainly nothing untoward about the HHS Secretary calling private companies she regulates and shaking them down to spend money off the books to push a political agenda she can't get through Congress, right?
We're a bit off track here. Let's go back to this business of radical Islam and our national security and foreign policy infrastructure for a minute…
Currently the Obama administration is facing three big scandals — the IRS targeting, the bugging of AP and Fox, and Benghazi. Now we have scandal Number Four, just as large in scope.

For the last four years, the Obama administration has conducted a major "outreach" program to Islamic groups in the United States and in the Middle East. In a comprehensive article, investigative journalist and PJ Media contributor Patrick Poole now presents the full scoop and scope of what's been going on. His article — "Blind to Terror: The U.S. Government's Disastrous Muslim Outreach Efforts and the Impact on U.S. Policy" — appearing in the new Summer issue of the MERIA Journal is a game-changer.

You may think that you know about this subject, but the scandal extends far beyond what you have heard.

The majority of these groups and individuals promoted by the Obama administration have been radical Islamists, particularly Muslim Brotherhood cadre, and more than occasionally were people involved in terrorist activity.

Actual moderate Muslims have been neglected and isolated by this project, which has helped the radicals, Islamists, and pro-terrorists gain hegemony in the Muslim community in America.

Again, you may think that you know this story — but it is far more extensive than has ever before been revealed. Often, the White House and FBI have granted access and worked with those who were simultaneously being investigated on serious charges of terrorism.

The whole "outreach" program has been a farce, and it would be charitable to describe it as incompetence on the part of the Obama administration. Patrick Poole pulls all of the material together for the first time and shows serious flaws that have endangered Americans in scores of cases. Radicals have been given credentials as moderates, been provided with information that should have remained secret, and been allowed to advise and influence U.S. policy. The kind of government mishandling of terrorist threats that characterize the Fort Hood case and the Boston bombing has been business as usual.
And here's a little extra juice on this…
When President Obama hosted his annual Iftar dinner in August 2010 to commemorate the Muslim celebration of Ramadan, the list of invitees published by the White House was curiously missing the names of several attendees — all of whom were top leaders of organizations known to be purveyors of jihadist ideology and implicated by federal prosecutors in financing terrorism.[

But it wasn't like they had crashed the party. In fact, one of the individuals missing on the official White House list, Mohamed Majid, president of the Islamic Society of North America (ISNA), was pictured in a news service photograph sitting at the front table just a few feet from the president as he spoke. When Majid was hailed by Time Magazine in November 2005 as a "moderate Muslim cleric" that was helping the FBI fight terrorists, he quickly published an open letter to his congregation on the mosque's website assuring his congregants that he was doing no such thing stating that his relationship with the FBI was a one-way street only to communicate Muslim community concerns – not to report on individuals suspected of terrorist activity.[iii]

It was just a few years ago the Attorney General of the United States was canceling Muslim outreach events for the sole reason that Majid would be present at the meeting, because the Department of Justice had just named ISNA as an unindicted co-conspirator in the largest terrorism financing trial in American history.

But Majid's connection to terrorism goes back even farther than that, since the offices of the mosque he leads, the All Dulles Area Muslim Society (ADAMS) Center, were raided by U.S. Customs authorities in March 2002 in a wide-sweeping terror finance investigation. In an affidavit requesting a search warrant for the raids, Customs Agent David Kane testified that Majid's mosque was being used to launder hundreds of thousands of dollars for the targeted terror finance network that shared offices with ADAMS.An appendix to the Customs Service affidavit also names eleven ADAMS Center officials as targets of their terror finance investigation.And yet Majid and the ADAMS Center are still considered legitimate outreach partners by the FBI.

This was just the most recent episode in the disastrous attempts at outreach to the Muslim community since the 9/11 attacks. And with the release in 2011 of President Obama's strategic plan to combat "violent extremism" to expand outreach to these same terror-tied groups, the present administration seems intent on compounding the disaster wrought by previous administrations.
And by the way, there's a replacement set for Susan Rice as the UN Ambassador. That would be Samantha Power, Democrat partisan hack and vicious anti-semite…
Samantha Power has been a notorious critic of Israel for years and that, naturally, makes her well-qualified under President Obama's criteria to serve in such a crucial post. She will be welcomed with open arms at the United Nations.

We at American Thinker have been warning about her influence with Barack Obama since 2008 (see Samantha Power and Obama's Foreign Policy Team).

But her bit of nastiness seems to be tinged with a bit of anti-Semitism as well.

…

She even went so far as to call Israelis "bastards"

She even promoted Palestinian propaganda that a massacre was committed in Jenin-even telling off a New York Times reporter (!) who did not agree with her view

She also wanted to impose a settlement on Israel, backed up with the placement of US troops (Secretary of Defense Chuck Hagel thinks likewise, btw).

Her adherence to the Soros-funded principle of Responsibility to Protect as an international policy can be used as a cudgel against Israel when it comes to the Palestinians and any actions Israel may be compelled to take in Lebanon to defend herself from Hezb'allah (now busy committing war crimes in Syria at the behest of the mullahs in Iran).

Ms. Power also derided concerns about Iran's nuclear weapons program in a Time magazine column, stating that it was a figment of the imagination conjured up and promoted by George Bush to gin up pressure on Iran . She counseled, what else, outreach and engagement not further pressure. She will be great at the United Nations: great for Iran, great for Hezb'llah, great for Hamas.
Hey, would you like to talk about Eric Holder for a minute?
The Justice Department is rejecting Republican suggestions that Attorney General Eric Holder committed perjury when he told Congress he had never been involved in a potential prosecution of the news media.

Holder's testimony came just days before it was disclosed that he had approved a search warrant application calling Fox News journalist James Rosen a probable co-conspirator in a leak investigation. In his May 15 testimony, Holder had told the House Judiciary Committee that "potential prosecution of the press" for disclosing classified material is, quoting, "not something that I've ever been involved in."

…

In a letter to the House Judiciary Committee chairman, Virginia Republican Bob Goodlatte, the Justice Department said at no time before or after seeking the search warrant have prosecutors sought approval to bring charges against the reporter. Goodlatte released a statement Monday suggesting the letter "raises more questions than it answers."
Holder's a pretty interesting case. Here's a guy who sought a warrant from a judge to get phone records of government officials who were talking to reporters, and in the warrant he called the reporters criminal co-conspirators subject to potential prosecution, and then he denied to Congress when asked, before the warrant came into the public light, that he was ever involved in a potential prosecution…but no, he never lied to anybody.
Sure, why not…right? This is easily explained. You're racist.
Did Holder communicate any of this via e-mail? This administration's pretty big on e-mail, y'know…
A White House spokesman said Tuesday there's nothing secret about the secret email accounts held by administration officials, and defended the practice as sensible time management.

Asked about revelations that some Obama Cabinet officials, including former EPA Administrator Lisa P. Jackson, have used secret alias email addresses, White House press secretary Jay Carney said the subterfuge "makes eminent sense" because those officials would otherwise be swamped with unwanted messages. He said other administrations also have used the secret — or in his words "alternate" — email accounts.

"There's nothing secret," Mr. Carney said. "It's about having a public email address as well as … one for internal, you know, workings."

While at EPA, Ms. Jackson used the email address "[email protected]" for important business. The agency even awarded the fictional staffer's email account certificates proving that the alter ego had mastered all of the EPA's technology training.

The Associated Press reported Tuesday that other administration officials, including Health and Human Services Secretary Kathleen Sebelius, also use secret email accounts. The news service said the scope of the practice remains a mystery because Cabinet agencies have failed for three months to respond to requests under the Freedom of Information Act for lists of political appointees' email addresses.
Transparency. These guys are actually VERY transparent, incidentally – whatever quaint notions of competence and integrity you may have as applied to expectations of the government, they're clearly not on board with.
More transparency – you don't get to see the full transcript of the First Lady's DNC appearance at which she was set upon by lesbian hecklers…
The pool reported that Obama left the lectern toward the protestor saying that they could "listen to me or you can take the mic, but I'm leaving. You all decide. You have one choice."

The Democratic audience begged the first lady to stay, with one woman telling the protester," You need to go."

The protester was escorted from the proceedings, shouting about federal equality for lesbians.

The official White House transcript of the first lady's remarks did not include the portion of the event during which Obama threatened to leave, it did include the protester's remarks.
If you want transparency from this White House, actually your best bet might be to go see a movie…
Former CIA Director Leon Panetta revealed the name of the Navy SEAL unit that carried out the Osama Bin Laden raid and named the unit's ground commander at a 2011 ceremony attended by Zero Dark Thirty filmmaker Mark Boal, according to a draft Pentagon inspector general's report obtained by a watchdog group.

Panetta also disclosed classified information designated as "top secret" and "secret" during his presentation at the CIA awards ceremony, says the draft IG report published Wednesday by the Project on Government Oversight.

The report does not make clear whether Panetta was aware that Boal was present at the ceremony, held under a tent at the CIA complex on June 24, 2011. "Approximately 1300" people from the military and the intelligence community were on hand for the event, according to a CIA press release issued the following week.
Oh, and we forgot about the IRS scandal. It wasn't just about the Tea Party people yesterday, y'know. There's a Stephanie Cutter thing, too…
The curious case of former IRS Commissioner Doug Shulman's 157 meetings at the White House is now more curious with the revelation that he attended meetings with Stephanie Cutter, Deputy Campaign Manager for President Obama's 2012 reelection campaign. While she technically served a stint as a White House advisor to the President, her role has always been that of an aggressive political operator. That their meetings coincided with the IRS targeting of conservative and tea party organizations raises many questions.

Cutter may have had an official White House title, but she has always been a campaign operative. In 2010, she was named an Assistant to the President, charged with communications and outreach for ObamaCare. Presumably, it is in this role that she was in meetings with Shulman. This itself is odd, because as the IRS is tasked with implementing large swathes of ObamaCare, HHS is responsible for the public outreach and oversight of the public exchanges at the heart of the law.

Cutter has not revealed the details of the meetings she attended with Shulman. We don't know the exact dates they met, except that they must have coincided with the IRS targeting of conservative groups. We do know that the targeting began around the time that ObamaCare was enacted.
And in case you weren't aware, the IRS wasn't the only federal bureaucracy the Obama campaign sicced on regular Americans who disagree with them politically…
It's not just the IRS.

A second federal agency is facing a probe and accusations of political bias over its alleged targeting of conservative groups.

The allegations concern the Environmental Protection Agency, which is being accused of trying to charge conservative groups fees while largely exempting liberal groups. The fees applied to Freedom of Information Act requests — allegedly, the EPA waived them for liberal groups far more often than it did for conservative ones.

The allegations are under investigation by the House Energy and Commerce Committee and the House Oversight and Government Reform Committee, which is also holding hearings on the Internal Revenue Service targeting of conservative groups.

"I don't think it is fair at all. It is not fair to the American taxpayer — the American taxpayer should expect and demand that the EPA treats everyone equally in regard to these requests," said Pennsylvania Republican Rep. Tim Murphy, a member of the Energy and Commerce Committee. "This cannot be tolerated. As we see more federal agencies with this kind of bias, it is and should be a concern for all of us."

Research by the Competitive Enterprise Institute (CEI), a conservative Washington, D.C., think tank, claims that the political bias is routine when it comes to deciding which groups are charged fees. Christopher Horner, senior fellow at CEI, said liberal groups have their fees for documents waived about 90 percent of the time, in contrast with conservative groups that it claims are denied fee waivers about 90 percent of the time.

"The idea is to throw hurdles in our way," charged Horner, who says he decided to look into the fee structure after the EPA repeatedly turned down his group for waivers.
Ask yourself this – have you ever seen anything like this in an American presidential administration?
Scratch that – have you ever seen anything like this in a presidential administration of a first-world country?