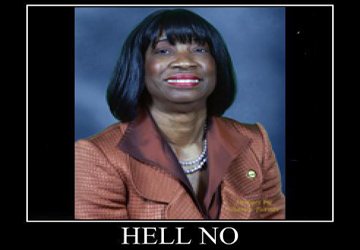 Most high-profile legislation offered by north Louisiana legislators this past session for the area and the state failed to win passage. And that's a good thing.
Previously discussed here was state Rep. Henry Burns' HB 179, which would have jacked up the occupancy tax for Caddo and Bossier Parishes and divert those sums to touristic interests and the Advocare V100 Bowl. There was no financial justification to kill jobs this way, and the bill was quickly smothered in a House of Representatives committee.
However, Burns did well in getting his HB 717 passed that will make it harder for the mentally ill and felons to buy firearms. He was joined with getting through a quality bill doubly by state Rep. Jeff Thompson, whose HB 8 will punish dissemination of information concerning concealed carry weapon license holders that could make certain households more vulnerable to crime, and whose HB 98 makes it easier to have that license across parishes.
But outside of these legislative successes, not much else of valuable policy got to the governor's desk for his signature. State Rep. Frank Hoffman's HB 111 started out as a minor extension on smoking bans, relative to smoking outside of state-owned buildings except for sports facilities, but found it amended even more narrowly and then it expired without the Senate acting for no apparent reason. While it hardly changed anything, even a small gain would have been appreciated by those in the public with breathing difficulties.
More controversially, his HB 527 that would have permitted optometrists to perform certain procedures that now only ophthalmologists (who have more advanced medical training) can foundered early in the process over health and safety concerns. While some states permit this and it might bring pricing down, discretion probably is the better part of valor in these medical matters. However, even as his HB 375 required for the first time co-payments for the highest-income families participating in a popular program known as Early Steps, which provides access to professional assistance for very young children with learning disabilities, that allowed the state to continue to fund access to lower-income families which it otherwise could not have without the co-payments.
State Sen. Francis Thompson also came up with a clunker, SB 235, that went nowhere. It would have reduced the cost advantages of contracting out operations of the state's public-owned hospitals. Legislator backlash against privatization as a whole, which threatens the bailiwicks of many and their abilities to take credit for reelection purposes by using government-as-employer, also found its way into other larger bills but eventually all met with defeat.
State Rep. Gene Reynolds' HB 160 was a rear-guard action to prevent improved school accountability standards from going into effect for the next year. Opponents to these new rules, which provide the state's first-ever quantitative measurement of a teacher's ability by assessing progress of students in their classes from year-beginning to year-end over multiple years, hoped by stalling they could buy time for a future effort to roll them back, but enough reform senators refused to move the bill forward after it escaped the House.
Making a bid for coming up with the most odious collection introduced, state Rep. Marcus Hunter's HB 458 not only would have cheapened the right to vote by allowing incarcerated felons to vote, but also his HB 464 also would have allowed the incarcerated to collect workers' compensation payments. Neither ended up meriting a real committee hearing as it turned out.
But the winner for dumbest legislation, and perhaps for whom the reward should be retired in her dishonor until she leaves the Legislature, is perennial champion state Rep. Barbara Norton. While two of her bills intended to become law were very minor and uncontroversial and made it all the way, the other four absolutely reeked of stupidity.
Her HB 4, mandating the prevention of guns from being in a position to be fired immediately, would have made more people vulnerable to violence being used against them and was killed in committee. Her HB 110 would have forced the state to expand Medicaid coverage, when the most thorough and nonpartisan study of the effects of that change showed by 2020 the state would pay more annually than under current policy of care for the indigent, with a cost of $93 million extra by 2023 and the rate of increase of loss by then at 15 percent a year, while another study determined that would produce worse care than by not expanding. Her version was terminated in committee, but a related measure eventually suffered its demise on the House floor.
Another of her efforts, HB 453, would have raised the specter of lawsuits unless women were paid for work allegedly using the same skills as men at the same rate, not for the same actual work done or productivity and output. That was passed over and a watered-down version that applies only to state employees, who already have civil service protections, passed both chambers. Problematically, this gives incentive for her or others to try to expand on that in future years into the private sector where it would trigger baseless lawsuits and make it harder for employers to pay on an optimal basis that would negatively affect their business, most employees, and clients.
Finally, particular to Shreveport, HB 706 would have made permanent a sales tax dedicated to public safety that periodically presently must be renewed.  But area legislators, particularly state Rep. Thomas Carmody, objected to the permanency and even though it made it out of committee the entire House rejected it.
So, area legislators for the most part didn't do a whole lot to distinguish themselves. Unlike last year, progress this session was measured more in what harmful items did not get passed than what helpful ones did.