UPDATE: There is more.
ORIGINAL: Who's the worst politician in Louisiana?
That's a question which needs definition before it's answered. We're not asking who the most dishonest public official is, or who offers the worst policy proposals. The question focuses on who does the worst job of practicing the political arts.
As in, which politician does more to alienate and inflame his or her constituents and others residing within his or her community through statements and actions while deriving the smallest amount of benefit in return.
While there may be competition for that designation, we think it has to go to Baton Rouge Metro Councilman John Delgado. And we offer as evidence his responses in a Facebook thread by his colleague Ryan Heck this morning on the question of East Baton Rouge school reform at the Louisiana legislature.
Specifically, there are bills at the legislature filed by Sen. Bodi White and Reps. Dalton Honore and Steve Carter which would chop the size of the East Baton Rouge school board down to seven members and download power and control from the school district to the school principals within that system. Those bills are largely endorsed by the Baton Rouge Area Chamber and a number of other organizations on both sides of the St. George fight which Delgado has been so prominent in.
And last night, Heck launched a Facebook thread by endorsing those reforms, or at least the discussion those proposals will generate, with this message…
Guess what folks? We just may see what could be the most substantial reform of our public education system here in EBRP in the last 40 years or so.

I'm extremely excited that Rep. Steve Carter, Rep. Dalton Honore, and Sen. Bodi White are now working together to offer solutions to what I, and many, many others understand to be the biggest obstacle to our true success as a parish.

Kudos to all the different groups that have brought this issue to the forefront.
What say you, John Delgado? Had it not been for the pressure applied by the St George effort, do you think we'd have gotten so far so fast?

Hats off to Lionel Rainey III, Norman Browning, Dustin Yates, and the others from the neighborhood schools for neighborhood children / St George effort.

And also to Adam Knapp, John Spain, and their respective groups. Thanks for recognizing the issue and working to make substantial reform in EBRP schools.

Now, there will be a vote sooner or later on whether we need another municipality. Voters will decide and then we'll move on to creating the best parish in Louisiana, whether there is a new city or not. Either way it shakes out, we will be a unified and strong parish, I have no doubt.

I recently saw a quote that sums up this whole debate really well; never confuse an opponent for an enemy. I believe that is what we should all takeaway from this little civics lesson. I've met some fantastic people on both sides of the argument that all have the same thing in common; a passionate desire to provide the best education possible for the children of EBRP. If that's the goal, I'd say we're in a great place.
Immediately thereafter, Delgado called the bills "turds." Heck deleted that.
Then came this thread, which must be read with an eye toward the fact that this guy isn't just some goofball on social media but an elected official who is actually telling people he's going to run for Mayor-President in Baton Rouge in 2016…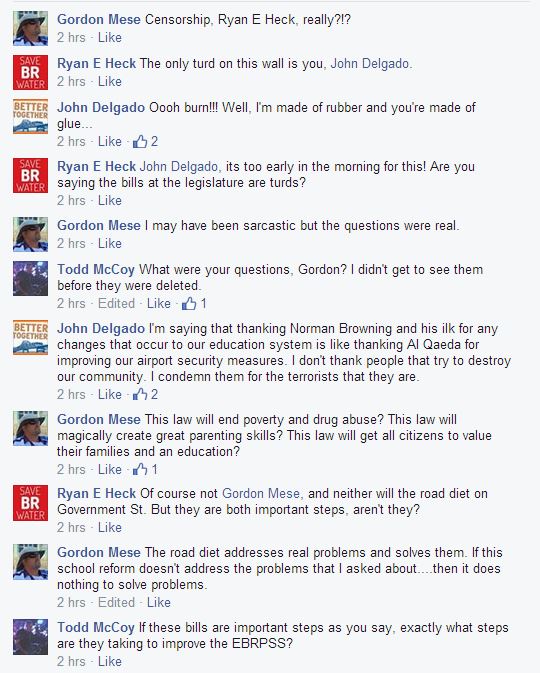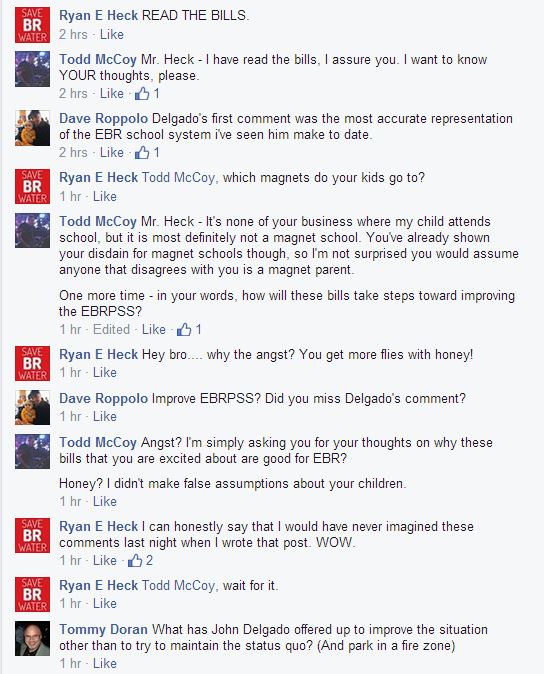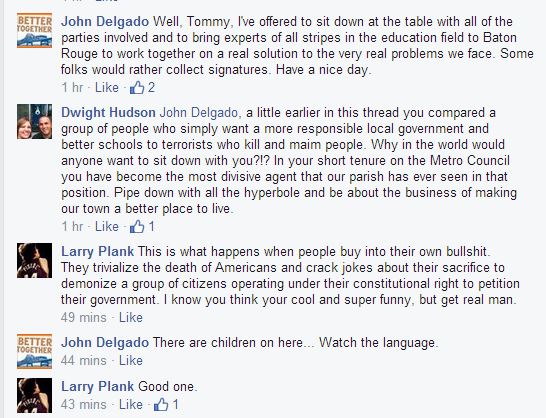 Yes, you did see that correctly.
Or perhaps you may have missed it, so we'll show it to you again…
The St. George gang is a little miffed about this. The local media is now poking into it.
Calling the St. George people Al Qaeda, when you're a politician whose district includes part of what would be St. George, probably isn't very smart.
We're probably not going to be able to mention Delgado without using the words "controversial," "divisive" or "embattled" from now on. Either way, we can say he's a lousy politician – and probably the worst in Louisiana.