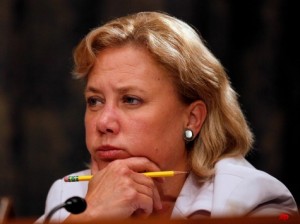 Democrats should not be so sure of themselves on hot topic issues like the economy and Obamacare when it comes to the 2014 midterm elections, a new poll released today found, because Republicans have the upper hand.
A nationwide poll conducted by USA TODAY/Pew Research Center found that voters are leaning more towards Republicans and not Democrats for the 2014 and 2016 elections. As noted, the research reveals that more voters are leaning red in a midterm election year than in the past two decades, including the GOP 2010 clean house election.  
By more than 2-1, 65%-30%, Americans say they want the president elected in 2016 to pursue different policies and programs than the Obama administration, rather than similar ones.

In the 2014 elections, registered voters are inclined to support the Republican candidate over the Democrat in their congressional district by 47%-43%. That 4-percentage-point edge may seem small, but it's notable because Democrats traditionally fare better among registered voters than they do among those who actually cast ballots, especially in low-turnout midterms.

Their lead in the generic congressional ballot is the biggest at this point for Republicans in the past 20 years. In 1994, when the GOP would gain control of the House and Senate, Democrats held a 2-point advantage in the spring of the election year. In 2010, when Republicans would win back the House, the two sides were even.

The poll of 1,501 adults, including 1,162 registered voters, was taken April 23-27. It has a margin of error of +/-3 percentage points.
And, to make matters even worse for Democrats running in 2014 and 2016, by more than 2-1, Americans said they were not happy with the direction the Obama administration was leading the country, pointing to Obamacare as a 'one size fits all' solution that will not help everyday, middle class individuals.
27 percent of voters polled said that the economy and job creation was the most important issue, while 21 percent said healthcare and 19 percent saying the federal budget deficit. On all three issues, Democrats have a disadvantage as more than 2-1, 40%-17% say the country's economic status as pitiful. These numbers are unchanged from the year before. Only 27 percent said there were a lot of jobs available in their communities.
Nor is there evidence of increased optimism about the future. One in four predict economic conditions will be better a year from now, but another one in four predict they will be worse. Half don't expect it to change.
By 43 percent to 39 percent, Americans said that following the congressional Republicans' plan for the economy of lowering taxes and slashing regulation, "would do more to strengthen the economy over the next few years than following the policies of the Obama administration."
But, even with all of the bad news for Democrats, that is no indication that Americans are happy with the Republican leadership in Congress. Only 23 percent said they approved of the job Republican congressional leaders were doing, while 32 percent said they approved of the Democratic congressional leaders.
The desire to shake things up seems to hurt Democrats more than Republicans, even though the GOP controls the House. By 53%-43%, those surveyed say the issue of which party controls Congress will be a factor in their vote. Those who say they feel that way are more likely to support the Republican contender.

What's more, 26% say they think of their vote as a vote against Obama; 16% as a vote for him. The president looms as more of a drag on Democrats than he was four years ago, when Democratic setbacks cost the party control of the House. Then, by 24%-20%, people saw their vote as a vote for Obama.
More specifically, President Obama is viewed more so as a liability for Democrats seeking re-election these days than a asset. In 2010, 47 percent turned out to support Obama. Fast-forward to today, that number has dropped to 31 percent. And 46 percent of Republicans said they would turn out to vote just to cast a ballot against Obama.
Obamacare is polling just as bad as it's creator. 41 percent said they approved of the healthcare overhaul, while a wopping 55 percent said they'd trash it.
Louisiana Sen. Mary Landrieu (D-LA), who is running in the 2014 midterms against three Republican challengers, has previously distanced herself from Obamacare, the president himself and his administration.
As Breitbart reported back in March, Landrieu was a no-show at a major event promoting Obamacare in New Orleans where outgoing Health and Human Services Secretary Kathleen Sebelius was in attendance. Landrieu's brother, Mayor of New Orleans Mitch Landrieu did attend however. This occurred just after House Minority Leader Nancy Pelosi said that Democrats were not in fact running away from Obamacare.
And, when President Obama visited New Orleans back in November, Landrieu traveled with him on Air Force One, but refused to do any press or public appearances with him while in the Big Easy.
The poll included 1,501 adults with 1,162 registered voters and was conducted April 23-27. It has a margin of error of +/-3 percentage points.