There is an important election this Saturday. Sad thing is some people are still unaware there is even an election on Saturday. However, the folks working towards the incorporation of St. George are paying attention. They are even looking up the campaign finance reports for the 2 candidates in the race. Buddy Amoroso and Darrell Ourso will face off in a runoff for District 66 Representative on March 28.
Some St. George supporters were not pleased with what they found in the campaign finance reports. It all started when the St. George Louisiana Facebook Page posted this status update about the upcoming election:

In the comments that followed this status update many St. George supporters pointed out that Darrell Ourso has campaign donations from groups/individuals that have taken a public stance against the incorporation of the City of St. George. The first one that was pointed out was Mary Olive Pierson. Her contract was recently extended so she could continue to sue "St. George." Some brought up the issue that the money she donated could have come from the $40,000 contract using taxpayer money.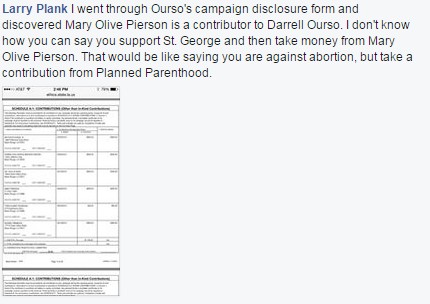 Other Ourso supporters pointed out were BRPD and BRFD:

Darrel Ourso chimed in on the thread saying:
It was pointed out that Buddy Amoroso has accepted donations from Lane Grisby and the PAC for BRAC. Shane Liles, a St. George supporter, is more bothered by Susan Nelson out campaigning for Ourso.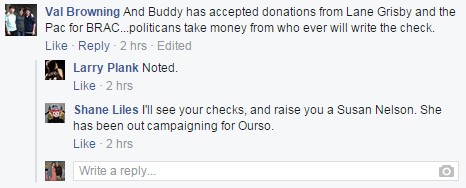 Buddy Amoroso also posted a comment in which he expressed his support of St. George:
Advertisement
Advertisement