Better Together has a history of mailing out colorful and slick informational pieces. Colorful in the sense that they use their imagination. And slick in the sense that they insinuate things about St. George supporters while trying to hold on to the appearance of innocence.
Their latest mailer pretty much portrays anyone who signed the Petition (that would bring the Incorporation of the City of St. George to a vote) as naive and gullible. The picture on the front of the mailer shows a woman making a surprised face with her hands on her cheeks (like the kid in Home Alone) and the question printed is "I signed what?"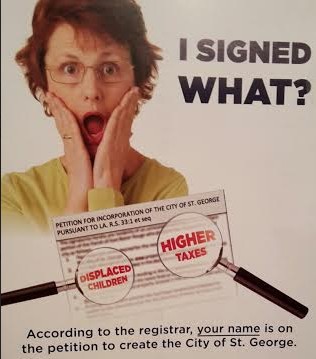 It seems that Better Together doesn't know what the petition is for exactly. The words below the picture state that "According to the registrar, your name is on the petition to create the City of St. George." However, the City of St. George will not be created until after the petition process is successful and the issue is brought to a ballot and the citizens of the unincorporated area vote and decide their own fate.
The letter also claims that "St. George would impose one of the largest tax increases our area has ever see with no new services to show for it." The mailer shares "the findings of a review by a professional CPA firm." Faulk & Winkler is the CPA firm. Their findings show that St. George would operate at a 13 million dollar deficit. However, one of the top 22 National Accounting firms have shared their findings as well, and completely debunked the Faulk & Winkler study.
The City of St. George posted on its Facebook page a statement about taxes:
Here is the video:
St. George would be something different from the old-style big-government model which currently prevails in Baton Rouge. No wonder old-style Louisiana politics by the likes of Better Together is being used in an effort to stop it from happening.