Our poll has consistently said that in the governor's race there will be a John Bel Edwards-David Vitter runoff, and it continues to be one. What is different is that Edwards has created some separation with Vitter and has now topped 40 percent.
The numbers…
The continued stagnation of the Angelle and Dardenne campaigns crystallizes the fundamental mistake both have made; namely, one of them needed to knock the other out and consolidate the non-Vitter, non-Democrat vote in one place. They combine for 26.8 percent of the vote, which is less than two points behind Vitter. If there had been one candidate for that vote rather than two, Vitter wouldn't be a shoe-in for the runoff.
That common strategic blunder – neither laid a hand on each other – is going to be studied by analysts of politics for years, and it won't look good for the people who crafted the strategies for Angelle and Dardenne.
But we polled the other statewide races as well. It looks like John Young might have the upper hand against Billy Nungesser amid the knife-fight the two are engaging in on television sets across the state…
In an interesting bit of news, this might be the first independent poll of the Attorney General's race in which Jeff Landry has caught and passed Buddy Caldwell for first place, though he's well within the margin of error…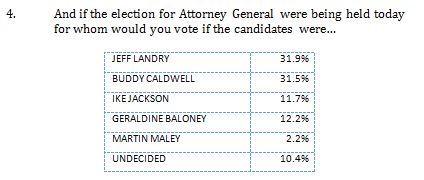 Caldwell might not be unhappy about the numbers, seeing as though he likely expects to outpoll Landry for the Democrats shaken loose in the runoff. Still, an incumbent polling at only 31.5 percent is an incumbent in trouble.
Tom Schedler is still ahead in the Secretary of State's race, though perhaps not by the margin he should be…
Interestingly enough, we also polled the question of the challenger's main value proposition, that Louisiana institute automatic voter registration at age 18, and received an interesting answer which shows that Schedler might have wanted to do a more forceful job of educating the public on why it's a bad idea…

These numbers make it a virtual guarantee that the Democrats will present automatic voter registration as legislation next year, and someone is going to have to do a good job of tamping down public enthusiasm for it. That hasn't been done in this election cycle, and that is going to give them an issue to use to mobilize their voters.
Jim Donelon looks to be rolling to a comfortable re-election victory as Louisiana's insurance commissioner…

…and John Kennedy is a certainty to be re-elected as Louisiana's treasurer.

The poll is marked as October 15, but it actually was conducted on October 20-21 and has a sample size of 1,464 respondents (likely voters) and a margin of error of 3.0 percent.
The respondents are 55.2 percent female and 70.8 percent white (27.2 percent black), and the partisan breakdown by registration of the sample is 39.8 percent Republican, 48.8 percent Democrat and 11.4 percent independent.