I've heard it, and found it quite entertaining.
You might have seen this at John Georges' paper yesterday. Note the double byline at the link, as befitting a COLOSSAL, MAJOR BLOCKBUSTER of a story…
It all started Friday morning, as Jefferson Parish Sheriff Newell Normand convened his regular coffee klatch at the Royal Blend cafe in Old Metairie. At some point, the group's gossip shifted abruptly from the latest news about Donald Trump to a furtive young man seated at a nearby table.

He was filming the group, the sheriff said. "He was acting very strange and odd," Normand said in an interview.

Normand confronted the young man, asking him what he was doing.

"Are you filming me?" the sheriff demanded.

The alleged spy, later identified as Robert J. Frenzel, a private investigator from Dallas who has been doing research for U.S. Sen. David Vitter's campaign, denied taping the group. But he fumbled with his device and couldn't stop the sheriff from catching a glimpse of its screen, which Normand said showed a recording application. The sheriff then returned to his table.

Later inspection determined that the device — the sheriff could not say late Friday whether it was a phone or some other recording device — had captured several minutes of conversation at the center table.

The sheriff's breakfast club, composed of several regulars who come and go, continued chatting for a time, the sheriff said. Among the others at the table were Danny DeNoux, a local private investigator; John Cummings, a prominent local attorney; and Danny Martiny, the state senator who also works as an attorney for the Jefferson Parish Sheriff's Office.

At some point, someone from the sheriff's table got up, approached Frenzel and snapped a photograph of him. The 30-year-old bolted out the door, Normand said, but was tailed by members of the breakfast group.

Frenzel darted from the Metairie Road cafe toward St. Francis Xavier School, making his way toward Vincent Avenue, the sheriff said.

The man jumped the gate of an abandoned residence, prompting Normand to call several deputies to the scene to search for him, the sheriff said.

"Five deputies searched the backyards," Normand said. "He trespassed through at least three or four properties."

Frenzel eventually was found hiding behind an air-conditioning unit in the 100 block of Stella Street and taken into custody. He was booked on one count of criminal mischief, a misdemeanor, and was released Friday evening, the sheriff said.
It might behoove Frenzel to hire My Cousin Vinny to represent him. This opening statement at the trial would do nicely…
First of all, let's start with the venue for this caper, the Royal Blend Coffee & Tea House on Metairie Road. From Royal Blend's website, here's a shot of the interior…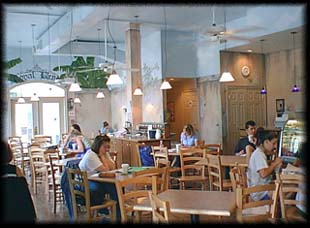 Not a lot of private spaces in there, are there?
Newell Normand has a coffee klatch in that place every morning. Every morning. Everybody in Jefferson Parish knows that's where you can find him. And everybody in Jefferson Parish knows everything that's on his mind can be discovered every morning there. Because he plops down at the center table with his pals and discusses it.
Loudly.
Newell Normand is also an open supporter of Jay Dardenne. Or more accurately, an open enemy of David Vitter. You can probably infer that as a reason why Newell Normand was sitting down at a table on Friday with his own private investigator and John Cummings, the trial attorney from New Orleans who (1) turned Whitney Plantation into a slave museum, (2) has been identified, though he denies it, as the "private donor" behind the funding of the removal of the confederate monuments in the Big Easy, (3) has maxed-out to John Bel Edwards as has his wife, and supposedly is hard at work trying to drum up trial lawyer money for Edwards in the runoff, and (4) is supposedly partners with John Bel Edwards in a real estate holding company owning a farm in Tangipahoa Parish.
And Frenzel, who is not a David Vitter staffer – think about it for a second, if you will; everybody in the political game knows who Vitter's staffers are and what they look like, so it would be the height of stupidity to have somebody on staff show up to "spy" on Normand – but rather works for a law firm Vitter has hired to do the super-clandestine, unheard-of work of opposition research, sat down at Royal Blend, pointed his iPhone at Normand's coffee klatch and opened the "record" app to capture a conversation between one of Jay Dardenne's most important supporters and one of John Bel Edwards' biggest supporters.
This, mind you, amid a whole lot of rumor-mill material which had the American Zombie video interview of Wendy Ellis, the prostitute Vitter supposedly carried on a relationship with during Gerry DiNardo's time as LSU's football coach, as something paid for by a certain New Orleans trial lawyer with ties to John Bel Edwards and facilitated by a certain high-level Dardenne supporter with the resources to find people in obscure places. The writeup at John Georges' paper made a certain show over the fact that among the files contained in Frenzel's car was a "dossier" on Jason Berry, the American Zombie's publisher, after all.
And if you combine all of that with this statement by Vitter's press secretary Luke Bolar, it all seems to fit as to what Frenzel was doing…
"This person works for a firm that we hired to do research, all within the bounds of the law. This includes John Bel Edwards' business associate and major donor, and his relationship with the John Bel Edwards campaign. It has nothing to do with Newell Normand."
Meaning that if you're going to carry on opposition research in such a climate of rumors, you could probably do worse things than take a morning on Metairie Road and use your "record" app on your iPhone to find out what the coffee klatch at Royal Blend which included the big John Bel Edwards guy had as a subject of conversation.
Loudly. And in public.
Normand said Frenzel was in heap big trouble…
"At the present time, we also have probable cause to arrest him for interception of communications under La. R.S. 15:1303, but the investigation is continuing, and we're putting together all of the information," Normand said. "We expect we'll book him on that as well."

Normand said state law allows one party in a conversation to record it without another party knowing it. But he said a third-party bystander who is not part of the conversation cannot surreptitiously make a recording without breaking the law.
If in fact Normand's interpretation of the law in question is correct, this case might actually get interesting – because the question of whether it's constitutional to ban someone from recording open conversations in a public place is very much an open one. The 5th Circuit, which covers Louisiana, is not on record about this issue, but other appellate courts are, and generally speaking they come down on the right to record…
The sheriff of Jefferson Parish is, in fact, a public official – and his electoral activities could be considered matters of public interest. My Cousin Vinny might not be the guy you want making that argument if you're Frenzel, but a good First Amendment lawyer could make a pretty good case for him.
In any event, Normand's version of the story is not the one we heard from a couple of different sources this morning.
One told us that it's important to understand that even though Normand is the sheriff of Jefferson Parish he doesn't carry a gun, on account of the fact he has anger management issues and it's been decided that for him to carry would be a bit risky. So when Newell Normand says he sauntered over to Frenzel and asked him if he was filming, it probably came off a little differently to Frenzel – considering, as we've been told, that what he actually did was blow up like an atom bomb, threaten to do things to Frenzel that would likely necessitate a different venue for the next coffee klatch and demand that he remain at his seat while Normand more or less called in the SWAT team to effect an arrest.
Upon which Frenzel decided his wisest move would be to decamp for alternate surroundings.
This was, as it turned out, an unpopular decision with the denizens of Normand's table, who actually gave chase to Frenzel down Metairie Road. We're told that as a posse his group was less than the most impressive, as all are on the wrong side of middle age and none are particularly physically fit. But Frenzel made the mistake of hopping a fence, at which time Normand decided to call in all the resources of the Jefferson Parish Sheriff's Office to apprehend this dangerous malefactor for "trespassing" in addition to his 21st-century Watergate-style sins.
And to maybe get hold of that iPhone with the recording of Normand, his private investigator and Cummings.
No less than FIVE JPSO deputies were ultimately on the scene when Frenzel was caught a couple of blocks away. And at that point a MAJOR, BLOCKBUSTER SCANDAL had been uncovered.
So that's the story, or at least that's the story so far. It's not quite as interesting as John Georges' newspaper makes it out to be, though it actually might end up a bit more interesting depending on the off chance that Frenzel's recording of that conversation actually survived his encounter with Normand's deputies.
Because it would seem that he might have caught something more tasty on his iPhone than the mocha latte' at the Royal Blend to have ginned up such a fuss.