He's "appreciative," he says.
"Appreciative."
This after a 24-hour ordeal in which 10 U.S. Navy sailors, en route from Kuwait to Bahrain in a pair of riverine boats in the Persian Gulf, ran into "mechanical problems" and drifted into waters near Farsi Island, a tiny Iranian hole in the water with an Iranian navy base on it. The sailors were apprehended by the Iranians…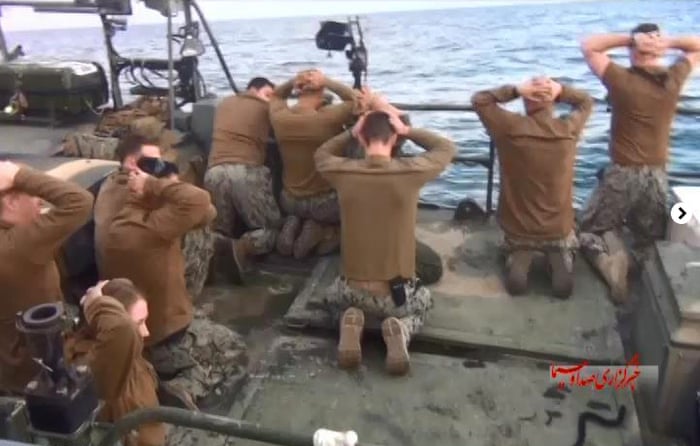 And then used for propaganda purposes, in violation of the Geneva convention's prohibition of displaying captives for the purpose of "insults and public curiosity"…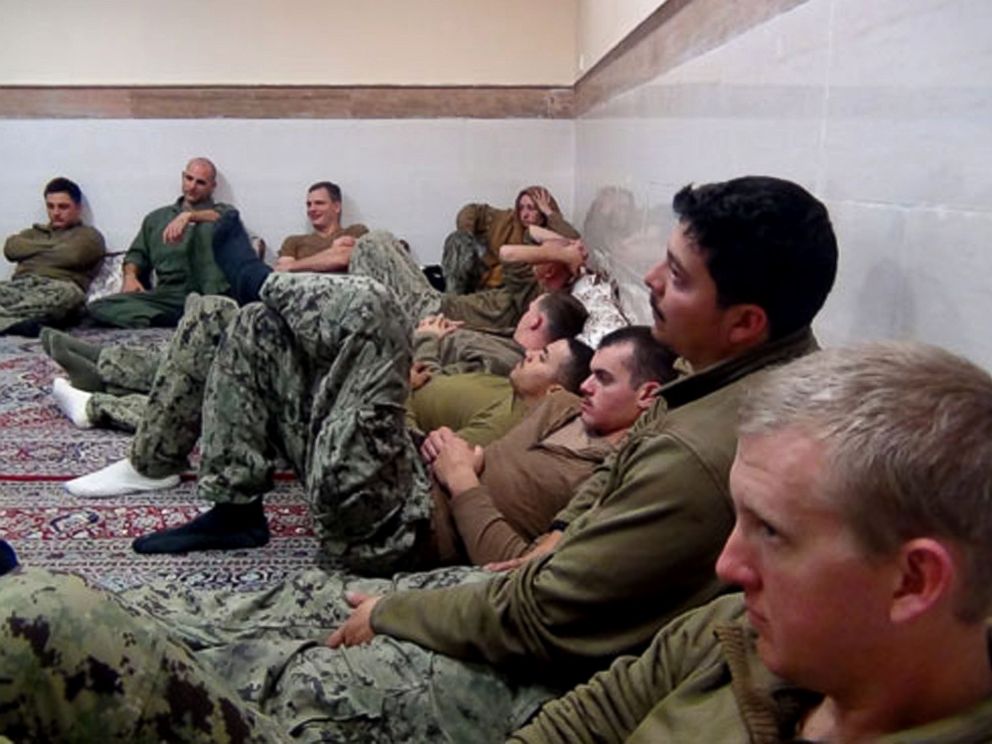 Notice the female sailor in the corner who's forced to wear a headscarf?
And forced to "apologize…"
#Iran state TV showed a footage in which the commander of #US sailors made an apology. #navy #Pentagon pic.twitter.com/VCdjEZiY54

— Abas Aslani (@abasinfo) January 13, 2016
And after the Iranians had squeezed every drop of propaganda victory out of the incident and were then putting at risk the $100 billion in bribe money America is paying them for agreeing to a one-sided nuclear agreement no one believes they will even adhere to, they gave the sailors up – but we're not sure they gave up the boats, so that's theft – here was our Secretary of State to grovel about their generosity…
At the end of the day, what's worst about the Obama administration isn't its contempt for its domestic political opponents, though that's bad enough, or its arrogant incompetence in policymaking, or its total disregard for the Constitution or the doctrine of separation of powers. What's worst is this – the cheerful willingness to abase itself and the American people at the hands of our enemies.
Yes, it's preferable that we have our sailors home in short order rather than having a protracted Iranian hostage situation. But that was never in the cards, because of that $100 billion. Iran was not going to be in a position to hold those sailors with that money uncollected, and there was no way even Obama would release those funds while Iran had those sailors. To thank these people for letting the sailors go under those circumstances is intolerable and unforgivable; it's a gratuitous mortification that debauches the office he holds.
This administration cannot end soon enough. We're lower than we were in 1979. Make it stop, please.
UPDATE: About those mechanical problems, here's something perplexing in a New York Times story with the mind-blowing headline of "Iran's Swift Release of U.S. Sailors Hailed as a Sign of Warmer Relations…"
The Pentagon and the State Department initially said that one of the boats had experienced mechanical problems en route to Bahrain from Kuwait in a routine mission on Tuesday, and that the Iranians appeared to have accepted the explanation. On Wednesday morning, however, after the crew members and boats were returned, defense officials said they no longer believed that mechanical problems were the cause, noting that both boats returned to United States custody under their own power.

Defense officials said that they were still trying to untangle the chain of events that led to the episode. Of particular note, they said, was the question of how the military lost contact with not one, but two boats. Several officials noted that the crew members were relatively young, junior enlisted sailors.
One would imagine we got the boats back only after the Iranians were able to collect as much intelligence as possible from them; the interesting thing at this point is the question of how they were taken if they were both seaworthy. It seems as though we've only scratched the surface of this story.
Advertisement
Advertisement