Mayor Mitch Landrieu's administration today denied plans to hand over four historical monuments to Whitney Plantation owner John Cummings for private park use, despite saying in the past that they were in talks over the idea.
According to the Advocate's Jeff Adelson, a Landrieu spokesperson told Councilwoman Stacy Head that "he wasn't aware of anything" relating to the plan to hand over the city's four monuments to a private owner in order to place them in a private park.
The Landrieu administration said the giving of public property to private land owners would have to follow the same process used for donations to the city, according to the Advocate report.
However, the statements made by the Landrieu administration contradict previous statements made by city attorney Rebecca Dietz, who said at a hearing last month that the city was in talks with private landowners to relocate the monuments to a Civil War Park.
Also last month, the Landrieu administration released a statement in which they said that the monuments would be placed in storage "until further plans can be developed for a private park or museum site where the monuments can be put in a fuller context."
The Advocate report names the plans as "rumors," but the proposals first came to light when Cummings said back in September that he would like to build a Civil War Park where the monuments could be placed and then Landrieu touting the same plan months later.
"Put them all up there and let them all see them and what they did, what they did before the Civil War, during the Civil War and after the Civil War," Cummings said in September.
This is not the first time that the Landrieu administration has caused confusion with the monument removal debacle.
Just last week, after All Crane Rental of Louisiana was named in court documents as the contractor working to remove the monuments for the city, the company came out and said they have and never had any involvement with the removal process.
The monuments in contention include Robert E. Lee Circle, PGT Beauregard's City Park statue, the Jefferson Davis monument and the Liberty Place monument.
Here's a shortened, Twitter timeline of events on this particular issue: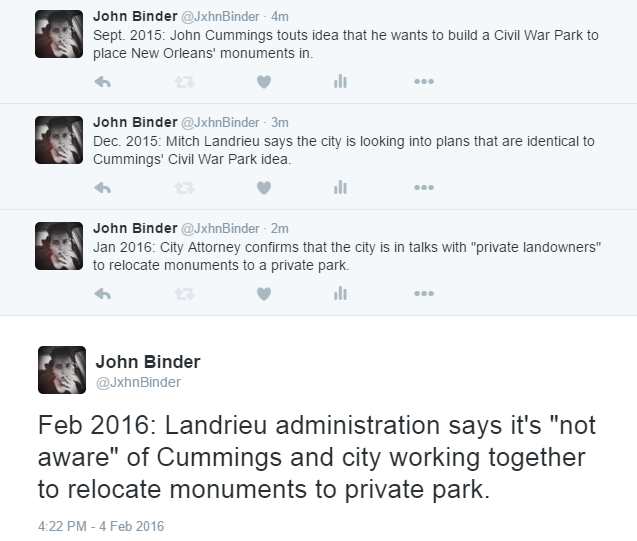 Advertisement
Advertisement