In a story which can only give rise to facepalming and headshaking, we apparently have further developments from that now-famous video of a dramatic rescue on August 13 of a woman and her dog from a flooded Mazda Miata. You remember this, right?
You probably saw this the same way we did, which was that the woman who was rescued came from somewhere else, didn't speak English all that well and was obviously dazed by the near-death experience.
Well, it turns out that other than the heroic nature of the rescue, which after all is what's really important, nothing about this story is what it appeared to be.
Because a local man decided that what he'd like to do as part of the flood relief effort was to find that Miata and restore it as a gift to that nice lady who almost died in the water that day. He then actually found it…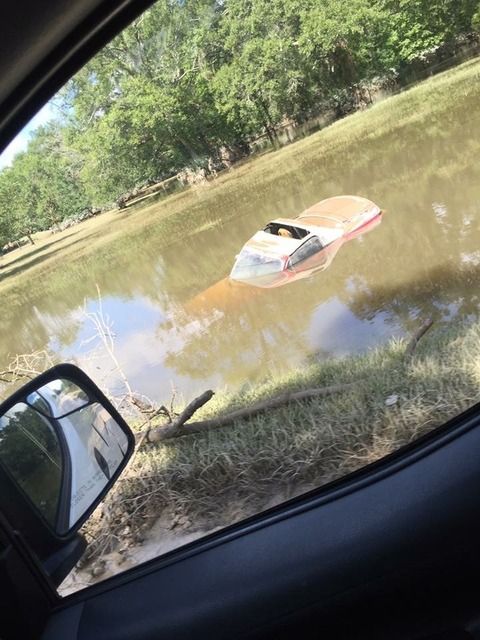 And he had it towed to his place so he could get to work on it…
Here was his post on a message board at ClubRoadster.net…
Since this horrible flood is all too local for me I figured I could help out. So I put a Facebook status out asking if anyone knew the owners. Within about 5 min I was in touch with the owners. Come to find out the car was actually stolen and the woman driving was drunk.

The family lost everything including all their cars so I to me this is perfect for me to help.

Yesterday the car finally got to my house! So started getting into immediately.

The car is a 93 and I have a ECU and wiring harness ready. I have the local Mazda Dealer donating some little bits and I'm getting a good bit of maintenance stuff as well.

Gunna start with getting the interior out and getting as much mud out of the car as i can.
The good news here is there's a silver lining to the owners of the stolen Miata, who were flooded – at least they'll get their stolen car back.
The drunk lady driving the stolen car? Something tells us she's going to want as little attention as possible for the foreseeable future.
UPDATE: It is now disputed that the car was stolen…
The long and short of it is the woman in question was the girlfriend of the man who owns the Miata, and in the middle of the flood she took the car on a beer run – and promptly sunk it.
It might not be fair to say it was stolen. It's absolutely fair to say it wasn't her ride, and "borrowing" a Miata to drive through floodwaters with is one of the dumbest moves imaginable.
It also appears that the truck was flooded, so perhaps the Miata was doomed anyway.
Nevertheless, the presence of intoxicating liquors would explain the inability to exit a car which is turning into a submarine.
Advertisement
Advertisement