A press release…
Today, The Committee to Elect Raymond Crews announced the endorsement of Congressman Mike Johnson.

Johnson said, "I am delighted to provide my enthusiastic endorsement of my good friend, Raymond Crews, to fill the seat I had to vacate to serve in Congress. He is a true limited government conservative, a patriot, a family man, and a Christian leader of exceptional character and integrity. I can think of no better person to represent the wonderful people of District 8 in Baton Rouge."

"There are very few endorsements that could mean as much as one from Congressman Mike Johnson. As a longtime friend, I have seen Mike's heart for service time after time. He is principled, passionate, and proven, and he continues to display those attributes on the national stage. As the previous holder of the District 8 seat, he set a very high standard, promoting the recognition of human life as invaluable from conception, fighting for smaller government, and leading the conservative cause, and I intend to continue in that vein. Congressman Johnson's seal of approval should further comfort those seeking the candidate to best represent them," said Crews.

Crews finished first among four Republican candidates in a special election on March 25th with 41% of the vote. He will face Robbie Gatti in a runoff on April 29th.
Johnson held the District 8 seat until he ran successfully for Congress in the fall, which should mean his endorsement carries some weight. It's also no surprise – Johnson and Crews are friends, and Johnson and the Gattis most assuredly are not. In fact, Robbie Gatti was an associate pastor at the First Baptist Church in Bossier and was actually asked to leave last year as a result of the acrimony the Gattis were causing over the congressional race Johnson ended up winning; they were backing Oliver Jenkins in the primary.
In the meantime, Gatti's brother Ryan has been going somewhat ballistic over the opposition to his brother's candidacy this week. We reported on Gatti's attacks against Alan Seabaugh Monday, including publishing a text-message thread with Seabaugh to accuse the latter of conducting a campaign of attacks against his brother.
Seabaugh is probably guilty in that respect, in that like Johnson Seabaugh is also a friend of Raymond Crews and is certainly in his camp but moreover is aware of Ryan Gatti's voting record. This morning he outlined that in a Facebook post…
In other words, by advocating against Robbie Gatti, Seabaugh is standing on ideological principle. And it's fair to use Ryan Gatti's voting record as an indication of what his brother's might be, unless Robbie Gatti wants to outline what political differences there are with Ryan. He has not done any of that to date, at least not that we're aware of.
Ryan Gatti also thundered away at The Hayride's Facebook page by peppering it with comments Monday, including this one which is worth a bit of examination…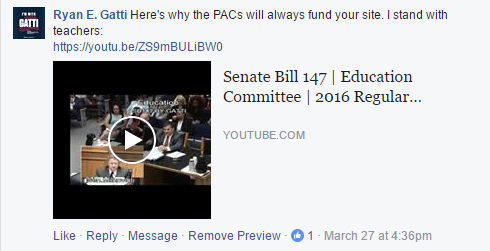 The allegation about "PAC's fund your site" (which is nonsense; advertising revenue funds the Hayride and the vast majority of that comes from advertising networks which pay us based on the traffic we pull in) notwithstanding, Gatti's comment links to a YouTube of Ryan Gatti testifying on behalf of a bill he sponsored which would have forced charter schools to assume pension liabilities of regular public schools – a direct assault on school choice in Louisiana. You don't really want to click on that link, by the way – it's an hour and 44 minutes long.
Gatti's brother got a max-out donation from the PAC of the Louisiana Association of Educators. So much for who the PAC's are funding.
He said he's for defending public schools because Bossier Parish has the best public schools in the state. That is not true, unfortunately; Bossier Parish's school district earned a "B" grade for the 2015-16 school year, and in fact it's declining fairly rapidly – from a numeric score of 98.3 in 2013-14 to a 91.7 in 2015-16. Sixteen school districts were rated "A" in 2015-16, meaning that far from being the best in the state Bossier isn't even in the top 20.
Gatti's attacks on school choice in defense of mediocre public education have earned his brother a radio campaign in opposition courtesy of the pro-school choice advocacy group Louisiana Federation for Children (an affiliate of the American Federation for Children, whose former chair Betsy DeVos is now Trump's education secretary, so essentially the Gattis are running against Trump's education policy in a district the president carried in about as close to a unanimous vote as one might see)…
One wouldn't think running against school choice in a heavily Republican area would be smart politics, but there is a certain strain of Republican politician, particularly in places like Bossier, Livingston and St. Tammany parishes where public perception is that the local public schools are good but the public schools in the big city adjoining the parish are terrible, who take the position that the status quo is a good thing because it essentially guarantees economic development as middle-class parents flee the city for better schools in the suburbs. The moral standing of such a brand of politics is questionable at best, and as a basis of a policy choice it's dubious as well – operating as a vulture with respect to educational policy seems to produce a declining level of quality in one's own school system.
At least, that's the current experience of Bossier Parish. Ryan Gatti might not be aware that the schools he touts as the best in the state have dropped almost 10 percent in their performance scores in the past two years.
In any event, the runoff in District 8 appears to be one of the more lively races we've seen in Louisiana of late. But the level of what almost looks like desperation out of the Gatti camp is what strikes us about it. These guys sure seem to be bullheaded about getting elected to public office, and they sure seem conspicuous in their fidelity to the Democrat governor's policy positions despite sporting "R's" next to their names. One wonders what would explain such passion.