We found this at TigerDroppings, which is the repository of things both terrible and sublime where LSU and other subjects are concerned, and credit goes to poster "magiLSU" for putting it together.
If you watched LSU's 10-inning 7-6 victory over South Carolina yesterday, a crucial victory for Paul Mainieri's Tiger baseball team which kept LSU in second place in the SEC West standings at 15-9, just one game behind Mississippi State at 16-8 (Florida is also 16-8, sitting atop the Eastern Division), you'll recall a rather bang-bang play at first base in the bottom of the 8th inning which turned out to be pivotal in the game. The play kicks in at about 25 seconds into the SEC Network's highlight package…
That was Zach Watson making it a close enough play to get a call. There were two outs, so his hustle down the line was the difference between LSU failing to score the game-tying fifth run for LSU.
But was it a bad call? The ESPN announcers thought so, and South Carolina's dugout absolutely went ballistic.
We're convinced it was a great call, and not just because it benefited LSU. The "magiLSU" post on TigerDroppings has the photographic evidence from the video at first base, and it's quite strong.
At the time, right field was almost completely a sun field. Both right fielders seemed to struggle to see the ball in the glare. But the effect of that was the sun was almost directly up the first base line, and therefore cast shadows neatly toward the foul pole.
Which gives us this…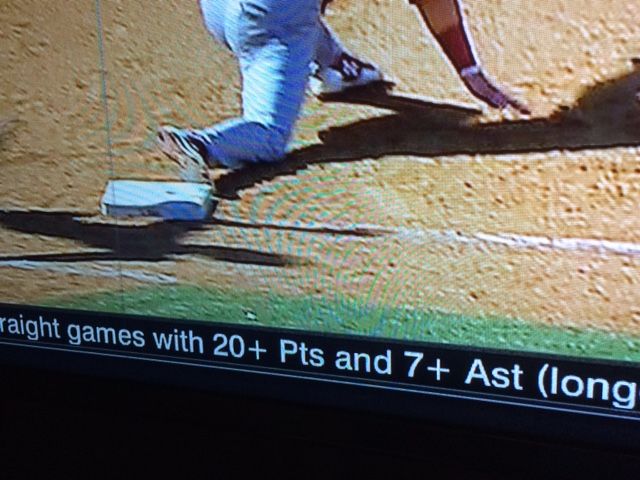 Do you notice something about the shadows? There is a gap between the shadow of the first baseman's foot and the shadow of the bag at first base. His foot isn't touching the bag.
There is the gap as Watson puts his foot on the bag.
Now the first baseman backs his foot into the bag…
That man is safe. It was a good call.
Watson is one of two freshmen in LSU's lineup, with Josh Smith also playing a major role on this team. Watson has elite speed and he makes pretty good contact with the ball. When he fills out a little and gets bigger than the rail-thin 6-0 and 166 pounds he's currently carrying, he's likely to emerge as a big hitter for this team.
But for now, he can help by hustling down the line and beating out infield singles like this one. Particularly in crucial situations like in the bottom of the 8th on Sunday.
Mainieri's team has scuffled its way through a 32-16 record so far – a number which isn't bad, but it's a good half-dozen games worse than it should be. They're painful to watch because it's clear the talent is there for this club to be a national championship contender, and yet they've found ways to consistently lose games they had no business losing.
And the lack of timely hitting on this team is simply maddening to see. This team leaves runners on base like it's what they're supposed to do. LSU left 13 runners on base on Sunday. They left 11 on base in a 3-2 loss on Friday, wasting a terrific pitching performance by Alex Lange.
The good news is Mainieri's team controls its destiny. This weekend LSU, checking in at No. 15 in the Baseball America rankings today, hosts No. 13 Auburn, who is 14-10 after getting swept by cellar-dweller Alabama over the weekend. And in the final weekend of the season LSU travels to Mississippi State. With five wins in those six games LSU wins the division and could well be a national Top 8 seed, meaning they'd host both a regional and super regional.
That's a tall order, but not something too difficult for a top-five team, which LSU was rated to be in the preseason, to handle. If this team is what the pundits thought it was after all, then it will step up its game and finish the season hot.
Interestingly, one of the chief complaints about Mainieri at LSU is his team's tendency to peak too early, and begin struggling during the postseason. That was clearly a problem last year, as LSU got very hot toward the end of the regular season following the "rally possum" game, and then barely survived a regional challenge from Rice before succumbing to eventual national champion Coastal Carolina in the super regional.
In the meantime there have been quite a few teams which scuffled during the season before becoming engulfed in flames in the playoffs on the way to deep runs. Fresno State, for example, was a No. 4 seed in the NCAA Tournament before making an improbably run to the national title. Virginia nearly didn't make the tournament amid an injury-plagued 2015 season, but after sneaking into the a regional as a No. 3 seed the Cavaliers went on a monster run and won the whole thing. Similarly, last year Arizona had a poor 17-15 Pac-12 record and ended up as a No. 2 seed in the UL-Lafayette regional and proceeded to run through the postseason all the way to the national championship series before losing to Coastal Carolina.
Could this be the year Mainieri's team gets it together at just the right time and makes a title run? If so, perhaps that fraction of an inch between the first baseman's foot and first base might be what sets LSU off on such a journey.