About two weeks ago I wrote a story about a conservative House member that decided to block me for questioning from where the money he wanted to spend was going to come. Today, I want to share an example of how a conservative legislator should respond when people have concerns. An example we see in Matt Krause.
Texas State Representative Matt Krause from Arlington is one of the first representatives I met in Texas. He has a tall stature and what seems like a constant smile on his face. With his lovely wife and children, he looks like they belong in magazines.

A couple of days ago Rep. Krause sent a letter to Governor Greg Abbott. In the letter, he requested that Governor Abbott add pediatric acute therapy to the call for the special session.
Pediatric acute therapy is a type of therapy for severely disabled children. It assists them in learning walk and even learning to swallow. The legislature cute about $70 million in the biennial budget from the program in 2015. According to Rep. Krause when he asked he was told that no care would be interrupted for children needing this care. He believes that has not been the case and many children have lost services due to the funding being cut.
With only 25% being added back Rep. Krause joined with other representatives in seeking to add the Medicaid reimbursement funds from the Economic Stabilization Fund, also known as the Rainy Day Fund. Rep. Krause is the only Freedom Caucus member to sign on as an author of this bill though Rep. Jeff Leach also tweeted out support.
Proud of you for leading on this @RepMattKrause! I'm with you and @SarahforHD134 and others on this issue all the way! https://t.co/qKWQSwo6tJ

— Jeff Leach (@leachfortexas) July 29, 2017
Personally, I am not a fan of any spending as the government can only give to others by taking from someone else. I would much rather see people voluntarily helping others. If I were a member of the House I would likely vote against HB 25 if it came to the floor. Yet, if you are going to spend money then on vulnerable children seems the best place to do it.
I made a similar comment that I had on the legislator's page that blocked me. I commented that perhaps the money could be taken from $84 million renovation budget for the Alamo instead of the Rainy Day Fund.
As expected Krause received a lot of feedback both positive and negative. The loudest negative feedback came from Empower Texans who posted an article about Matt Krause:
What typically happens with articles like this is that people ignore the article or policy itself and read the headline and look at the picture and make their decisions from that information. I have certainly done this too many times.
The problem is that the image and wording give people limited knowledge of what is happening. When people hear that Krause wants to increase welfare they aren't picturing children learning to swallow, they are picturing a lazy man on the couch eating Cheetos and smoking pot.
So the comments are as expected.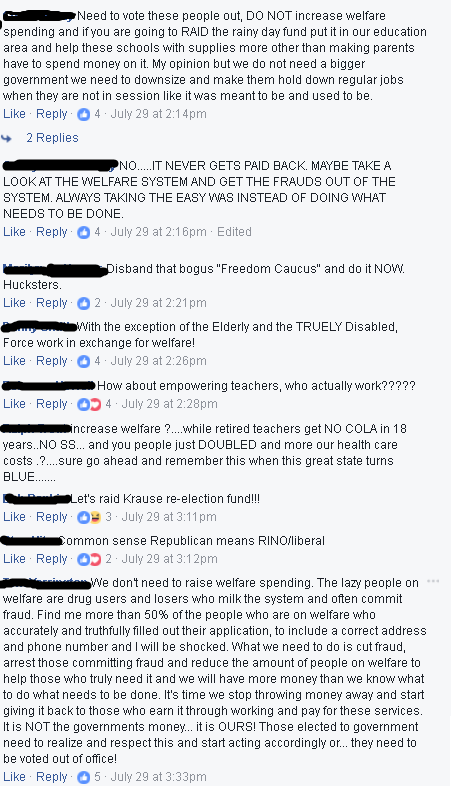 These are just some of the comments on the post about Rep. Krause. Many of the commentators seem fine if the money were to go to teachers but are completely opposed to it going to disabled students.
Empower Texans are also supporting the idea of Governor Abbott's 20 for 20 plan to pass all his agenda items which include $200 million added to the teacher's retirement fund for health benefits. In the Senate, this is done by accounting tricks from Health and Human Services and in the House it comes from the Rainy Day Fund. Admittedly, this is supposedly a one time use instead of an ongoing budgetary item.
Rep. Matt Krause is considered one of the top conservatives in the Texas House. According to the Rice University rankings, he is the eleventh most conservative state representative in the 150 member Texas House. Only fellow Freedom Caucus members are ahead of him.
The real point of this article though is how Rep. Matt Krause responded to the criticisms. He didn't answer back in anger or by blocking people. Instead, he posted a fuller explanation and thanked people for their criticism.
Rep. Matt Krause explains he made a mistake.
– And this is where I made a mistake in my letter to the Governor. Instead of discussing where the funding was coming from in HB 25, I should have reiterated the position I have held ever since coming in the legislature – that RDF money should not be used for ongoing expenses. And if this is such a big priority, which it is, we should fund it out of GR. I still completely agree with that and hope we can find the money to restore this funding without using the RDF.
He also explains his goal is for this to be a one time use and for it to be part of the general revenue budget in the future.
Rep. Krause then makes the statement that helps make him one of the greatest statesmen in Texas.
– Finally, quite a few folks have asked me if I am angry or upset about an Empower Texans article which was quite critical of my position. Honestly, I am fine with it. I'm the one who has spent the past seven months saying we need to praise the President when warranted and to hold him accountable (criticize him) when necessary. It would be highly hypocritical of me to then get upset when someone did that to me. As elected officials we should always be open to (and welcome) accountability and criticism. We disagree on this issue, and that's fine.
He shows that he truly welcomes criticism and listens to it. This is not the first time he has shown this willingness. I have had several disagreements with Rep. Krause and he has always taken them into account.
I have never met an elected official I agree with 100% of the time. I do not look for that when looking for men to support. I do look for conservative men and women willing to listen and give honest feedback of why they disagree. We need less rhetoric in politics and more conversations. That is the beginning for a true statesman.