This comes courtesy of KPRC-TV Channel 2 in Houston, whose reporter Joel Eisenbaum hopped a ride with a local fire department as it went on a search-and-rescue mission in the roughly half-century old suburb of Ponderosa Forest on the northwest side of Harris County in the Houston area. The floodwaters from Hurricane Harvey were thoroughly unkind to Ponderosa Forest, submerging much of if not most of the subdivisions in the neighborhood under 6-8 feet of water.
These aren't million-dollar houses; most of them go for $150,000-$250,000 according to Zillow. They're all pretty spacious four-bedroom homes on tree-dotted lots, though, and Ponderosa Forest is a master-planned community built by Kickerillo Companies in Houston, one of the city's best-known developers.
Here's where we're talking about on a map of the northern part of Houston…
And here's the area in a little closer detail…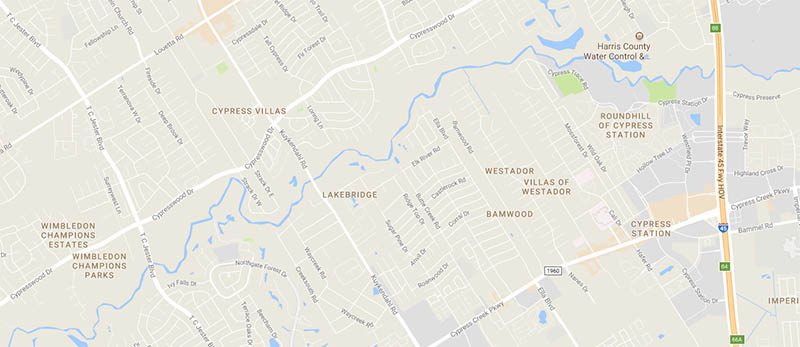 Unfortunately for the residents, they sit a little too close to Cypress Creek. That was formerly an asset, but once Harvey showed up it became anything but. The creek rose and rose, and before long the whole neighborhood was in it.
And the residents had a choice. Get out, or try to ride it out upstairs until the floodwaters eventually receded.
Yesterday the local fire department was in boats looking to rescue those who thought they'd ride it out but had changed their minds, and Eisenbaum was there for an incredible live report…
This is going on all across the Houston area, which is largely a flat plain crossed by creeks, bayous and small rivers which have all overflowed with nearly 30 inches of rain since Harvey came to town. The amount of damage caused by this storm will undoubtedly be staggering – perhaps record-setting – and the recovery from it will take years.
Advertisement
Advertisement