2017 was a record-breaking year for Chicago homicides. On average 1.8 people were murdered every day (mostly by the use of an illegal firearm.) From 2001-2016, more people were murdered in Chicago than the total number of U.S. military killed in Afghanistan and Iraq combined: 7,916 murders in Chicago compared to 6,888 U.S. Military casualties. (U.S. troops have been in Afghanistan since October 2001, and in Iraq since March 2003.)
According to data produced by the Chicago Tribune and Department of Defense, in 2017 there were 664 homicides in Chicago (down from 762 in 2016), and 37 casualties in the U.S. military worldwide. Death totals were calculated in Chicago from Jan. 1-Dec. 31, 2017; military deaths Jan. 1-Dec. 22, 2017.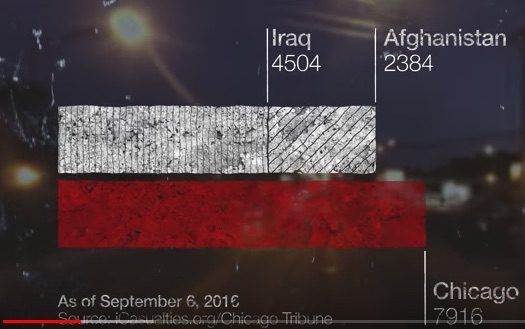 Despite this shockingly high number, the murder rate (the number of people killed per 100,000 people) was higher in New Orleans and Baton Rouge, Louisiana. According to a ranking produced by the Rapid-City Journal based on data from the 2015 FBI Uniform Crime Reporting Program, these cities rank #4 and #7 in the nation.
The ranking only includes cities with populations of 100,000 or more, and with a murder rate of 10 or higher for 2015. The murder rate for the U.S. is 4.9 percent per 100,000 people. Of the 30 cities the Journal ranked, four southern cities placed in the top ten:
New Orleans' murder rate is 41.68, compared to state's rate of 10 percent:
Birmingham's murder rate is 37.21, compared to the state's rate of 7 percent: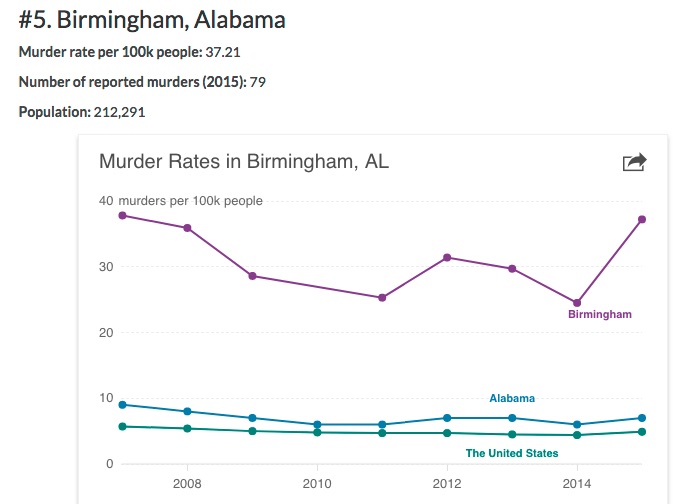 Jackson's murder rate is 31.08, compared to the state's rate of 9 percent:
Baton Rouge's murder rate is 26.23, compared to the state's 10 percent:
Chicago's murder rates was lower due to the difference of its sheer population size. Its ranking was #25, with a murder rate of 17.5. Other southern states' rankings include:
#13: Savannah, Georgia, 22.48
#15: West Palm Beach, Florida, 20.97
#16: Memphis, Tennessee, 20.52
#19: Atlanta, Georgia 20.23
#26: North Charleston, South Carolina 17.42
#27: Miami, Florida 17.14
#30: Waco, Texas 16.74.
Advertisement
Advertisement