Another attack on teenagers that could have been prevented by law enforcement wasn't.
Corey Johnson, 17, was arrested for stabbing to death one teenager and attempting to kill everyone else at a birthday sleepover in Ballenisles, Florida, the night before the victim's birthday.
Johnson recently converted to Islam and had been watching violent videos online– and was already under investigation by the FBI and numerous law enforcement agencies for having connections to the terrorist organization, ISIS.
The FBI met with Corey Johnson last year. It received permission from him to monitor his computer and social media activity– for an entire year–before his bloody knife attack on two 13-year-old boys and the mother of one of the boys. He told police he attacked them because one boy made fun of how he prayed and another idolized celebrities.
Johnson and Jovanni Brand, 13, were guests Sunday night at Elaine Simon's home in the 300-block of Sunset Bay Lane. On Monday, Brand would have turned 14. Instead, Johnson slit his throat while he slept.
Investigators say that Johnson said he was "reading the Quran from his phone just prior to the attack to give him courage to carry out his intentions." He also watched violent jihadist videos on the night of the sleepover, according to the police.
Prior to coming over, Johnson told police that he bought a knife to and while everyone was sleeping he decided to kill Brand, Simon, and Simon's 13-year-old son, Dane Brancroft.
Johnson stabbed Simon 12 times when she came up the stairs to find out what the noise was about, and her 13-year-old son Dane, who came to her aid, was stabbed 32 times. They are both in the hospital. Brand was pronounced dead at the scene.
"This was not a random act of violence," Palm Beach Gardens interim police Chief Clint Shannon said Tuesday. "All persons involved in this incident knew each other."
The FBI investigation dates to at least January 2017 of watching Johnson's interest in ISIS and beheading videos, his fascination with dictators– and a threat Johnson allegedly made against a school in northern England. Jupiter, Florida police and other local agencies had also been watching Johnson for his alleged "violent tendencies."
Federal authorities state that they were preparing arrest affidavits for Johnson that would come "in the next several weeks." They were too late.
In January 2017 a Palm Beach County sheriff's detective contacted Jupiter police about Johnson reaching out to ISIS on the Internet. The detective said Johnson had allegedly been watching ISIS videos online, including beheadings. But in March 2017, Johnson denied affiliation with ISIS, the police said.
Next, the Palm Beach County Sheriff's Office got involved after Johnson's sister reported him to school resource officers for hitting her. She also told school officers that her brother was a white supremacist who liked Hitler and supported Oklahoma City bomber Timothy McVeigh, who killed 168 people in 1995, CNN reports.
Over one year ago, on January 12, 2017, authorities from the FBI, Jupiter police, Palm Beach County schools and the sheriff's office met to discuss Johnson. Even a foreign nation's counterintelligence agency had contacted the FBI about Johnson who allegedly threatened a high school in England.
The Jupiter police interviewed Johnson's mother and grandmother in January 2017 who told them that Johnson had been studying the Quran.
What did the FBI do?According to Jupiter police reports, the FBI stated that "the agency didn't want to pursue criminal charges and thought a "redirection approach" to the juvenile's behavior would be best."
The FBI met with Johnson on March 29, 2017, and received his permission to mirror his computer to monitor his activity. They told him to "cease all social media activities related to ISIS and any other terrorist organizations," which he did not do. In order to charge him, the assistant US attorney asked for more information.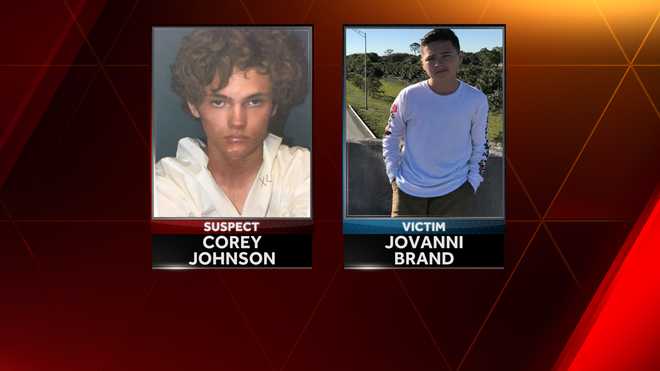 Johnson is being held at the juvenile detention center in West Palm Beach. He faces charges of first-degree murder and attempted murder.
Listen to 911 call made about stabbing.
Advertisement
Advertisement