WARNING: VIDEO NSFW.
SPREAD THE VIDEO TO HELP POLICE FIND THESE WOMEN.
Road rage in Miami: a white woman who cut off a black woman driver was followed by two black women who beat her with a baseball bat swearing at her as one woman's young son sat in the front seat and watched.
The victim and a bystander used their phones to record the attack.
The two black women broke her nose. She received seven stitches on the front of her head and seven staples on the back of her head.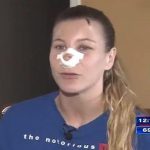 Mikaela Barboza, the white woman, cut off a black female driver who then began yelling at her, and in another car, another black woman yelled, "you cut off my sister. That's disrespectful."
In response to this "disrespect," the black women followed Barboza to a parking lot. They then blocked her car from the front and back so that she couldn't move without hitting one of their cars. Barboza then called the police and stepped out of her car to record what was happening on video.
"I don't got time for this. I got a kid, bruh," Barboza said to them. One of the black women replied: "I got a kid too," and took a baseball bat out of her trunk.
A small boy can be seen in the video sitting in the front seat of the woman's car, as she said, "I don't give a f—."
The angry woman next started swearing at Barboza, threatening to "f— her a– up." Out of the corner of the camera view, another woman is seen walking towards them with something in her hand.
"I'm not scared," Barboza said. "At that moment, the camera goes flying. It's the moment the second woman, in a red sweatshirt, hit her in the head with a metal bat, she said," the Miami Herald reports.
A bystander began recording what happened next: the two women were struggling on the ground; witnesses tried to break up the fight.
"We were kind of wrestling and the other sister with the other bat came over and started beating me over the head," Barboza said.
One of the bystanders apparently sprayed mace on the black women. The Herald reports that the hospital staffers who treated Barboza were coughing when they smelled the residue in her hair while giving her stitches.
Broward Sheriff's Office deputies arrived too late. By the time they got to the scene, the women with baseball bats left.
"I'm pressing charges of course," Barboza said. "I want justice to be served. I want them off the street and in jail."