…in the form of a potential site expansion at ExxonMobil's Baton Rouge polypropylene plant worth several hundred million dollars.
Though ExxonMobil did not specifically mention Baton Rouge by name in a statement, ExxonMobil executive Charles Dabadie said Monday following an ITEP committee meeting at City Hall that Baton Rouge is under consideration for a major new expansion project that would bring new technology, investment and jobs to the local chemicals facility.

"It's new technology …. a big project, 152 feet tall out of the ground," said Dabadie, ExxonMobil's regional manufacturing manager for the Americas. "We want it to come here."

The facility would be the largest investment in ExxonMobil's five-plant Baton Rouge complex in more than a decade, and would create more than 600 construction jobs and 60 permanent jobs.
This is an investment of less than a billion dollars out of a planned $50 billion capital investment strategy the company announced late last year in which Louisiana wasn't included in an announcement.
But it's by no means a done deal this will happen. As the Baton Rouge Business Report noted, Dabadie, the ExxonMobil executive, threw it out there at a meeting of the local Industrial Tax Exemption Program committee. It's a carrot. It's a "Here's what we can do for you if you don't try to screw us by raping ITEP and making your state uncompetitive with Texas because you've gotten in bed with the communists at Together Baton Rouge" statement.
ExxonMobil can do a whole lot more to solve social problems in Baton Rouge – by employing people to make products we'll all use to make our lives better – than Together Baton Rouge can ever dream of.
Back in January at LABI's annual meeting, LSU professor emeritus and respected economist Loren Scott, in a presentation discussing the Louisiana economic scene, talked about the changes to ITEP and the uncertainty surrounding how useful it would be to site selectors due to the agitation by the Together Baton Rouges of the world. The upshot, according to Scott, was that site selectors, particularly in the petrochemical sector where some $170 billion in planned and underway capital investment which has done wonders to keep the Baton Rouge and Lake Charles economies growing while the rest of the state has largely cratered, look at the tax incentive package the state is offering as essentially worthless right now.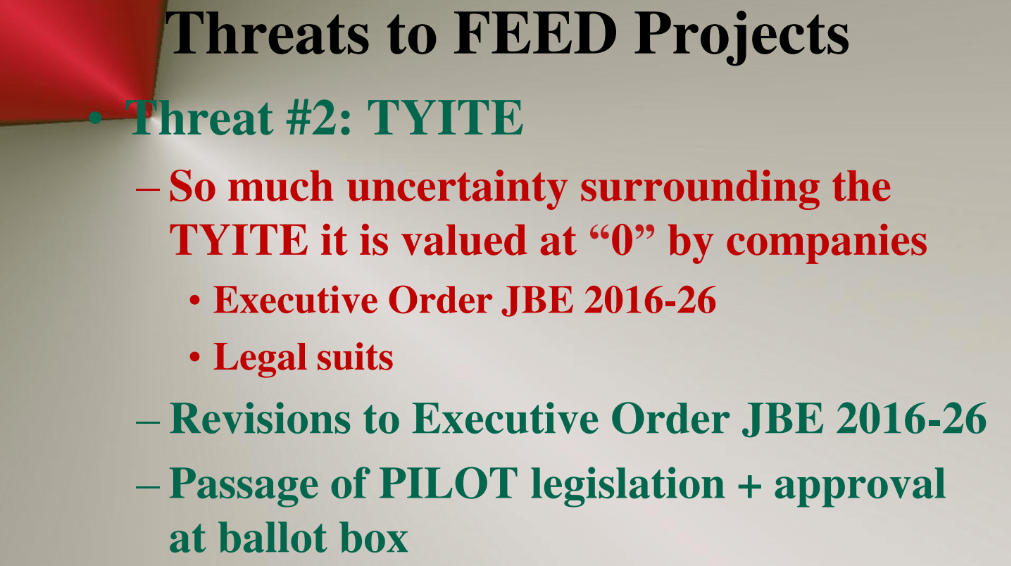 Executive Order JBE 2016-26 was the decision Gov. John Bel Edwards made which essentially required local government approval for all ITEP projects, which was a sop to the Together Baton Rouges of the world and also an invitation to local politicians like Baton Rouge mayor-president Sharon Weston Broome to stick their fingers in all the economic development pies. Thanks to that executive order, the locals can now hold up or kill these projects while making all kinds of extortive demands.
Which is why the site selectors now value Louisiana's ITEP program as worthless, because it might well be too much trouble to pursue. After all, Texas – which does offer lots of tax incentives for economic development – doesn't even really need an ITEP program to beat Louisiana; it has a superior, and far simpler, tax code and a superior business climate.
Knowing all of this Dabadie still said Louisiana, and Baton Rouge, can get some crumbs off ExxonMobil's table if the state's politicians are willing to ask nicely.
And yet yesterday at that commission meeting ExxonMobil was under attack.
The committee came under pressure Monday from opposing sides of the debate while they craft a set of guidelines that will determine when a company should qualify for a tax exemption.

The Baton Rouge Area Chamber has proposed a system in which companies with fewer than 50 employees could receive a full property tax abatement in their first five years with any amount of capital investment and no job requirement.

Larger companies with more than 50 employees would need to make a capital investment of at least $1 million or create up to 10 jobs for a 50 percent tax abatement during their first five years. Companies that invest upward of $20 million or create more than 20 jobs could qualify for a full property tax abatement their first five years, under BRAC's proposal.

Together Baton Rouge hammered BRAC's proposal on three main issues. The group's representatives said ITEP needs a job creation requirement, arguing that tax exemptions should not be approved after a project has already been completed and that properties that quickly depreciate in taxable value should not be allowed to receive an exemption.

…

"These companies should pay school taxes like the rest of us, like the small businesses, like the auto dealers, like everyone except manufacturing interests," said Kathy Wascom, who spoke at the committee meeting.

Representatives from ExxonMobil, ISC Constructors, Turner Industries and other companies repeatedly warned that nothing is forcing manufacturers to stay in Louisiana.

"It's very shortsighted to think companies have to come here because of the Mississippi River and companies have to stay here because they're already here," said Kyle Zeringue, vice president of ISC Constructors.

Exxon also released a 2018 economic impact report that said the company pays $33 million in direct property taxes to East Baton Rouge Parish, along with $23 million in direct sales taxes.

"I had the good fortune in 2000 to build a plant here," said Charles Dabadie, the company's regional manufacturing manager. "I want to build another … We have to expand to grow so our kids have jobs here. We need the chemical industry, whether its ExxonMobil or others, to continue to grow."
Advertisement
Advertisement