Roughly 1,500 people will attend former First Lady Barbara Bush's funeral today, which is being held at St. Martin's Episcopal Church. The invitation-only funeral service is scheduled to begin at 11 a.m. at the church where the Bushes regularly attended services.
After the service, a motorcade will transport Barbara Bush's body 90 miles northwest to the George Bush Presidential Library Center on the Texas A&M University campus in College Station. She will be buried behind the library in a gated plot surrounded by trees and near a creek where the couple's 3-year-old daughter, Robin, is buried, who died from leukemia in 1953.
Barbara chose the speakers for her funeral: Her son and former governor of Florida, Jeb Bush; her longtime friend, Susan Baker, the wife of the former Secretary of State, James A. Baker III; and historian, Jon Meacham, her husband's biographer.
In attendance will be former president Barack Obama and Bill Clinton and their spouses, and First Lady Melania Trump. Among family, friends, businessmen and dignitaries, will also be the Syrian national and owner of Fuzzy's Pizza and Cafe, Fawaz Hajjar, and his wife, Rita Hajjar, USA Today reports. The Bushes were regulars at Fuzzy's for more than 25 years and became close friends with the Hajjars, even inviting them to birthday parties and sharing dinners. Rita Hajjar told USA Today, "It's unfortunate to lose such a woman. People truly loved her."
The Bushes moved 29 times during their marriage. They settled in Houston in 1959, according to the National First Ladies' Library, when George H.W. Bush began his career in politics. He was first elected as the Republican Party chairman of Harris County in 1962.
The Bushes lived in Houston for six decades and became very much a part of the local community. They attended theater performances, Astros games, hosted and attended charity events, and, helped thousands of Houston-area children through the Barbara Bush Houston Literacy Foundation.
The following is the schedule for today:
10:00 AM VIP Reception hosted by President George W. Bush.
First Lady Melania Trump
President and Mrs. Clinton
President and Mrs. Obama
President Bush 41
President and Mrs. George W. Bush
Doro and Bobby Koch
Governor Jeb Bush and Columba Bush
Maria and Neil Bush
Marvin and Margaret Bush
Secretary Jim Baker and Susan Baker
Keith and Jon Meacham
Peter and Kiki Cheney
Chelsea Clinton
Susan Ford Bales
Lynda Johnson Robb and Senator Chuck Robb
Luci Baines Johnson and Ian Turpin
Tricia Nixon Cox and Edward Cox
Ambassador Caroline Kennedy and Edwin Schlossberg
Grandchildren and their spouses
VIPs (alphabetic order):
Texas Governor Greg Abbott
Mrs. Cecilia Abbott
Senator Lamar Alexander (Education Secretary in 41 administration)
Secretary James Baker
Mrs. Susan Baker **Eulogist**
The Honorable Nick Brady (Treasury Secretary in 41 administration)
The Honorable Andy Card
Reverend Kathleene Card
Vice President Dick Cheney (Defense Secretary in 41 administration)
Mrs. Lynne Cheney
Senator Susan Collins
Former Michigan Governor John Engler
Mrs. Michelle Engler
Secretary Barbara Franklin (Commerce Secretary in 41 administration)
Secretary Bob Gates (CIA Director in 41 administration)
Mrs. Becky Gates
Ambassador Boyden Gray (WH Counsel for 41 as VP and POTUS)
Former British Minister Sir John Major
Dame Norma Major
Former Maine Governor Jock McKernan
Senator Olympia Snowe
Fmr Canadian Prime Minister The Right Honourable Brian Mulroney
Mrs. Mila Mulroney
Ohio Senator Rob Portman (WH Staffer in 41 administration)
Mrs. Jane Portman
Vice President Dan Quayle
Mrs. Marilyn Quayle
Dr. Condoleeza Rice (NSC Staffer in 41 administration)
Mrs. Ann Romney
General Brent Scowcroft
Senator Alan Simpson
Mrs. Ann Simpson
Secretary Sam Skinner (Transportation Secretary in 41 administration)
Mrs. Honey Skinner
The Honorable Louis Sullivan (HHS Secretary in 41 administration)
Mrs. Ginger Sullivan
Fmr New Hampshire Governor John Sununu (WH Chief of Staff)
Fmr Wisconsin Governor Tommy Thompson
Mrs. Sue Ann Thompson
Judge Bill Webster (CIA Director in 41 administration)
Mrs. Lynda Webster
Texas Congressman Roger Williams
10:40 AM Grandson pallbearers gather.
George P. Bush
Jeb Bush, Jr.
Pierce Bush
Pace Andrews
Alexander Andrews
Walker Bush
Sam LeBlond
Robert Koch
10:45 AM Prayer led by Russ Levenson for First Families:
President Bush 41
President and Mrs. Bush 43
Doro and Bobby Koch
Governor Jeb Bush and Columba Bush
Maria and Neil Bush
Margaret and Margaret Bush
Grandchildren and their spouses
First Lady Melania Trump
President Barack Obama and Michelle Obama
President Bill Clinton and Secretary Hillary Clinton
Vice President Dick Cheney and Lynne Cheney
Vice President Dan Quayle and Marilyn Quayle
Bush granddaughters and grandchildren's spouses are escorted to their seats:
Lizzie Andrews
Barbara Bush
Noelle Bush
Ashley Bush
Jenna Bush Hager
Gigi Koch
Marshall Bush Rossi
Ellie Sosa
Spouses:
Mandi Bush
Sandra Bush
Sarahbeth Bush
Henry Hager
Lee LeBlond
Julian LeFevre
Nick Rossi
Nick Sosa
11:00 AM Funeral Service for Former First Lady Barbara Bush
12:30 PM The remains will be carried from the church by the grandsons.
12:40 PM Motorcade departs St. Martins Church en route College Station.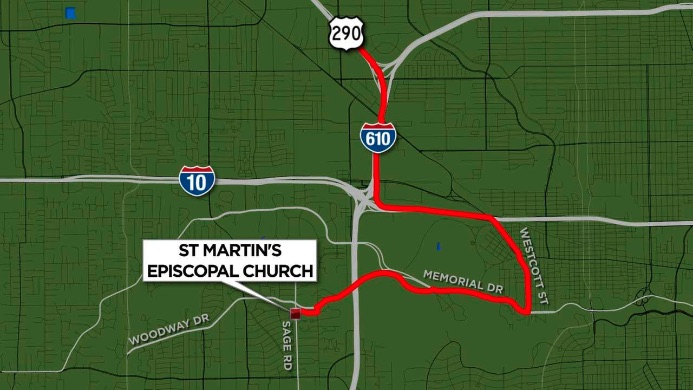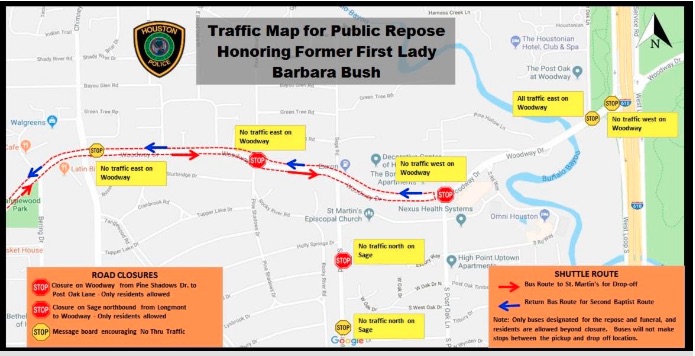 Advertisement
Advertisement