Just now, by a vote of 74-24, the Louisiana House of Representatives passed HB 10 – a bill by Rep. Paula Davis which pumps up the state sales tax to 4.45 cents. That carries a fiscal note of $463 million, which is a mere $44 million shy of the full $507 million Gov. John Bel Edwards demanded to fund the largest government budget in Louisiana history. And the tax increase will last for seven years.
Here was the vote…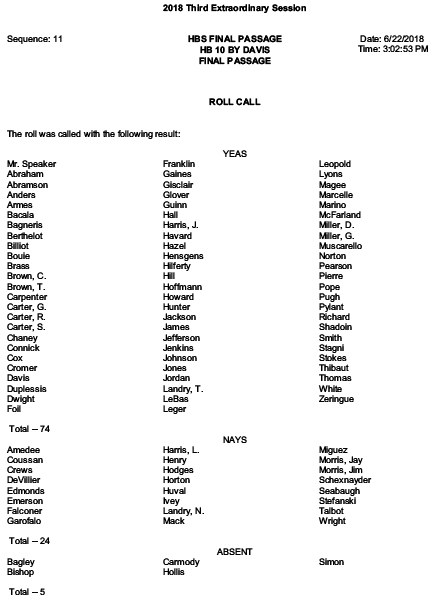 Every single Democrat voted for the bill, because of course they did. A .45 cent increase rounds to a .5 cent increase; there is no difference between this and the governor's demand.
But 32 Republicans also voted for it. You're welcome to ask them how it is that a no vote on a half cent increase is a principled stand but a yes vote at .45 isn't a sellout. You'll have to ask them that, because we can't think of any defense for it.
What's clear is the House Republican delegation was badly outmaneuvered here. It was outmaneuvered in the second special session when delegation chair Lance Harris declared his 1/3 cent bill was as far as the House would go, only to see a 4/10ths bill be filed for this session, and it was outmaneuvered when the Senate cooked up a thoroughly unconstitutional threat to suspend the sunset of the full fifth penny of sales tax by a mere majority vote – which clearly scared enough of the House members to induce a capitulation at .45.
There was never even a vote at 4/10ths. For pure political purposes that vote should have been taken, because it would have at least shown the obstructionism of the Black Caucus – which blew up the first special session of the year by refusing to vote for a quarter-penny on the theory that sales taxes were too regressive, and now has demanded nothing short of a half-cent. They were appeased in this case by a figure which rounds to .5 on inexpensive purchases at cash registers.
And for Edwards it's a brilliant victory, because after oil revenues add $100-150 million to the state's revenues above the current projections and internet sales tax receipts flow in due to yesterday's Supreme Court decision, he's going to end up running a significant surplus in the 2018-19 fiscal year he will use to demand a teacher pay increase which pays off his cronies in the Louisiana Association of Educators and Louisiana Federation of Teachers.
That will come in next year's regular legislative session. If there was any real courage among the House Republican delegation, it would be tied to the passage of a Paycheck Protection bill so that those pay raises wouldn't automatically flow to increases in union dues to be used on contributions to Democrat candidates in the 2019 statewide elections.
But at this point there is little reason for confidence in such a bold, principled move. Not with this legislature – which so far has shown inklings of a willingness to fight for the cause of limited government and fiscal responsibility but at the end nevertheless crumbled into capitulation.
Better luck next year, folks – but don't stake too much on your re-election once the folks back home you ignored get hold of the news.
UPDATE: One more thing – apparently the sweetener which brought the Legislative Black Caucus on board for .45 cents instead of a half-cent was $3.2 million in increased funding for Southern University and $1.5 million for Grambling State University.
So two of the worst educational institutions in the state, both of which are never-ending scandal factories bumping up against the loss of accreditation on a near-yearly basis, get slathered with some $5 million in extra appropriations so House Republicans get afforded the privilege of selling out their constituents to vote for tax increases.
Sure, that's sausage-making. This isn't all that appetizing a sausage, folks.