It's not the runaway five percent figure some were bandying about earlier this week in advance of the Commerce Department's release of current figures this morning, but it will do for now.
Gross domestic product grew at a solid 4.1 percent pace in the second quarter, its best pace since 2014, boosting hopes that the economy is ready to break out of its decade-long slumber.

The number matched expectations from economists surveyed by Reuters and was boosted by a surge in consumer spending and business investment. Stock market futures edged lower on the news while government bond yields moved lower.

That's the fastest rate of the growth since the third quarter of 2014 and the third-best growth rate since the Great Recession. In addition to the strong second quarter, the Commerce Department revised its first-quarter reading up from 2 percent to 2.2 percent.
Some of that 4.1 percent comes from a rise in exports pushed ahead in advance of expected tariffs, though following this week's announcement of trade agreements with the European Union it's worth wondering how much the tariff issue will serve to depress economic growth in future reports. Goldman Sachs has assessed the potential effect of trade wars to be no more than 0.2 percent in any particular quarter. Business investment and consumer spending are also major drivers. It's clear that both sky-high consumer confidence and a renewed optimism in the business community coming out of the Trump tax cuts have made their marks on the economy.
Holding down growth? Real estate. A softening of real estate markets in a number of areas, most notably Southern California (where prices are off as much as 15 percent for a number of reasons which aren't particularly informative of the national economy), hindered the economy.
Additionally, the Commerce Department revised upward the growth estimate for the 1st quarter of 2018, from 2.0 percent to 2.2 percent. Q1 is usually a weak growth period, and given the current economy 2.2 percent is as weak as one would expect to see for a while.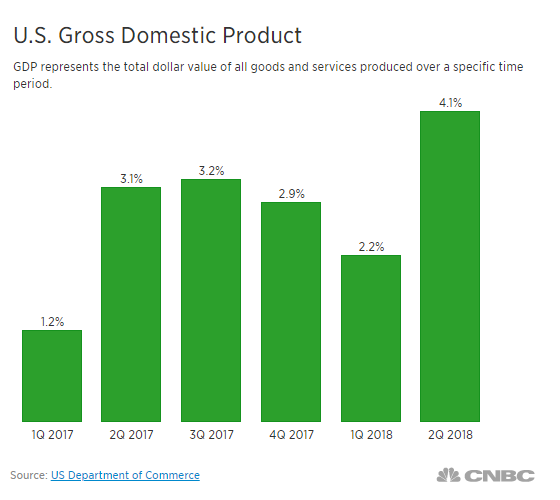 Trump's budget director Mick Mulvaney says the administration's aggressive deregulation activities are the single largest bit of stimulus to the economy. He might be right, particularly given the spike in the energy industry since Trump took office.
All of this said, it would have been perhaps wiser for Trump not to have participated in the five percent hype earlier this week. You don't want to overpromise on the economy – it's doing just fine as it is.