We here at the Hayride, being a site populated largely by both committed conservatives and Louisiana natives (though not exclusively so), would have been happiest had it been New Orleans natives Amy Coney Barrett joining President Donald Trump at the White House lectern last night as Trump made his pick to succeed Anthony Kennedy on the U.S. Supreme Court. Instead it was DC Circuit Court Judge Brett Kavanaugh being named. We'll have to be fine with that,  for now.
One gets the sense that Barrett comes next, when Ruth Bader Ginsburg finally comes off the Supreme Court for one reason or another. At that time it's expected Barrett, who has virtually everything the conservative movement would desire – she's young at only 47, she's a devout Catholic mother of seven (including two adopted children from Haiti), she's an outspoken originalist constitutional scholar and she's a graduate of, and professor at, Notre Dame's law school rather than Harvard or Yale – might be in a better position to be confirmed.
The thing to remember about Trump is what he cares most about is getting a win. He's not in politics for ideological purity or getting good notices in the press. He clearly sees each project or battle as president as a competition to prevail in. So when a Supreme Court vacancy arises, what Trump is going to look for is the most consequential choice he can get confirmed through the Senate.
And Barrett, being a pro-life superstar less bound by the doctrine of stare decisis where a poorly-decided case like Roe v. Wade is concerned, would spook the weak U.S. Senate as currently constituted.
More specifically, Trump clearly couldn't get a commitment of support from Susan Collins and Lisa Murkowski for Barrett. And since there are only nominally 51 Republicans in the Senate, with John McCain's ability to vote on the question of a Supreme Court justice uncertain at best, Collins and Murkowski essentially have veto power over Trump's nominee.
Barrett might have been an interesting nomination with respect to the half-dozen or so endangered Democrats up for re-election this fall in states Trump won two years ago. Joe Donnelly in Indiana, for example, would have had an excruciating decision to make – as Barrett lives in Indiana and would have been the only Notre Dame product on the Supreme Court, to vote against her for ideological reasons in a fairly red state would have all but clinched his defeat this fall. To a lesser extent that holds true with a number of others, like Bill Nelson in Florida, Joe Manchin in West Virginia, Heidi Heitkamp in North Dakota, Jon Tester in Montana and Claire McCaskill in Missouri.
But those dynamics apply to Kavanaugh's nomination as well, though he can get confirmed on a party-line vote with Collins and Murkowski supporting him where Barrett might not be. The guess is that he'll be confirmed by a relatively wide margin due to those vulnerable Democrats breaking from their party and voting for him so that the vote doesn't stand as an obvious reason for removal by their states' voting majorities.
But Trump can't go for a grand slam on Barrett now. He needs to pick off a Nelson, a Donnelly, a Manchin and a Heitkamp, or some combination of the vulnerables in red states, to provide a healthy GOP majority in the Senate for next year – and once he does that, he'll have the Senate he needs to put Barrett on the court when Ginsburg finally drops off.
Not that the confirmation fight for Kavanaugh won't be political armageddon. It will. It would have been armageddon no matter who the nominee was, and here's proof…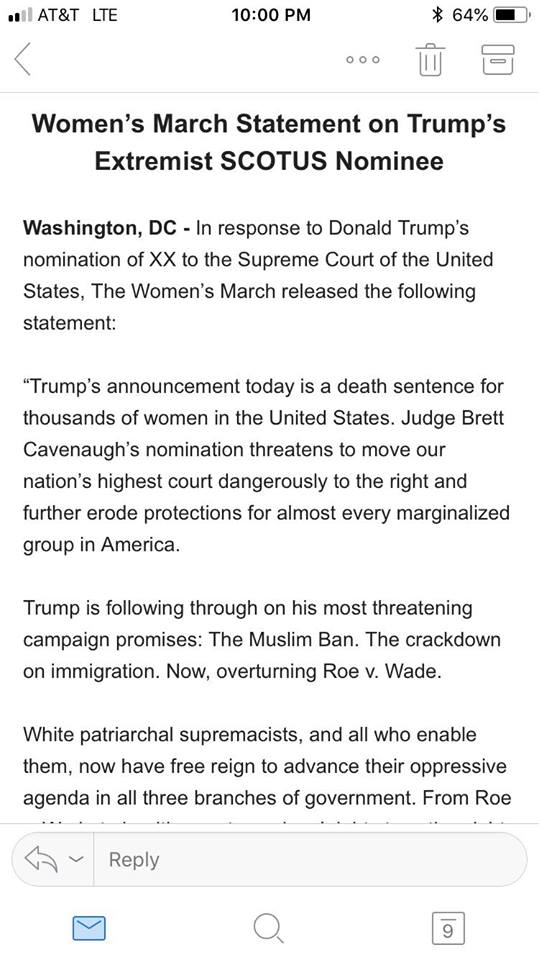 They didn't even know who the nominee was and the Women's March still had that statement about Trump's "extremist" pick typed up.
Plus there are statements like this, from the Communications Workers of America union…
CWA Opposes the Nomination of Judge Brett Kavanaugh to the Supreme Court

CWA opposes the nomination of Judge Brett Kavanaugh to the Supreme Court and calls on members of the U.S. Senate to reject this nomination.

Decisions of the Supreme Court can have a dramatic impact on working people's rights, freedoms and legal safeguards, as we saw in cases this past term like Janus v. AFSCME Council 31and National Labor Relations Board v. Murphy Oil.

Judge Kavanaugh routinely rules against workers and their families and regularly sides with employers against employees seeking justice in the workplace, including CWA members.

Just last year, Kavanaugh issued a partial dissent in a case involving more than 300 NABET-CWA technicians at CNN who lost their jobs and the benefits of union representation in the wake of the company's phony reorganization scheme to get rid of union workers. He concluded that the company was not liable for violations of the National Labor Relations Act and should not have to pay back wages. He has stood with AT&T to prevent CWA members in Connecticut who interact with customers or work in public from wearing union shirts protesting their treatment by the company. He has held that a waiver of a right to picket allowed Verizon to prevent workers from displaying pro-union signs in their cars.

Judge Kavanaugh's unwillingness to protect workers even extends to life-and-death situations. In a case which involved the death of a Sea World trainer who was working with a killer whale, he dissented from the majority, holding that the Department of Labor lacks authority to regulate activities of participants in sports events or entertainment shows in order to protect their health and safety.

Working people can't afford to have Judge Kavanaugh making decisions that without doubt will adversely affect our families and our communities. We need and deserve a Supreme Court Justice who understands and respects the importance of the laws and protections for working people in this country, including the right to form unions, to be free from discrimination, to have a safe workplace, and to be paid for all hours worked.
Kavanaugh has written some 300 opinions on the DC Circuit, and virtually every one of them will be held up as some well-founded grievance disqualifying him from the Supreme Court. The unions will hate him, the cultural Marxists will hate him more and the partisan Democrats hate him without even knowing his name.
The derangement over Trump only amplifies the stupidity we can expect over this confirmation fight. Yesterday, Oregon Democrat Jeff Merkley whined about any appointment at all. "A President under investigation should never be allowed to appoint a Justice to the Supreme Court," he said.
And then there's the media firestorm that has already erupted, which will undoubtedly turn the confirmation fight into a carnival mirror of America. A perfect example came last night when Kavanaugh was announced…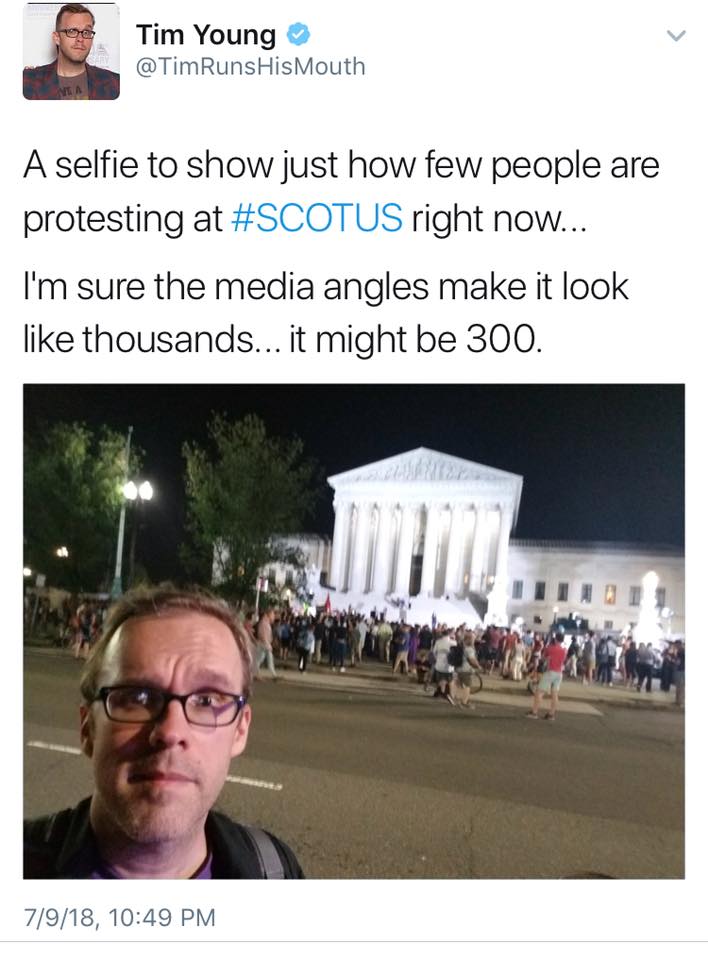 But Kavanaugh is about as vanilla a pick as can be had. He's a family man who coaches girls' basketball and helps to feed the poor, he's a regular at church who's well known in Washington circles and he's perhaps the most qualified judge in America for having spent 12 years on the DC circuit, which is the most consequential appellate court shy of the Supreme Court. The only reason to oppose him is ideological, and the Left doesn't have the votes.
That's why it had to be him.
But Barrett will get her turn. We're just a midterm election, and a Ginsburg retirement, away.